Every year, Dulux colour experts translate global design trends into the new Colour of the Year. The shade for 2022 is Bright Skies™. It's an airy and fresh tone that opens up and breathes new life into any space. Discover how you can use this transformative shade, plus its four complementary colour palettes, to reinvent your home.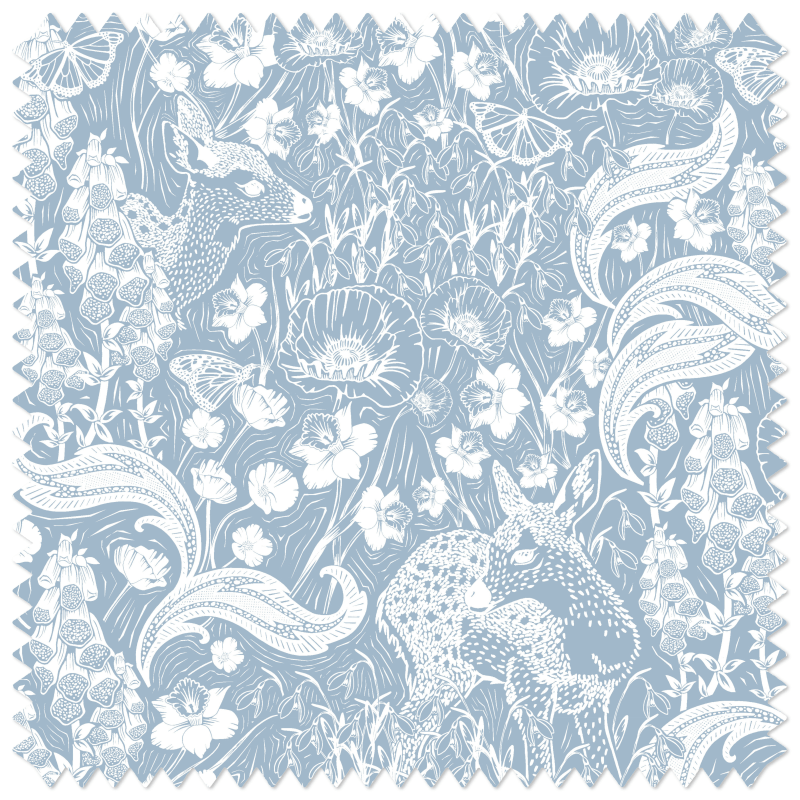 above: Midnight Meadow Blue Cotton Fabric by the metreby Fable ad Cedar – Flora and Fauna – captures the trend.
Dulux describes Bright Skies as 'an airy and fresh tone that opens up and breathes new life into any space'. We'll be seeing a lot more of this hopeful and optimistic colour in the coming months.
The paint specialists said: "When selecting our Colour of the Year 2022, we asked a panel of international design experts to help us understand the mood of the moment and share their insights on the colour trends that will shape the way we live. Our colour experts then get to work choosing the best colour to reflect those findings, a shade that will feel just right in our homes for years to come.
"Bright SkiesTM is a light, airy and optimistic blue that's good for the soul. It promises to open up and revitalise your home. Around it, we've created four easy-to-use colour palettes, so you can refresh your spaces with different colour combinations".
If your living room is constantly reinventing itself, switching from social hub to home office to kids' classroom, you need a colour scheme that can keep up.
Pair Bright SkiesTM with vibrant and joyful colours of paint found within the Workshop palette. Take your pick from colour combinations of light, uplifting tones and create an inspirational backdrop for any activity.
Within the Greenhouse palette (top image), you'll discover trend-led greens and blues that you can combine with our Colour of the Year 2022, Bright SkiesTM, to bring the positive effects of nature into your home. In a rural location, these light, fresh naturals beautifully complement your surroundings. In an urban space, they can make you feel in touch with the natural world.