Firetree was founded in 2017 by David Zulman, Martyn O'Dare and Aidan Bishop, who between them have over 85 years' experience in the chocolate industry. Their British made chocolate brand, boasting vegan and dairy-free credentials, was launched in June 2019.
The partners initially began by supplying their high-quality chocolate as own label or a B2B ingredient to prestigious retailers and chocolatiers such as; Harrods, Artisan Du Chocolat, Paul A Young, Melt and Rococo. Co-Founder David Zulman is third generation in the chocolate business. He grew up playing in cocoa sacks in his grandfather's chocolate company in South Africa, where he gained most of his industry experience. He left in 1986 and bought a business in the UK which successfully imported sweets and chocolate from his grandfathers' company in South Africa to the high street retail chain Woolworths for their well-known Pick' n Mix. This led to the establishment of a UK chocolate manufacturing business to replace the previous importing and the launch of several innovative and popular chocolate lines.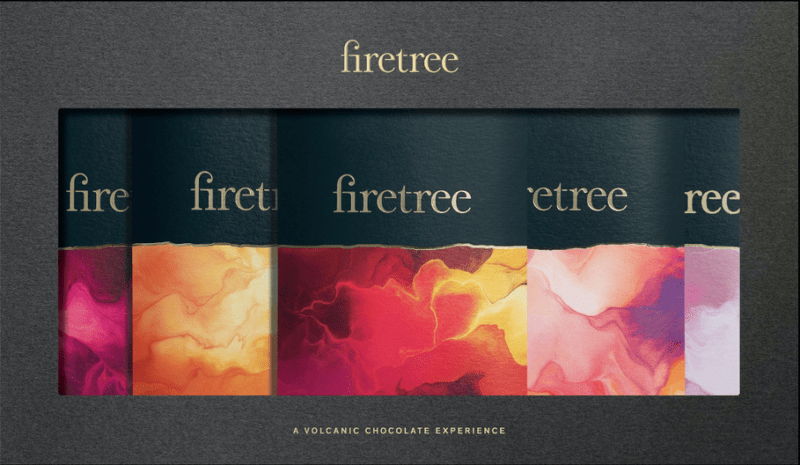 The super-premium single-estate volcanic chocolate range is created from Firetree's superior tasting cocoa beans, all sourced from small, island estates in the 'Pacific Ring of Fire' and Madagascar, where the volcanic terroirs produce cocoa beans with natural flavours that change, develop, and linger on the palate with a sophisticated taste. For chocolate connoisseurs, Firetree chocolate is akin to tasting fine wines, single malt whiskies, champagnes, Cognacs, and premium, artisan coffees.
Firetree has many exciting developments in the pipeline, including the launch of a new Innovation range at the end of September. Visit the website for more details.