This autumn the spectacular setting of Strawberry Hill House & Garden in West London will become even more so as it hosts its third Flower Festival. Horace Walpole's villa will once again provide a gorgeous, gothic backdrop to showcase floral designs with all its colour, drama, opulence, light and shadow at this atmospheric time of year.
Each room has its own characteristics and mood, much like the changing seasons themselves, making Strawberry Hill House the perfect location for some of Britain's leading flower designers to create truly unique displays.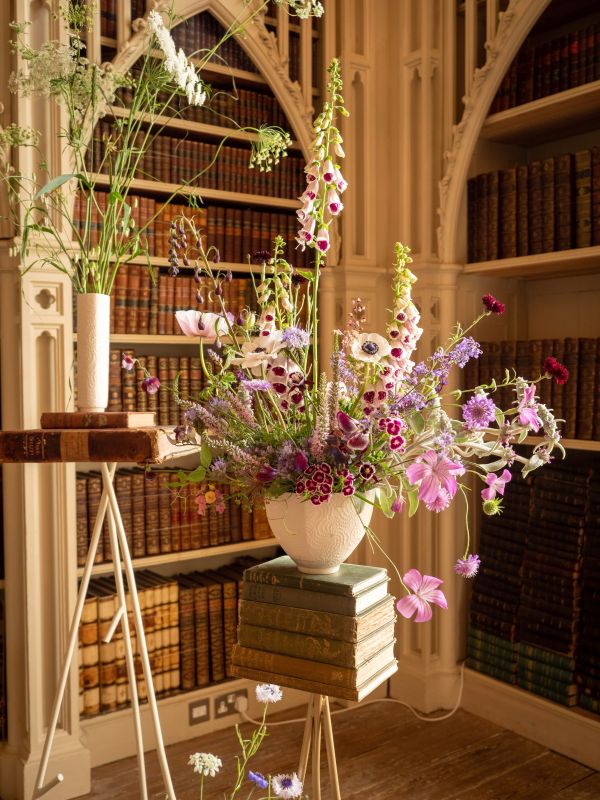 The Flower Festival also seeks to create greater awareness of the beauty, variety and versatility of British flowers, with over 30 florists and designers sharing their own artistic visions inspired by native flowers and foliage, plus dried and natural elements. All the floral designers – including Holly Bee Flowers, Twisted Sister Floral Design and Wildly Beautiful Flowers – have sustainable practices at the heart of what they do and will be demonstrating what can be achieved using traditional techniques.
"They may grow their own flowers; work with local flower farmers or be cutting back and eliminating single-use plastics in their work," explains Twickenham-based floral designer Leigh Chappell, who co-organises the Festival with flower photographer, Janne Ford. "For the third year, we've brought together exciting and innovative designers and growers from across the country to transform this magical house into a floral extravaganza. These include such stars of contemporary floristry as Simply by Arrangement, Wolves Lane Flower Company, Xyris Botanicals and Tallulah Rose Flower School, along with some new talented designers, including Ravens Hill Flower Farm, A Glimpse of the Garden and Johnny Crows Garden."
Highlights of this year's Festival will be intricate and dramatic floral installations throughout the rooms of the house, each one inspired by the setting of Horace Walpole's 18th-century gothic castle. Demonstrations of sustainable methods of flower arranging will also be a key part of the weekend, as will children's workshops – including seed sowing and flower crowns – while a flower clinic for visitors with Strawberry Hill House's very own horticultural experts will seek to answer any thorny questions about quince and find a solution for troublesome tulips.
The Flower Festival will also be presenting the work of artist Flora Roberts. Renowned for her murals and large-scale paintings for private houses and commercial projects, Flora is also a highly sought-after fabric and wallpaper designer, creating beautiful floral patterns for companies such as Hamilton Weston Ltd, Zoffany and Mulberry Home.
Throughout the Festival, guided tours of the transformed House will be available, including an evening of tours and a talk by Lucy Hunter, author of the lavish Flower Hunter book, on Friday 8th October.
One of the UK's best-loved gardeners, writers, radio and television presenters, Alan Titchmarsh MBE is a Patron of Strawberry Hill House & Garden and says: "Part interior design exhibition and part art installation, Strawberry Hill's Flower Festival is a wonderful demonstration of the sheer artistry that exists here in the UK and the incredible variety, versatility and, of course, beauty of our domestic flowers and plants. The Flower Festival is a unique opportunity to be inspired and learn how you too can transform your home and garden into a place of wonder."
Tickets for the Flower Festival will be available online from Monday 31 May. Prices, tour and talk times can be found at www.strawberryhillhouse.org.uk/flower-festival/
The participating florists and growers will also be sharing blogs, tips, photographs and other content across social media, leading up to and during the festival, using the hashtag: #StrawberryFlowerFestival