Annie Sloan, one of the world's leading authorities in paint, colour and style, has agreed a partnership for decoupage papers with the Royal Horticultural Society, using designs inspired by the RHS Lindley Collections of botanical art.
The Annie Sloan approach to decoupage is simple, adhering to traditional techniques whereby printed images on paper are torn or cut out and applied to a huge range of pieces, from cupboard doors to furniture and ceramics. The cut-outs are stuck down with an even coat of Image Medium (a type of glue) and then sealed with another coat.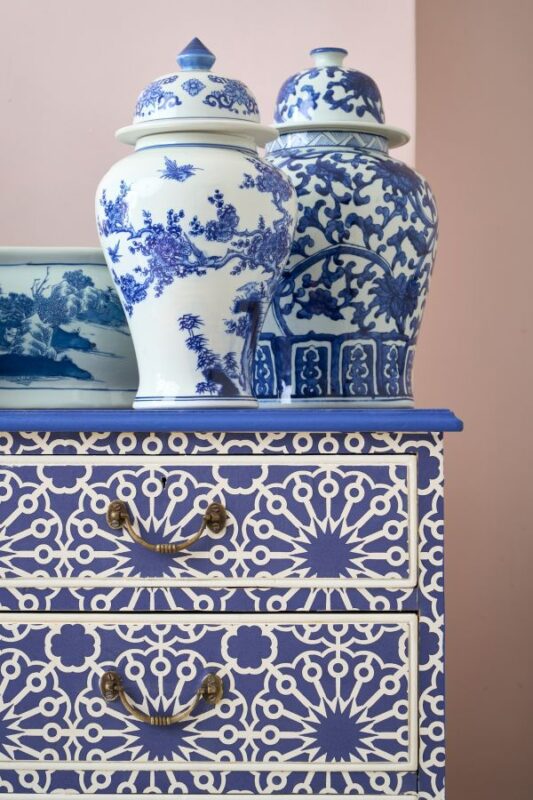 For this range – called the RHS with Annie Sloan Decoupage Papers – the RHS was the ideal partner. Botanicals, flora and fauna are especially popular designs to use in decoupage, and the vast archive of beautiful botanical drawings from the RHS Lindley Collections – the world's largest collection of botanical art – lent itself perfectly to the new Annie Sloan range.
With her design team, Annie Sloan carefully searched through the RHS Lindley Collections to find illustrations to cut out, repeat, combine and colour to match some of the 47 colours from Annie's famous Chalk Paint palette, a versatile decorative furniture paint designed by Annie Sloan in 1990.
There are twelve individual designs with two large sheets of decoupage paper per pack. The RHS name and logo are prominently highlighted on the front of the packaging. The back of the packaging includes information about the RHS and its aims, alongside a practical guide to using the decoupage papers.
Annie Sloan and her team are working towards a global launch late autumn 2021 – online and in physical stockist shops around the world. Annie Sloan sells through a network of independent shops in more than 55 countries.
Amy Honour, Head of Marketing, Annie Sloan Interiors Ltd, says: "Annie's ambition has always been to inspire individuals with the confidence to bring colour, character and design into their homes. For this range that colour, character and design has come about with help from the RHS – the passionate force at the heart of horticulture for more than two centuries. The result, we think, is both beautiful and memorable."