Taking a Sunday trip to last month's Top Drawer Autumn at London's Olympia, long-time greetings industry stalwart and promo filmmaker Gale Astley spotted a trio of trends, all with mental wellbeing at their core, well almost, surely heart-healthier ice-cream counts!
Roller skating, wild water swimming and artisan gelato are three joyful and carefree trends that flourished during the pandemic and have been scooped up on greeting cards, and by doing so sprinkle a little more happiness and remind us to live in the moment.
Pictured top – Roller girl, Emma Pearce, owner and designer of Sister Paper Co.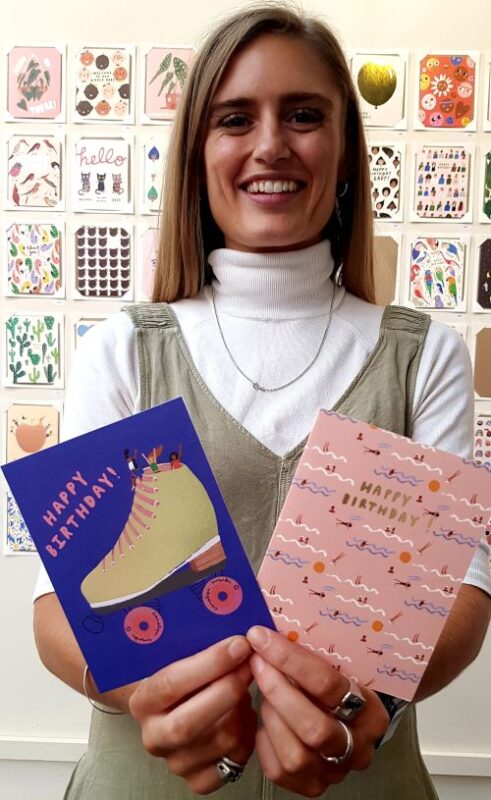 Georgia Bridges, sales director for 1973, revealed some of the gorgeous roller skate and wild water swimming designs on its stand at Top Drawer Autumn.
Were you a roller rink kid? Did you skate to 80s or even 90s tunes, free wheelin' with rhythm and reels to Chic's Good Times or Push It by Salt-N-Pepa at the roller disco? Well thanks to a resurgence of super-skilled skaters showcasing their 'wheely' amazing moves at local parks and beach promenades on TikTok and Instagram videos, roller skating has spun out of the side tracks and twirled into the mainstream consciousness: Even a young Princess Diana was seen on The Crown skating through Buckingham Palace to Duran Duran's 1981 hot release, Girls on Film.
The rolling good times boomed during lockdowns when pulling on roller boots for some outside exercise was a form of escapism and freedom, and was great for mental health. And, as always, revolving to the flash-dance of fashion and trends, greeting card publishers quickly picked up on the roller revival. Their glorious card designs raising a nostalgic smile when seen spinning with 80s roller boot motifs in bright retro colours and rainbow details, speed stripes and lightning flashes and uber upbeat captions such as Let the good times roll!
Below: Owner of Rosie Made A Thing, Rosie Harrison, shows her designs are rolling with the skating trend; Spinning off the racks, a design from Lucy Maggie Designs; Adeline Watson from East End Prints shows a tiny taster of the publisher's roller skate designs at Top Drawer Autumn; Pic11 – In an 80s Memphis group style, a roller skates design from East End Prints.

"At East End Prints we understand that during the lockdowns people had to find new ways of finding joy, and with our movement restricted we had to find new ways to exercise. Roller skating was a perfect choice to find joy in movement for some people, and it returns you to that childhood feeling of wonder and freedom!" says Lucy Costelloe, digital file manager for East End Prints.
"I love roller skating!" states Emma Pearce, former in-house designer for Hotchpotch, who has now launched her own amazing new company Sister Paper Co, creating contemporary cards. Emma has been roller skating for over 20 years and even hosts her own London-based roller skating classes along with Alphablot designer Sarah Lewis, under their brand called Roll Happy!
"The trends are saying 'roller skating is back!', for me roller skating never went away! I've skated since I was a child, competed at national level and now run my own roller skating classes.
Lockdowns left a lot of people searching for new activities to try in their local parks, and there's been a massive boom in roller skating that's been growing since early 2020 – now there's even months long waitlists to buy roller skates! Roller skating feels nostalgic escapism and once you're really rolling it feels like freedom," enthuses Emma.
And from roller skating to ripples, wild water swimming in the UK has seen a tidal surge in popularity since the start of the pandemic. With more people taking the exhilarating plunge into lakes, rivers, ponds and coastal waters, wild water swimming has increased by up to three times since 2019. The infamous open water swimming group, The Bluetits Chill Swimmers in North Pembrokeshire has even gained 8,000 new Facebook followers over the past year.
Not only good for physical wellbeing and the enjoyment of reconnecting with nature, the additional mental health benefits of a cold dip in open water have been expounded, with boosting the immune system, reduction of stress and anxiety, increased endorphins to enhance happiness and simply living in the moment deemed some of the aqua activity's marvellous mental and mindfulness credentials.
Additionally, the sport is bountifully brimming with groups of women creating or joining wild water swimming clubs for some much-needed female bonding.
And wild water swimming is imbuing some gorgeously serene card designs, showcasing the importance of female friendships and connections or just purely the delicious in the moment enjoyment of open water swimming.
Below: Reeling with the good times, a design from Sister Paper Co; Feel the freedom, wild water swimming on a Roger la Borde design; Illustrator, publisher and wild water swimmer, Imogen Davis at last month's Top Drawer Autumn;
For illustrator Imogen Davis, owner of her eponymous company, swimming in the wild is a way to calm her mind and wash away any unnecessary anxieties: "Wild swimming has always been a part of my lifestyle, it's something that fills me with happiness and a sense of achievement that sets up my day," she explains.
Imogen believes many of us opened our eyes during the first covid lockdown to the importance of our own health and the never-ending benefits nature has on it, both mentally and physically. "Since then, wild water swimming has bloomed, and people are not only discovering the benefits of cold water for themselves but they are finding new ways to spend more time in the outdoors through this leisurely sport," deems Imogen, adding, "Throughout the last few years, living in lockdowns and uncertainty has made a lot of us worry and feel rather disconnected from one another, yet wild swimming provides a safe alternative to socialising outside, bringing communities back together whilst forming new friendships and connections amongst those who have fallen in love with this wonderful outdoor activity."
So, from ripples to raspberry ripple, and many mouth-watering flavours besides, in recent years us Brits have witnessed the explosion of yummy and scrumptious gelato and ice-cream offering burst before our desirous eyes. Homemade ice-cream with high quality ingredients and new flavour mash-ups, divine sweet treat plant-based vegan choices, and artisan Italian gelato (for a slightly healthier indulgence) have given rise to a boom in gelato emporiums and new forms of serving up ice-cream sundaes and cones.
And of course, as Carolyn Verderame, head of sales for Caroline Gardner quite rightly states, "Ice-cream, cake and balloons are synonymous with celebrating birthdays and are therefore popular motifs on greeting cards". But with ice-cream being one of the most symbolic signs of the Great British summer, and with many vacationing in the UK this past year, greeting card designs have been lapping up – or should that be licking up – the delicious summery colours and inspired by the tempting treat's motif.
Above: A striking sundae design with gold foiling from Old English Co; a yummy ice-cream shake pin card from Redback Cards' Pinata range; luscious gelato design from Ricicle Cards. (www.riciclecards.com)
"I used to think that there was nothing that could beat the classic 99 ice-cream; beautifully silky whipped ice cream with a flake. But then Italian gelato hit the scene a few years ago and has since boomed," says David Nichols-Rice, director of Ricicle Cards, who reveals his delicious gelato journey whilst on holiday.
"As much of the country did this year, we went on holiday in England, vacationing in Devon and Cornwall this summer. Lines upon lines formed outside gelato shops (I quickly joined them!), filled with delicious flavours of ice-cream made in house, churned by hand. Mint chocolate chip, honeycomb and a chocolate 'Sorbetti' perfect for vegans were favourites of mine. I've since discovered that gelato typically has 50% less fat than traditional ice-cream, but still manages to taste creamier. It's a delicious, almost guilt-free treat – who knew that ice cream could be so artisan!"
Here's to more carefree days to come and the greeting card designs that remind us to live a little more in the moment.
Pictured below: Roger la Borde's wild water swimming design, Caroline Gardner's ice cream and Imogen Davis' Keep me Wild.