This beautifully handmade multi-functional Sterling Silver Baby Bottle from boutique luxury retailer Royal Touch London makes the perfect sustainable Christmas gift for Baby and a lovely heirloom piece. Sterling Silver is naturally antibacterial and antimicrobial, and so the bottle itself does not need to be sterilised which is a massive time saver for new mothers and gives them peace of mind every time their child needs to feed.
Silver treasures, such as teethers, rattles and mugs, have always been a popular gifting choice for new-borns and this unique Sterling Silver Baby Bottle really is the last word in luxury for thoughtful gift-givers. Beautifully crafted in 925 Sterling Silver by talented artisan silver craftsmen to a contemporary design, the bottle is functional for daily use.
The bottle has been cleverly designed to provide continued use as baby grows, thanks to a changeable lid that converts the bottle into a food storage container. Reassuringly, there is no food contact with any plastic in the bottle, and the supplied silicone screw thread lid and teats are BPA and BPS-free meaning that the bottle is safe as well as multi-functional to use – making this Sterling Silver Baby Bottle a real world first.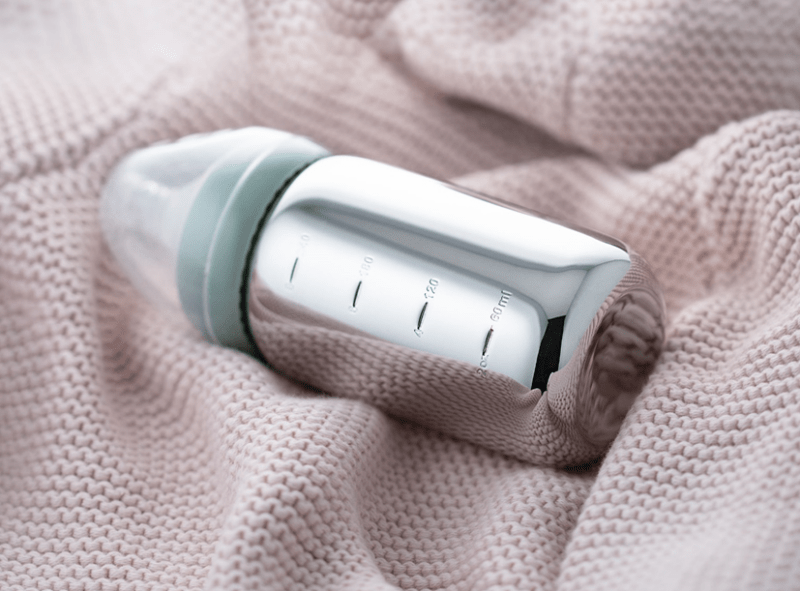 Silver has enjoyed a growth of more than 400% over the past two decades and this suggests that this gift would also make for an excellent heirloom and investment piece. The bottle is assayed in London and features the brand's iconic crown logo to guarantee authenticity.
The bottle is now available as a limited-edition round model or as a made-to-order faceted version.
Royal Touch London's 925 Hallmarked Sterling Silver Baby Bottle box includes:
• Bottle body – complete with embossed fill-levels both inside and out for easy measuring
• Green screw thread and food grade silicone lid
• 1-Slow, 1-Medium, 1-Fast- food grade silicone teats
• 100% cotton, handmade, machine washable insulated sleeve to protect baby's fingers from heat
• Polish cloth
• Product care guides – General Silverware maintenance guide and the Baby Bottle guide
The bottle complements an existing range of exquisite Christmas, baby shower and Christening' Diwali, Hanukkah and Ramadan gifts from Royal Touch London (www.royaltouchlondon.com) which includes a baby-friendly Sterling Silver Elephantus spoon and fork set and a Sterling Silver Heart mug perfect for weaning-stage infants.