We reviewed these luxurious cocktail nuts from Cambrook Foods just as Advent started, which was perfect timing for such a treat and they did not disappoint. In fact they are scarily good given how calorie-laden roasted and honey roasted nuts are!
My partner and I are committed snackers so half of the first jar we tried – Cocktail Mix No. 6, which brings together a unique and fantastic mix of flavours, combining salted cashews and macadamias, chilli battered peanuts, smoke seasoned almonds and caramelised sesame peanuts – was demolished in seconds. With weeks still to go until Christmas we have hidden the other two jars from ourselves to spread the load rather than spread our waistlines too much ahead of the main event!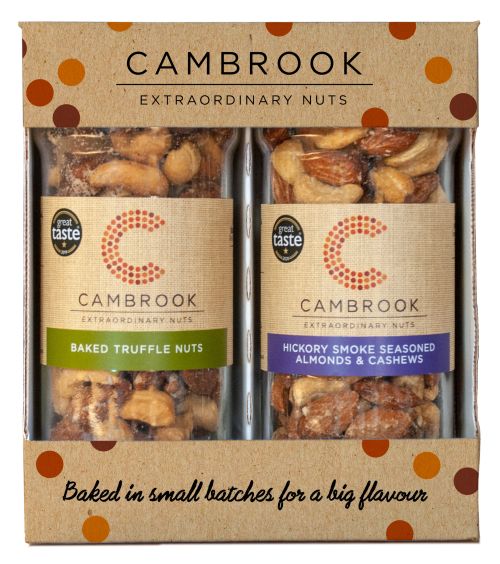 Cocktail Mix No. 6, which has been awarded 3 stars in the Great Taste Awards – came as part of a nicely packaged gift set with two other jars – Cocktail Mix No. 2, consisting of expertly baked and salted nuts and a jar of baked cashews and peanuts with chilli and lime. These would make a really nice stocking filler or as something tasty to serve with pre-dinner drinks.
Served in top hotels such as Claridges and the Savoy, Cambrook Foods knows how good these are, stating that their "extraordinary gift sets take nuts to new levels. Packed full of unique and delicious flavours, like baked truffle or smoked hickory, it's no surprise they've won 6 great taste awards this year alone…. These nuts really are the creme de la creme when it comes to snacking.
Gift sets are nicely packaged in plastic-free cardboard packaging which is fully recyclable, whilst the jars themselves are good quality glass.
2 Jar RRP: £14.00, 3 Jar RRP: £18.50.