The experts from Stars for Europe present two ideas for festive table centrepieces and room decorations using poinsettias, from Woodland Wonderland to Alice in Wonderland-style candy colours.
When friends and families gather to celebrate and eat together at Christmastime, a lovingly decorated festive table is a must. With their showy bracts, poinsettias are ideal as floral table decorations. Combining them with moss, pine foliage and other elements enhances their bright colours even more.
A feast for the senses: this opulent table centrepiece made from a wealth of natural materials is a vibrant, showstopping creation for a festive Christmas table. On a thick layer of moss, red mini poinsettias are placed next to small mini fir trees and echeverias (succulents). Sprigs of holly, crab apples, cones and gold-sprayed foliage add decorative accents, while dark red taper candles provide atmospheric lighting.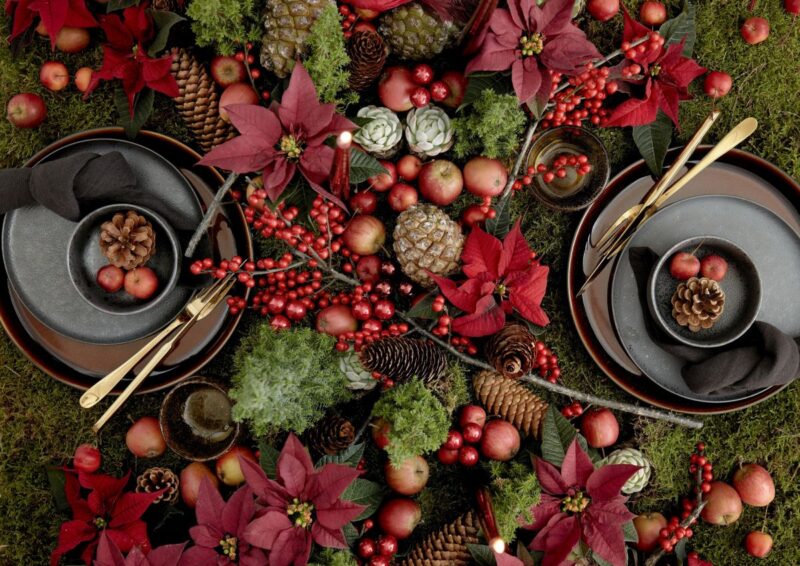 Tip: In the forest, in some countries you might be able to forage for natural materials in small quantities, but make sure you check the laws on uprooting wild plants in your area. If you need a larger quantity of moss or cones, as in this case, you can find them in garden centres. Natural, treated moss has the ideal amount of moisture for decorative purposes, so your table will not be damaged. However, it it's a good idea to use a waterproof covering for this table decoration idea.
The combination of white and green elements makes this festive table reminiscent of a winter forest glistening with snow. Natural materials such as moss and cones, small mini fir trees, artificial snow and wooden mushrooms create a decorative scene that beautifully accentuates the cream poinsettias. Fairy lights and white taper candles provide the perfect atmospheric mood lighting. A pine branch above the table, decorated with homemade cones, gives off a wonderful scent to create the perfect forest ambiance.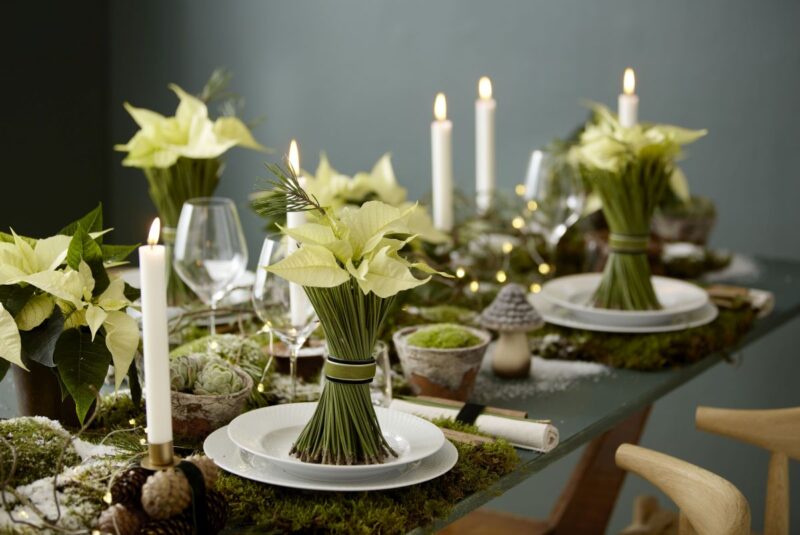 A lovely detail: at each place setting, a cream cut poinsettia on an artistic arrangement of pine needles welcomes guests. Small flower tubes filled with water in the middle of the bouquets serve as mini-vases.
Winter Wonderland – just make sure you invite Alice!
For a less formal, more contemporary look, poinsettias in delicate pastel shades offer the foundation for a beautiful fantasy-themed table décor which would work perfectly with some of the more flamboyant Christmas baubles and decorations which are so popular nowadays. Whether it's Alice in Wonderland, zoo animals, unicorns or gingerbread men that will be on your tree this year, there's a poinsettia out there to set them off perfectly.
This table setting in delicate pastel shades is a pretty picture. The combination of accessories in cool pale blue and muted pink makes the gorgeous, colourful bracts of the poinsettias stand out even more. The bold blue of a single candleholder adds an additional colour accent.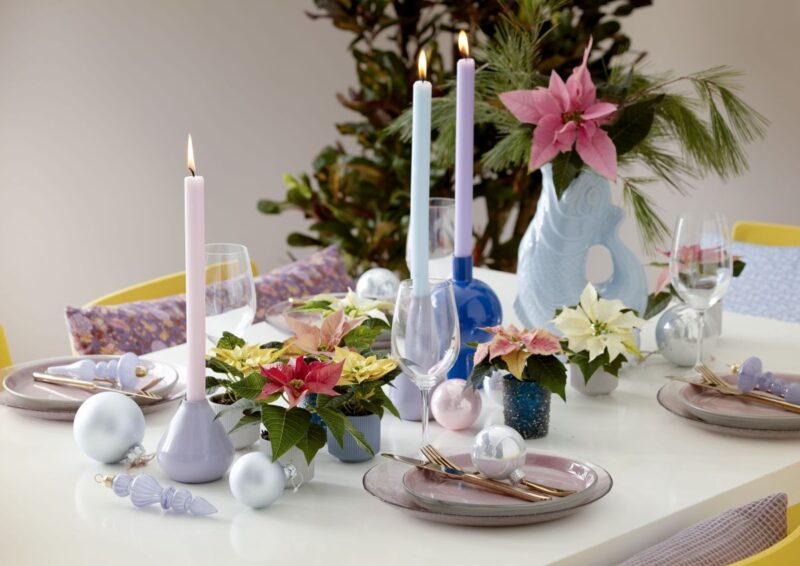 Soft pastel shades also make this festive table look light-hearted despite the lavish decorations. Poinsettias in pink, yellow and apricot, as potted or cut flowers, exude Christmas cheer. Strawberry cacti and small crab apples add fresh pops of colour. Other accessories and furnishings, from the chairs to the tableware, candles and napkins, to the baubles on the tree, pick up on the colours of the star-shaped poinsettias creating a harmonious look overall.
The Christmas party is on! On this contemporary Christmas table, a parcel decorated with a cut poinsettia and a sprig of berries greets guests at every seat. A stunning tone-on-tone winter bouquet of cut poinsettias, ilex vericillata (winterberry) and amaryllis is the central feature. The apricot of the bouquet is picked up in the rest of the decor and complements the pastel shades of yellow and pink.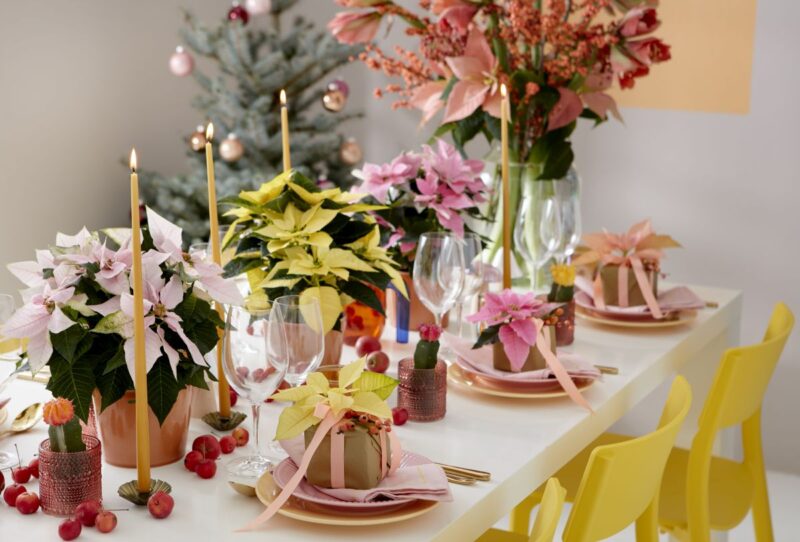 Get Crafty with Grandma
Whether as a gift or table decoration, this colourful arrangement with cut poinsettias, fir branches and Christmas baubles is guaranteed to create a Christmassy mood and is a lovely family activity that will get everyone in the mood for festivities. This is also a great way to repurpose damaged Christmas baubles or those where the top holder has been lost.
This Christmas arrangement is simple to make. You will need cut poinsettias, a suitable container, floral foam, baubles, fir or spruce branches and a hot glue gun.
Here's how: Fill your container with soaked floral foam so it protrudes about one cm above the rim. Then insert the cut poinsettias and foliage. Finally, glue the baubles in place on the foliage with hot glue. Done!
Cut poinsettias will keep for up to two weeks in fresh water if the stems are placed in hot water (approx. 60 degrees) for a few seconds immediately after cutting and then immediately placed in cold water to stop the sap from leaking. If you use poinsettias to decorate gifts, simply wrap the end of the stem with sticky tape