As consumers in all parts of the UK up their search for locally made British products, regional trade exhibitions offer the perfect sourcing ground for retailers who want to capitalise on this growing trend whilst supporting their vital local economies.
One of the best regional events taking place in the UK is Giving & Living, which will next run from January 16 – 18 at Westpoint in Exeter. The show is an important hub for retail, leisure, hospitality and other businesses in the South West which stock gifts, homeware, greetings and stationery products, fashion accessories, jewellery, toys, crafts and other related products.
Giving & Living organiser, Hale Events, does to considerable lengths to attract companies that design and manufacture high quality products in their local South West region or here in the UK generally, The show attracts many exhibitors which only exhibit at Giving & Living, which offers exclusive access to locally produced items that you would almost certainly miss seeing if you do not attend this event. Here is a taste of what you can look forward to seeing at the show later this month.
Lara May Collection (Stand 804): New exhibitor, Lara May Collection, offers leather placemats and coasters which are handcrafted and proudly made in the UK using 76% recycled bonded leather. They're heat resistant to 90 degrees making them perfect table protectors, and great for oven to table dining.
Dollyhotdogs (Stand 523): This wonderful British company offers bold and beautiful home furnishings, giftware and kitchen textiles designed by artist and illustrator Dollyhotdogs. Inspired by the glorious Devon coast and countryside, every item in the range is made in England.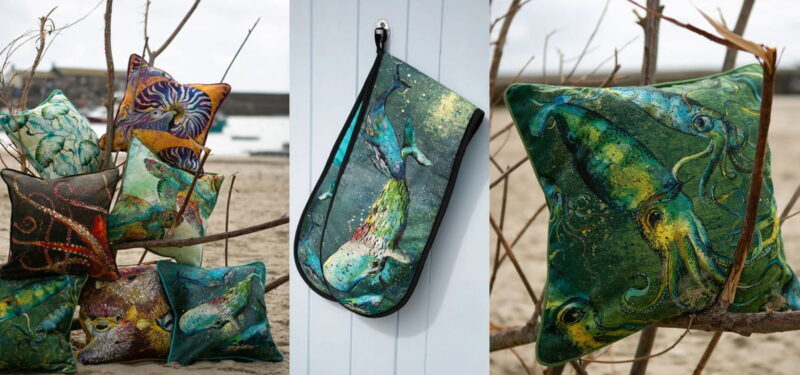 Scent From Devon (Stand 715): New exhibitor, Scent From Devon, hand produces their soaps in small batches using the traditional cold process soap making method, from their premises in Yelverton, Devon. They do not use pre-made soap bases and their products are free from Palm Oil or chemical irritants such as sodium lauryl/laureth sulphate, parabens or petrolatum. They test all their products on helpful family members – never on animals!
Jo Thomas Jewellery (Stand 842): Falmouth-based Jo Thomas has a workshop in her home where she designs and makes her exquisite jewellery. Using a range of stainless steel settings, Jo embelishes her pieces with a range of paints and paper that give texture to the finished jewellery.
Broadlands Pottery (Stand 850): Broadlands Pottery is a handmade ceramic gift company based in Gloucestershire, where their small but dedicated team creates gifts that you and your customers will love. Broadlands Pottery loves to work with small independent shops on ranges that they know sell, including a fabulous Welsh-language range and beautiful family trees.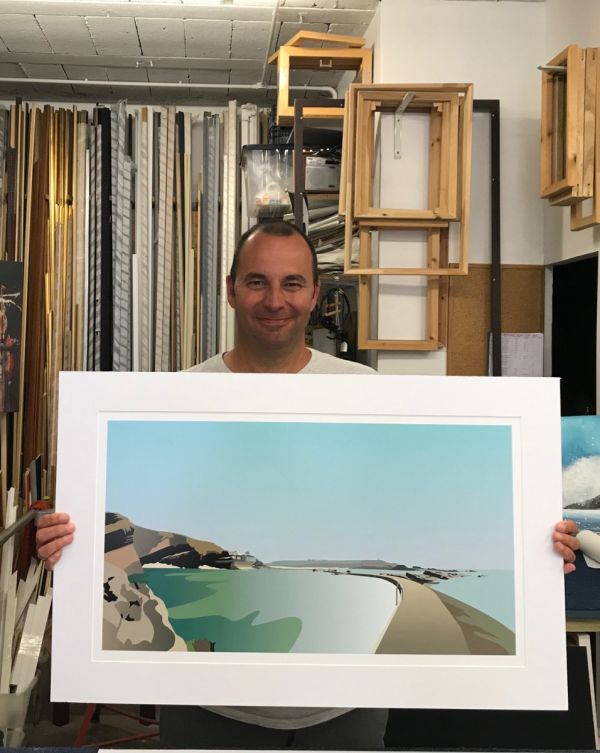 Neils Designs (Stand 709): New exhibitor, Neils Designs, produces high quality coastal art, design and homeware. The current range includes beautiful prints, cards, handmade cushions, coasters, placemats, mugs and notebooks each featuring the stylish artwork of Neil Butler, an artist and surfer based in North Cornwall. A largely self-taught artist Neil captures the mystique and atmosphere of iconic surf spots and landmarks with a unique graphic style.
Kernowspa (Stand 652): Kernowspa is a multi award winning skincare and home fragrance business whose products are made by hand at their workshop in Cornwall. The company name comes from merging the Cornish word for Cornwall (KERNOW) with what their lovely products are all about (SPA). Established in 2011, Kernowspa is proud to be a small family business which handmakese all their products in Cornwall.
Resin & Wood (Stand 808): New exhibitor, Resin & Wood, designs and manufactures furniture from British hardwood logs. Timber is cut by them using their onsite sawmill, seasoned and kiln dried in-house, followed by the incorporation of resin into the furniture. There pieces for every room in the home as well as for the commercial sector, from chopping boards, shelves, nests of tables to built in beds with surround storage to kitchens. They also cater for one-off design projects, hotel and restaurant furniture, and interior wood designs.
Art on Scarves (Stand 848): Art on Scarves produces handprinted cashmere blend and cashmere feel scarves, beautiful accessories which are handprinted with the original drawings of British artists. These super-soft scarves make the perfect gift and are totally unique in their design. They look great when knotted at the neck or draped around your shoulders to instantly add a chic finish to any outfit.
Bigjigs Toys Ltd (Stand 521): Bigjigs Toys was born in 1985 in the garden shed of husband and wife, Liz and Peter Ireland, in Kent. Bigjigs still remains a family-run business and is one of the UK's leading wooden toy designers, manufacturers and distributors. Encourage consumers to shun mass-produced, throwaway plastic toys and inspire their children with beautifully crafted wooden toys made here in the UK.
Betty Hula (Stand 843): The fabulous Betty Hula produces an award-winning natural, vegan friendly, Hawaiian inspired skincare, perfect for gifging and all made here in Britain. She also offers great wooden unit starter sets and there are no minimum order requirements. These look fabulous on the shelf!