Home & Giftware magazine was thrilled to attend Giving & Living for the first time this week, enjoying a wonderful trip to the show's home at Westpoint in Exeter. After two years of lockdown and little face-to-face contact this was the perfect event to get us in the mood for a great year of trading and we were delighted to meet so many great exhibitors and discover countless new products during our time at the show.
The most important regional event for the South West of England, Giving & Living is host to many companies whose main business is supplying the tourist trade, which has boomed over the past two years and is looking at a strong decade ahead as more and more Brits – having (re)discovered the delights of our gorgeous resorts and destinations – seek to holiday at home and support their local economies. This strong sector of the market was reflected by comments made by coastal gift and homeware specialist, Quay Traders, (pictured top) which has exhibited at Giving & Living for years and had their best-ever result at the show this week, smashing all previous sales records.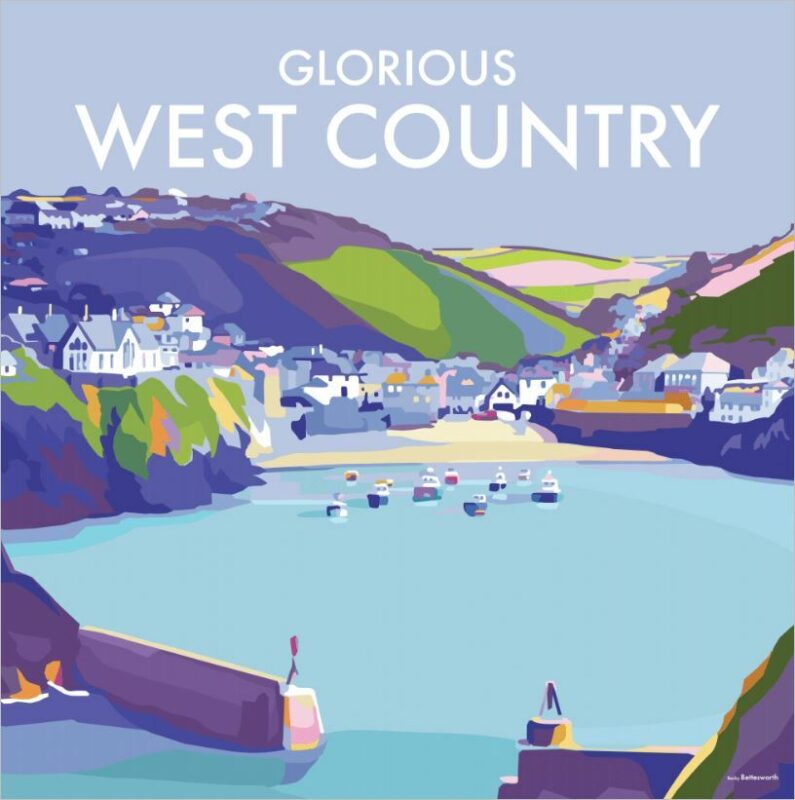 Another happy customer was the Eco Friendly Card Company, a lovely sustainable publisher and another regular exhibitor, who was busy throughout the event and had their best-ever day's trading at Giving & Living on Monday January 17th.
As the tourist trade in Britain enjoys healthy growth, the quality of suppliers to this sector is also getting better than ever, with more handcrafted and made in Britain products making their way to the show floor. Seaside toys and stress busters (very necessary in today's day and age!) were also in evidence at the big Kandy Toys stand, which brought 200 new lines to market at the show this week.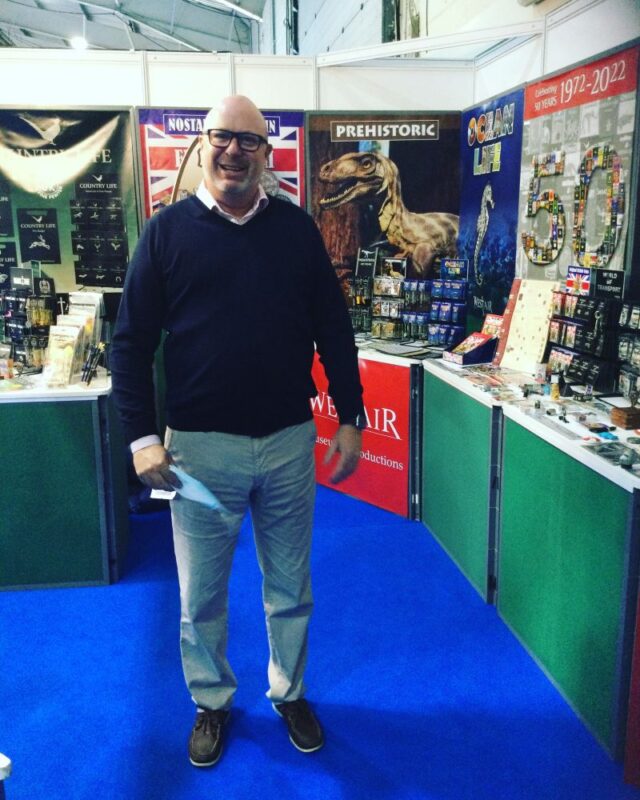 We also enjoyed seeing all the historically-inspired gems being displayed by Westair Reproductions, which celebrates 50 years in business in 2022. The company, which manufactures many of its pewter models, pins and souvenirs here in Britain, is a major supplier to castles, stately homes and historical destinations around the UK and Europe. This is set to be another big year ahead for them.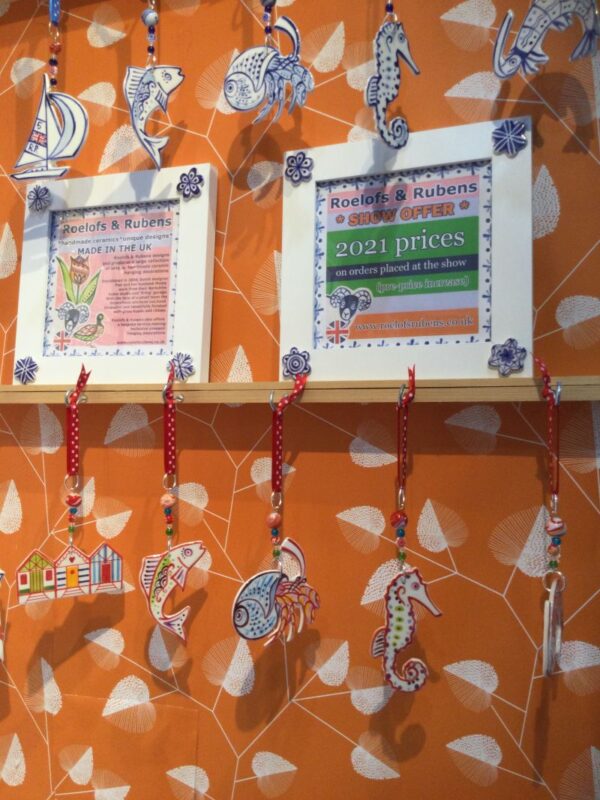 We were very pleased at the opportunity to catch up with one of our own customers, ceramicist, Roelofs & Rubens, which has the most beautiful line in hand-crafted decorations, many of which are specifically designed as souvenirs and keepsakes for particular destinations and landmarks. This puts their business right at the heart of what customers are looking for – high quality, handmade, local produced items that are crafted here in the UK and which reflect our great heritage.
The Giftware Association was also privileged to visit Giving and Living, which kicks off the UK trade show season in mid January. The GA reported that spirits were high as show life slowly returns to normal and exhibitors and buyers return to physical events across the country. The Giftware Association also had another important job at the show by choosing the 'Best Stand' and 'Best Newcomer', which CEO, Sarah Ward, had the pleasure of judging at the show on opening day. The new awards were given to Pineapple Island and Metal Motif respectively.
Sarah Ward said "We are so glad to support the show and it's great to be back in Exeter after such a long time off and meeting people and brands in person. There is such a positivity about the show and also about things moving forwards, but also thankful for the digital efforts the teams and exhibitors have gone through during Covid ensuring the importance of regional shows as a definite route to market. The show awards were something we were keen to do at the show to support the show and also its exhibitors both old and new, and we were blown away with the efforts taken during the show. The winners will receive prizes from the show to exhibit next year and also a custom trophy to celebrate their win and attract buyers to their stands"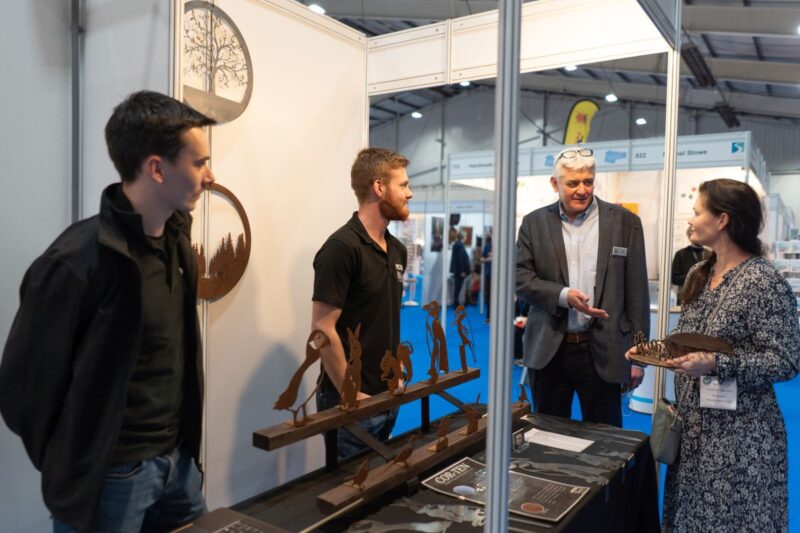 Also out in force were people celebrating their Gift of the Year victories, again both old and new it was good to see people decelerating their successes throughout the show.
Giving & Living is now looking forward to its next online event, to be held in May 2022. Launched for the first time during lockdown when physical events were forced to cancel, the online event proved a great success, opening up the regional event to far-flung destinations – in particular coastal regions -worldwide, with visitors supporting the show from as far afield as the Falkland Islands, South Africa and Australia. Watch this space for more information.
Images above: CBG Giftware, Simpkins Sweets, Susannah Hall Agencies (two images) and Country Creation.