Home & Giftware magazine was excited to participate in the Messe Frankfurt press call, which took place virtually this year at the time Ambiente was due to take place before the pandemic forced the 2022 show to be cancelled.
Messe Frankfurt's irrepressible Marketing Director, Erdmann Kilian, who was our host for the day, was keen to relay exciting new developments for Messe Frankfurt's consumer goods shows, saying "We can't wait to restart our engine in times like this and our motto now will be: Home of Consumer Goods."
The big news of the day was that from Feb 2023, Messe Frankfurt's three consumer goods fairs – Ambiente, Christmasworld and Creativeworld – will be held simultaneously for the first time, running from February 3/4 -7. In this way Messe Frankfurt hopes to combine the strengths of each show offering and make Frankfurt the epicentre of the global ordering system in one comprehensive offering .
The new show offering will necessarily entail completely new hall planning based around the macro sectors of HORECA, Contract Business and Concept Decoration.
The greetings card, stationery and office supply show formerly branded as Paperworld is being "rethought in light of global trading conditions" and is to be absorbed into new sectors being created at Ambiente.
Individual product segments formerly at Paperworld will be distributed amongst the other three shows. Ambiente wilo incorporate stationery and other paper products into Ambiente Giving and – a new sector for 2023 – Ambiente Working – for office supplies, thus bringing a whole new sector to Ambiente.
Christmasworld will absorb the gift packaging and ribbons exhibitors, whilst Creativeworld will take the creative writing, painting and drawing suppliers.
Stand-alone Paperworld brands continue to succeed in Dubai, Shanghai, Hong Kong and Mumbai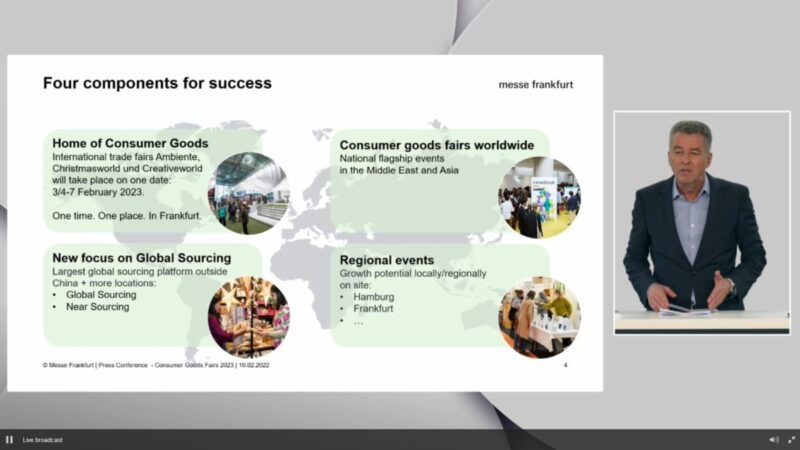 Member of the Board of Management, Detlaf Braun, remined those present that Messe Frankfurt has "780 years on our shoulder… we are inventing platforms which bring supply and demand together and we open new perspectives on the global industry and have pushed evolutionary changes in the consumer goods category over the past 15 years."
The rapid changes effected in societies worldwide over the past two years have meant that the boundaries of home and office have blurred more than ever, whilst sustainability is the keyword on everyone's lips and a concern that is growing by the day. Consumer lifestyles are changing, as we see in the meteoric rise in online sales rise as high street sales remain stagnant or fall.
In Germany last year online sales turnover reached 99.1 billion Euros, representing a growth of 19%in the ecommerce sector. It is now clear that consumers want 24/7 shopping service availability, a desire that has only been stimulated by lockdowns and the pandemic. There have been casualties as well as winners in the online marketplace: Almost 10,000 companies disappeared from Germany over the past ten years in a pattern we see repeated in other countries. Global logistics problems, incomplete supply chains and material shortages worldwide are also major challenges faced by our industry today.
"China, for long been a main supplier in this sector", said Detlaf, "is no longer reliable. We need to optimise new suppliers for the supply chain. Messe Frankfurt will redefine the market of tomorrow to increase synergy and efficiency for all participants, to rethink our marketplaces with a new and unique perspective. The world of consumer goods needs innovative formats, so with this in mind:"
As the Home of Consumer Goods, hosting Ambiente, Christmasworld, Creativeworld all in one place will create a unique global event for the industry in Frankfurt. Here there will be a new focus on Global Sourcing, Frankfurt is poised to be the largest global sourcing platform outside China.
In addition there will be Messe Frankfurt consumer goods fairs in the Middle East and Asia, plus strategic regional lifestyle events in Hamburg and Frankfurt in Autumn 2023.
"Global sourcing has enormous potential, we will open additional markets and sales channels and are also thinking of organising a series of on-site business formats for European volume buyers in selected sourcing countries". Messe Frankfurt intends to be the 'one stop shop' for the global consumer goods industry which takes global sourcing to the next level, internationally and into new markets.
Meanwhile in Summer 2023, the innovative new regional design and lifestyle offering in the Rhine-Main region will bring together design and manufacture, for the industry in a unique and brand-focused event.