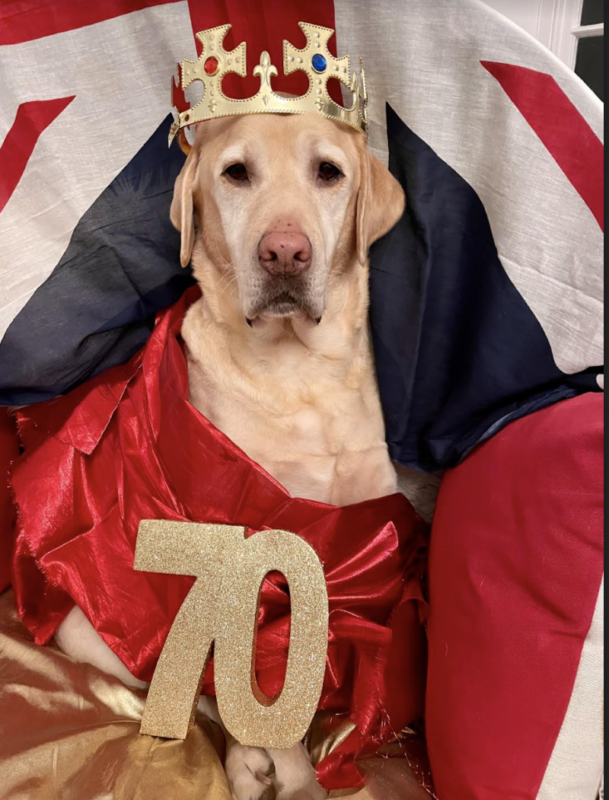 The Union Jack bunting will be fluttering and delicious cake devoured to mark 70 years since Queen Elizabeth II ascended the throne, the longest a monarch has ever reigned in Britain. And to rejoice in Her Majesty's Platinum Jubilee, over the dedicated four day Bank Holiday (2-5 June) and beyond, there will be a host of royal celebrations and events across the UK. Joining in with the jollities are card and gift retailers who are creating majestic jubilee store displays with suppliers' regal product, and who are proudly part of local revelries to bring their community together and attract a buzz around the Queen's historic milestone.
As they prepare their retail palaces for the celebrations, consort of the salubrious greetings industry 'court', Gale Astley, catches up with some card and gift stores who are getting royally ready.
Card and Gift shop Cardies' pooch Orberry looking very regal in his Queen's Platinum Jubilee outfit.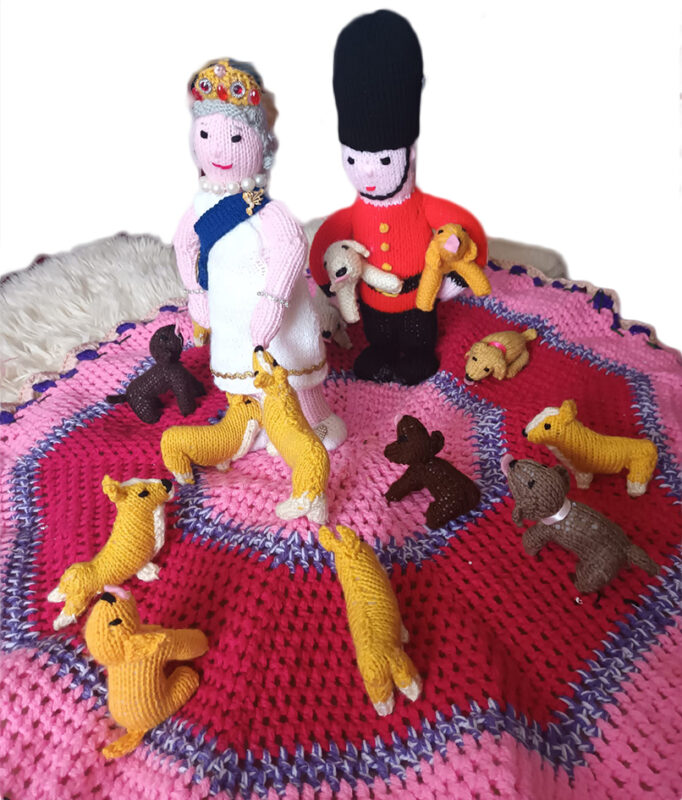 The royal celebrations are starting, for as well as the Queen's Jubilee Concert featuring national treasures such as Ed Sheeran and Basil Brush(!), and a huge Platinum Jubilee Pageant running through central London on Sunday 5th June, there will be street parties up and down the country commemorating HRH the Queen. Events such as The Big Jubilee Lunch, festivals and fetes, environmental projects of planting trees for the Queen's Green Canopy and the Tower of London's Superbloom wild meadow, and even Jubilee Jousting at Hampton Court to a one day only Corgi Café where you can meet or bow(wow) to the Queen's favourite dog breed.
And taking paw-t in the Queen's Platinum festivities is Jo Sorrell, owner of Cardies in Stevenage, who, along with her 'ponks' – her furry Labrador shop meeters and greeters – has been regally busy in a collaborative effort of residents and businesses coming together; some might even say interwoven as the town's talented knitters have been busy clacking their needles.
One of Stevenage's Nutty Knitters creations that during the Queen's Jubilee will adorn post boxes around the town.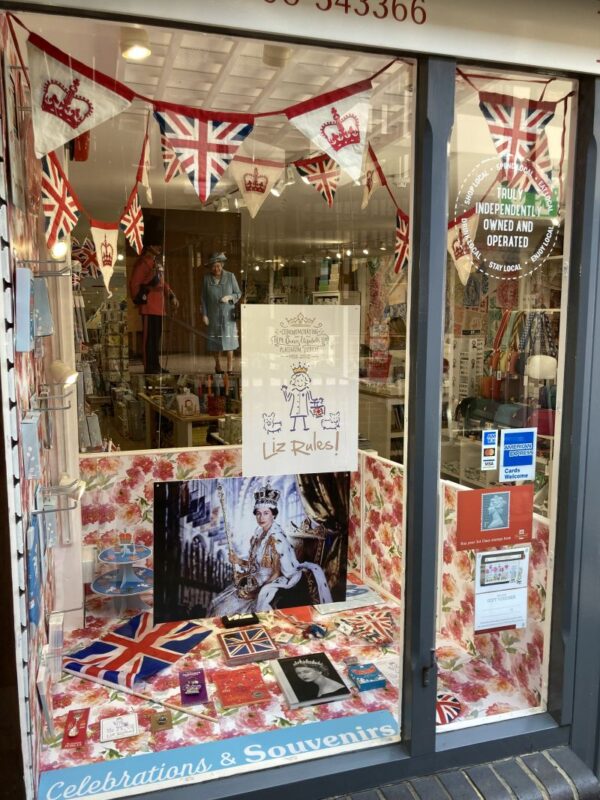 "Our town has a fantastic group of Nutty Knitters who are busy creating jubilee woolly wonders for the post box toppers that will be attached mid-May in time for the celebrations", explains Jo. "And we are also planning to hold another community Jubilee Picnic Party on our Bowling Green so we have been making crowns from recycling plastic bottles. Our neighbour opposite, Old Town Bar, have recruited lots of helpers so it will be a team effort to decorate", she adds. "We also have plans to decorate the railings outside of the shop with Union Jack bunting, hopefully encouraging the rest of the High Street to join in, and instore we have stocked Union Jack bunting and balloons and crowns in readiness for street parties and decorating."
The majestic Red Card window display.
It would be hard to disagree that retailers have had a tough time with the stress of Covid lockdowns, so it is really exciting to have such a special occasion to celebrate after a really challenging couple of years believes Sally Matson, owner of Red Card, Petworth. And the town is getting royally primed, with four days of Jubilee celebrations planned.
"On the evening of Thursday 2 June we will be lighting our beacon (1,500 beacons will be lit to celebrate the Queen's 70 years on the throne and a milestone in British history) and we will have the local piper playing, as well as a local choir singing. On the Friday there will be a special Thanksgiving service in our local church, and on the Saturday we are closing the market square in the evening and will be televising the concert from Buckingham Palace onto a huge screen for everyone to enjoy. Then on Sunday the square will again be closed and we will be taking part in The Big Jubilee Lunch", shares Sally.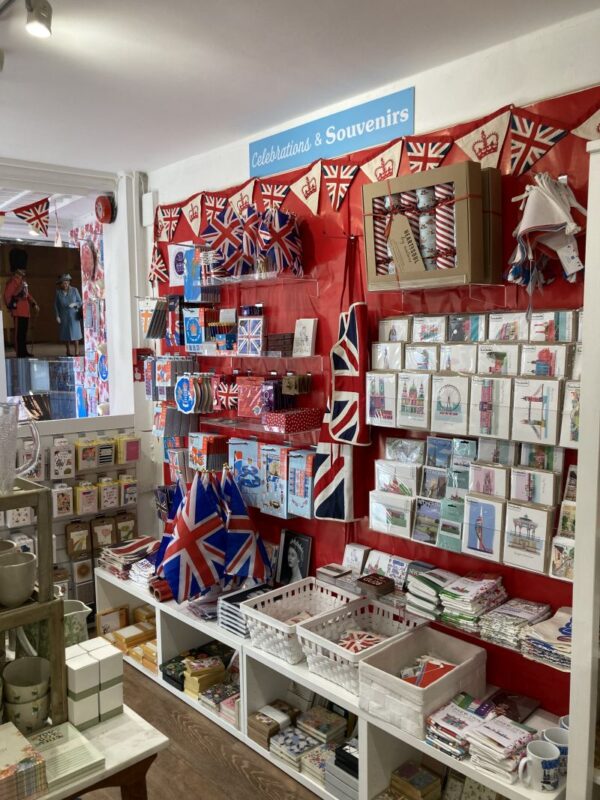 And Red Card has some fabulous commemorative and celebrative product found from numerous companies and displayed in the shop windows and on its 'Celebrations & Souvenirs' wall, including Ilona Drew's Landmarks range of cards, postcards, tea towels, coasters and fridge magnets, Louise Mulgrew's bespoke postcards, Chichester Graphics' local postcards, Bluebell 33's bespoke coaster, Julia Gash's bespoke tea towels and mugs and Weekend 365's bespoke postcards, coasters and tea towels.
"The most popular thing so far though has been the gorgeous fabric crown and Union Jack bunting from Powell Craft (pictured top). Made in India, it is really beautiful and can be used for all royal celebrations in years to come. Talking Tables has created a good range of tableware and decorations, and we have bought some lovely souvenirs from various companies", reveals Sally.
Red Card's wonderful jubilee window and 'Celebrations & Souvenirs' wall.
The gorgeous city of Wells is also gearing up its Queen's Platinum Jubilee celebratory events, with the Wells Rotary organising a jubilee celebration in the market place and on the green infront of Well's beautiful gothic cathedral will be fun activities and games, food and entertainment galore. Card, gift and homewares store Cadeaux & Co is right in the heart of the historic city and owner Kristan Miller has some delicious and decorative plans afoot.
"Our store will have a gorgeous window and plenty on social media. We will probably offer cakes throughout the bank holiday weekend too. I'll keep you posted if I suddenly decide to offer customers platinum 70% discount – though that's really unlikely as the product is so gorgeous!" she jokes.
Kristan has got some lovely jubilee items instore: "As well as some Emma Bridgewater trays, tea towels, mugs, napkins and bunting (the commemorative tea caddy tin and oblong tin all sold out in February and Elite have sold out completely!), we have also got a range of goodies from Talking Tables, including cake stands, more bunting, paper straws and plates for all those street parties."
Some lovely jubilee product at Cadeaux & Co, including partyware goodies from Talking Tables and gifts from Emma Bridgewater.
With the local Ipswich council organising a Beacon Lighting Event, as part of a national network of over 1,500 beacons being lit across Britain and Common Wealth countries, a Platinum Party televising the special live concert from Buckingham Palace on a big screen, and a The Big Jubilee Lunch street party on the Sunday, showing onscreen The Platinum Jubilee Pageant live from London as a backdrop to the event, the town's tribute to the Queen's 70 year reign has the right recipe for a crowning success.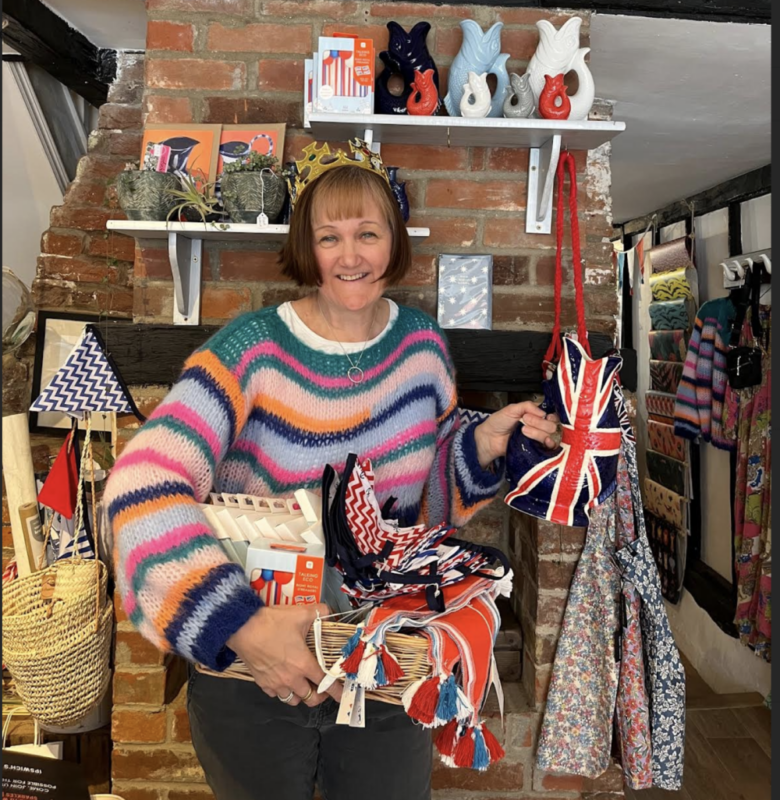 And truly enhancing the festive ingredients are Ipswich independent retailers such as card and gift store Love One, owned by Cathy Frost. "Our street is planning a small Queen's Jubilee trail where visitors have to find the crowns in shop windows. We are planning a trail map and a prize if you visit all the shops on the map!" declares Cathy. She adds, "At Love One we are planning a jubilee window with a Union Jack Gluggle jug, streamers, bunting and a corgi! I have bought in Talking Tables' paper decorations for the jubilee and we have some fabulous handmade fabric bunting. We are also trying also to get bunting up in the road but as you can guess that's not an easy one to arrange and it's costly."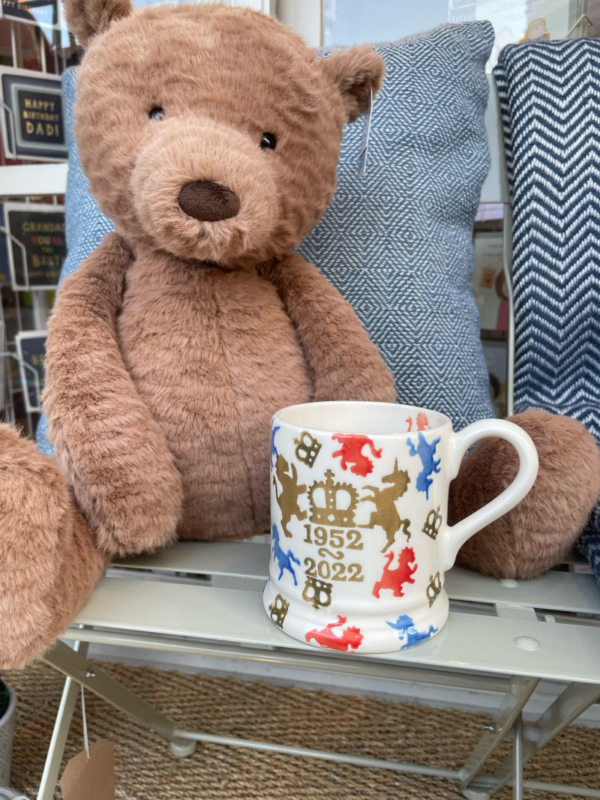 Long may the Platinum Jubilee celebrations reign for both Her Majesty the Queen and the wonderful retailers who are bringing their spark and spirit to the royal party and British historical milestone.
Cathy Frost, owner of Love One in Ipswich gets jubilant over the Jubilee!
'Bearing' good jubliee news, a cute ursine character in Cadeaux & Co's fabulous shop window display.
*With many years in the greetings industry, Gale Astley is a promotional filmmaker and product photographer.