Leon Boots Co is excited to be returning to Glee next month (28th – 30th June, NEC Birmingham – stand 7G45), where it will showcase its ever-more popular collection of ultralight outdoor footwear for ladies, gents, and children.
Currently stocked in over 135 garden centres across the country, the Leon Boots offering has appealed thanks to its unique designs, easy to merchandise and co-locate merchandising units, and product story that keeps customers exclaiming at the boots' incredible lightweight qualities. In fact, Leon Boots Co has experienced such tremendous growth since Glee 2021 (just nine months ago!) that it has moved into new warehousing and distribution facilities at its home county of north Somerset. The spacious new facilities will ensure that stock levels can be maintained at a high level to meet both ongoing and future high demand.
For the 2022 Glee event you can find Leon Boots Co. at the GIMA Village, where the full range of fabulous wellies will be on display, enabling garden retailers to see for themselves just how lightweight and comfortable they really are. The Leon Boots team will keep drinks flowing on their stand to help give buyers a relaxing and friendly experience as they discover the range for themselves and have confirmed that 1.5% of all pre-orders taken at the show will also be donated the Greenfingers charity to help them build even more therapeutic garden spaces at children's hospices throughout the country.
The Leon Boots 2023 lightweight wellington boot offering
Leon Boots' Garden Ankle Boots, which at 219g weigh roughly the same as a decent-sized hamster, are especially popular with consumers right now, who can choose from a range of six different colours: black, red, navy-blue, yellow, fuchsia, and green. With an RRP of just £39.99 and an eye-catching point of sale, these designs are just as great for gifting as they are for self-purchases.
Carefully designed, space-efficient and plastic-free supporting merchandise displays really help to optimise sales in store, taking up just 0.25m2 of floorspace with eight to ten pairs of fully boxed up wellies.
As with all Leon Boots products, the durable EVA wellies are paired with a warm removable liner, which not only makes the boots look chic but also makes them easy to clean and keep fresh. This brilliant boot liner helps provide the wearer with insulation against temperatures as low as – 30°C, whilst the boots themselves are manufactured from 100% waterproof, split and crack resistant materials.
Occupying pride of place on the stand at Glee will also be the top selling Explorer wellington, incredibly popular in the garden industry since its introduction in 2020. Available in black or green with an RRP of £59.99, the trusty Explorer is switching up the traditional wellington boot market by providing garden retailers with even more choice to drive sales in both the traditional clothing department as well as the gift departments.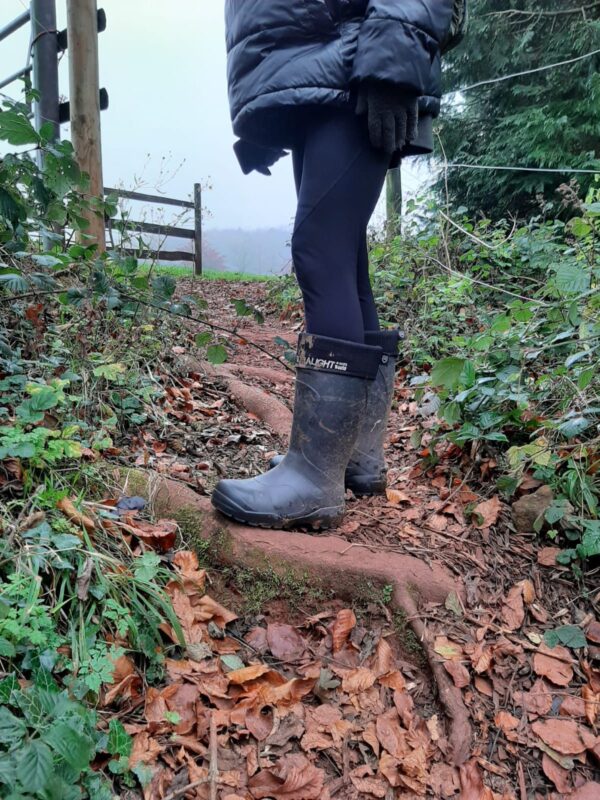 Extremely durable in comparison with the typical PVC/PU/Rubber wellingtons that are alternatives in the market, the Leon Boots Explorer is so lightweight and comfortable that last year Peter Butler Jones smashed the official world record for completing the Virgin Money London Marathon in wellies, in an incredible time of 2 hours 56 minutes and 38 seconds.
Specially designed with lady gardeners and walkers in mind, the Montana ladies' boot, currently available in classic green or navy blue, is slightly shorter and narrower than the Explorer design and even more lightweight at 272g, but with the same removable and machine-washable liner, durable exterior, and cold-resistant properties.
New for Glee 2022 will be a new Burgundy colour for the Montana range, serving as a perfect complement and contrasting display to the existing green and navy-blue designs. Montana comes with an RRP of just £49.99.
It isn't just adults who appreciate Leon Boots' ultralight boots, in fact children might like them even more, with young legs and feet more prone to getting tired if they're stomping around outside in the typical weighty welly. This aesthetically pleasing boot design provides more support around the ankle than other children's wellingtons and have a strong colour finish.
Beginning at size UK 5 and climbing all the way to UK 2 the OTTER range is available in pink, yellow and navy and all boots in the range come with a velvet machine washable liner sock. Perfect for keeping those tiny toes snug and warm! The boot can also be worn without the liner sock to help keep feet cool in hot summer weather. These fun to wear and comfortable boots make great gifts for children, especially as we look ahead to the back-to-school period and the wet winter months that are ahead.
Leon Boots' Kevin Burgess said: "We are very excited about Glee, which has been such an exceptional show for previously. The garden industry has welcomed us with open arms and happy feet and I'm really looking forward to meeting both new and existing customers at the show in June. Everyone is welcome to come along to our stand, raise a glass with us and discover what we have to offer. Along with our popular existing models we'll be offering new colours in some of our most popular wellington boot designs, which I'm sure our retailer customers will be keen to see for themselves when we reveal them at our stand in the GIMA Village."
Sufficient stock is readily available for the Autumn/Winter 2022 season and delivery on orders can be completed in 2-3 working days with minimum carriage paid orders as low as £350.00.