As Glee gets set to open its doors in late June for the first time ever (28th – 30th June, NEC, Birmingham), the UK's leading garden centre trade event invites you to a summer of garden loving! As the most important exhibition in its field, Glee serves as a vibrant networking and face-to-face trading hub, whilst the new June date will greatly strengthen its strategic position in the garden centre buying calendar.
With millions of Brits joining the ranks of gardeners over the past two years the industry has been positively booming and Glee, as its most important trade showcase, will reflect this market strength and resilience. The show will offer an unrivalled launch platform to over 400 exhibitors – more than 150 of them new for 2022 – and the biggest contingent of global brands since 2019.
The event will have a real summer festival feel thanks to a new outdoor demo area – Fire, Grill & Chill – giving outdoor entertaining companies a chance to show off their skills. Leading brands such as Landmann, Kadamo Joe, Fandango Fire Tools, Cheeky Charlie Oven Company, Northwest Asia and Kadai will all be displaying their latest barbecues, pizza ovens and grills in this area, which will also feature a drinks truck, ice cream, daily live music and will provide the backdrop to this year's Glee Party on June 28th at 5pm.
Shining a spotlight on new product development will be the ground-breaking Glee Innovator Zone, which has helped more than 275 companies penetrate the garden retail market since 2009, bridging the gap between pre-commercial new product ideas and market ready launches from established brands. This is the place to spot the stars of the future!
Extending the celebration of all things new will be the GTN-sponsored New Product Showcase, where exceptional new products will compete with firm favourites and proven best-sellers for the New Product Awards. On June 28th and 29th the top three shortlisted entries will make their pitch to a judging panel of industry experts, who will be looking for key factors such as innovation, design, promotion and saleability. The winners of 17 categories will be announced at close of play on June 29th.
The spotlight will also shine on exclusively British made products, in recognition of the enormous demand for locally sourced articles. UK garden manufacturers will be easy to locate thanks to the Made in Britain exhibitor filter, which you can access here. Buyers can also filter for sustainable products made of natural, recycled, recyclable or compostable materials, browse specific product categories or find suppliers from other countries.
With sustainability and wellbeing of central importance, June 2022 will see the launch of Giving at Glee, a series of initiatives that give back to the community. Visitors and exhibitors alike are invited to dress in their brightest floral attire for Floral Thursday on 30th June and help raise money for the Greenfingers charity. Show organiser, Hyve, has also partnered with Grow My Tree, which will enable all Glee attendees to participate by planting their own tree.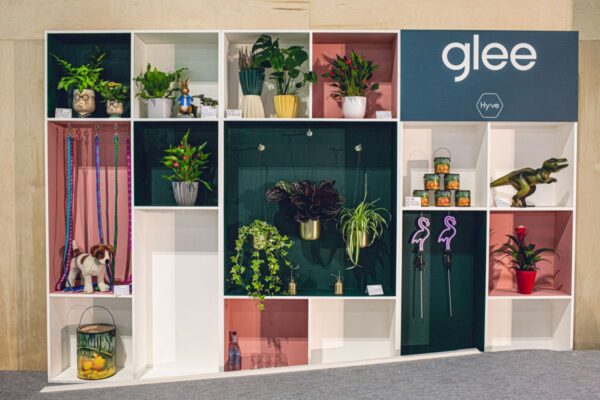 Cross-Sector Sourcing
With eight dedicated product sectors, Glee will offer exceptional crossover buying opportunities, from the very best plants and organic garden care to indoor and outdoor furniture, giftware and apparel.
Garden Care is the largest category at Glee, encompassing growing media, compost, fertilisers, grow-your-own equipment, garden machinery, tools and accessories. Exhibitors include: Mr Fothergills Seeds, Burgon & Ball, Carbon Gold, CJ Wildlife, Dalefoot Composts, DJ Turfcare, Johnsons Lawn Seed, Durston Garden Products, Eden Horticulture, Elho, Fallen Fruits, Gardening Naturally, Hozelock, Gardena, Hygeia, Jardinopia, King's Seeds, Oregon Tool UK, Plantsmith, PTMD Collection, Sipcam, Smart Garden Products, Spear & Jackson, The Real Soil Company, Thorndown, Treadstone, Vegepod, Vitax, Wildlife World, Yorkshire Flowerpots and Zest.
Glee's Landscaping and Garden Decoration zone will have some show-stopping stands from some of the most influential brands in this sector. Hard landscaping and aggregates, fencing solutions, garden buildings, pots and planters, decorative and functional garden structures, soft landscaping, statues, water features and timber supplies can all be found in this part of the show, with exhibitors that include: Woodlodge, AMES UK, Azpects, Deco-Pak, Edelman, Enigma Home & Garden, Fence Buddy, Fountasia, Gardenstone, Ivyline, Kelkay Ltd., Kiln Fired Pottery, Meadow View Stone Ltd., Primeur, Rubi UK, Smartedge, The Garden Village, UK Bamboo Supplies, and Willowstone Garden Products.
Outdoor Entertaining will come into its own with not just a dedicated show sector but a fabulous new outside demo area, Fire, Grill & Chill. Al fresco dining, entertaining, working and living have all contributed to a meteoric rise for this sector and buyers can look forward to a wealth of inspiration in the realms of garden furniture, barbeques, parasols, chimeneas, conservatory furniture, outdoor play and camping essentials. Exhibitors will include: Cadac, Campingaz, Homefire, Cheeky Charlie Oven Company, Igloo, Fandango Fire Tools, Hex Living, Shatchi, Mookie Toys, Napoleon Grills, Norfolk Leisure Lifestyle, Ltd., Pit Boss, Premier Decorations, Primus, Riverco Trading, Sun Time and Z Grills Inc.
Glee Plants – the Green Heart of the show – is where you can source the best in nursery stock, bedding plants, trees and shrubs, as well as those all-important houseplants, sales of which have boomed to more than £4billion as Brits go wild for all things green. Brands you can look forward to seeing here are: Craigmarloch Nurseries, Golden Grove Nursery, Green Inspiration Plants, Happy Plants, Henry Bell & Co, Javado, Key Essentials, Laurica Plants, MNP Flowers, The Bransford Webbs Plant Company and The Christmas Cabin.
It isn't just garden centres or outdoor living specialists who'll find a lot to love at Glee, with the Home, Gift & Clothing sector offering inspirational sourcing to retailers in this market from seasonal decorations, greetings cards and stationery, outdoor clothing and accessories, picnicware, games, toys, books, home fragrance, home décor and more, serving both this Christmas season and beyond to spring/summer 2023. Brands exhibiting in this sector include: Woodmansterne, UK Greetings, Noel Tatt, Museums & Galleries, Vent for Change, Stubbs Mugs, Creative Products, Deluxe Homeart, Emily Victoria Candles, Bolsius Candles, HJ Hall, Tilnar Art, Willsow; English Tea Shop, M&Co, Kidzplay, Summit/PMS International, Giftware Trading, JT England, Mood Bears, Leon Boots Co. and the Lake District Umbrella Company.
With pet products estimated to be worth over £6bn in the UK (Statista report June 2021), it isn't all about home and giftware for humans! Glee's dedicated PAW (Pet & Animal Wellbeing) sector will offer the goods you need to attract high-spending pet parents to your store, with a broad cross-section of grooming, pet food, pet accessories, wild animal wellbeing, bird feeders, pet toys and wildlife gardening products. Brands will include: Barking Bags, Benchmark Kennels Ltd, Christies Direct, Ditsy Pet Ltd., Goodchaps, Green Feathers, Jacobi Jayne & Company, Little Hay Company, Park Life Pet Ltd., Scruffs, and WHM Pet Group Ltd.
For many garden centres and other destination retail outlets, Food & Catering is one of the most vital aspects of their customer offering, with cafes and restaurants bringing in great profits throughout the year. This also constitutes an important sector of Glee, with companies such as The Secret Garden Distillery keen to present their product range to the trade at Glee.
Food & Catering will sit alongside the complementary Retail Experiences & Services, where you can meet the experts at: CSY Retail Systems, Dascher, Fordingbridge, Garden Connect, Gralyn Joinery, Melitta Professional Coffee Solutions, Retail Vista, Nuepos, Open Retail Solutions, Paysagea, QCR Recycling Equipment Ltd., Smiemans Projecten B.V., Stagecraft, Timber Displays Ltd., Tudor Tea & Coffee, and UCC Coffee UK Ltd.
Global Industry Showcase
Amongst the 70+ international brands due to exhibit at Glee 2022, 13 have already confirmed their place within the Indian Pavilion and the show is also looking forward to welcoming its first ever exhibitor from Uzbekistan, alongside companies from Canada, Korea and China.
The European contingent will feature strong representation from that other famous gardening nation, The Netherlands, to include Elho, Kaemingk, Capi Europe, Kapiteyn B.V., Edelman, Madison B.V., Impulse Plants B.V., Bonfeu, JAVADO, 200 Fahrenheit, Plenty Gifts, Green Inspiration Plants, and Smiemans Projecten B.V. Glee's new partnership with Team France Export, Business France and the Choose France™ initiative will bring Forest Style SAS (Soulet / Cerland), Vertiable SAS, Paysagea SAS and Hareau (Weenect) to the NEC, whilst key German brands, Scheurich and Burstenhaus Redecker Gmbh will also be present, alongside suppliers from Austria, Belgium, Denmark, Estonia, Ireland, Italy, Latvia, Moldova, Norway and Poland.
Taking Centre Stage
The best of garden retailing will once again be celebrated at Glee with the Buyers Power List awards, to be held on Tuesday 28th June at 5:00pm. The prestigious awards will recognise the individual buyers and buying teams who have gone above and beyond to make a difference within the garden retail industry in the past year.
As always, Glee will offer visitors valuable content free of charge via The Stage seminar programme; a programme that has been expertly curated to tackle key themes and trends that are currently shaping consumer demand and the future of garden retail. This year's schedule will include topics such as 'The opportunity for growth in the current environment' (Tuesday 28th, 11:00 – 12:00), 'Sustaining and managing growth' (Tuesday 28th, 13:30 – 14:15), '2023 Home and Outdoor living trends' (Wednesday 29th, 13:30 – 14:15), and 'How garden centres can adapt to a sustainable and successful long-term online strategy' (Thursday 30th, 11:00 – 11:30).
Sealing Glee's position as the industry's most important networking hub, the show will again play host to our vital trade associations: Gardenex, GIMA (Garden Industry Manufacturers Association) and HTA, all of which are looking forward to seeing their existing members on the show floor, meeting with potential new members and offering their invaluable advice and expertise to those who need it.
GIMA will run its popular speed-networking event, Buyers Connect, for the duration of the event, whilst Gardenex will also be hosting 30 international Buyer Connect events*. These short but sweet business meetings offer a golden opportunity to make personal contacts with the most sought-after buyers and suppliers, without wasting any precious show time.
Matthew Mein, Glee's Event Director, said: "We are incredibly excited about the first-ever summer edition of Glee and proud to invite garden centres and other retailers to this year's sell-out show.
"Our industry still faces significant challenges – mostly due to macro-economic factors and supply chain logistics – but it never ceases to inspire with constant innovation, drive and positivity. The millions of new gardeners who joined our ranks during lockdown are here to stay and will be rolling up their sleeves in the great outdoors for years to come. Glee is THE place where retailers can fulfill the requirements of all their customers – be they grow-your-own newbies and houseplant enthusiasts, veteran allotment holders, al fresco entertainers or house and garden proud Brits. With over 400 exhibitors raring to go, the sourcing opportunities at Glee this year are tremendous. We can't wait to see you all at the show!"
Entry is free of charge to all pre-registered visitors. Register here