Earlier this month 88 golfers enjoyed a fun filled day of golf, networking and fundraising at the 12th annual GIMA Golf Day, with the Graf UK team walking away as course victors!
Returning to Belton Woods Hotel & Golf Club in Grantham, Lincolnshire, 22 four-ball teams tackled the 6,623-yard course that carries a par 73 handicap. This year's winners were the Graf UK 'Red' team, championing the course with a score of 96 points. Hot on their heels was the Polhill Garden Centre team, with Leon Boots grabbing the third-place position. At the other end of the scoreboard, this year's booby prize winners were AMES UK.
All the players enjoyed an al fresco dinner and drinks before all the day's awards and accolades were given out. An auction and raffle completed the festivities, together raising funds for the Greenfingers Charity.
This year's 'Beat the Pro' winners were Chris Luther of Hartman, James Coles from Southern Trident, Charles Stubbs, playing as part of the AMES UK team, Danny Toone from the Westland 'Blue' team, Nic Griffen of Evergreen Garden Care, Neil Blake and Wayne Williams from Woodlodge, and Jacob Lewis of Leon Boots.
The course also offered 'nearest the pin' challenges on holes 4, 8 and 15, with Imprint's Rory Park winning on not one but two holes (4th and 8th) and Dean Smith from Haemmerlin winning on the 15th.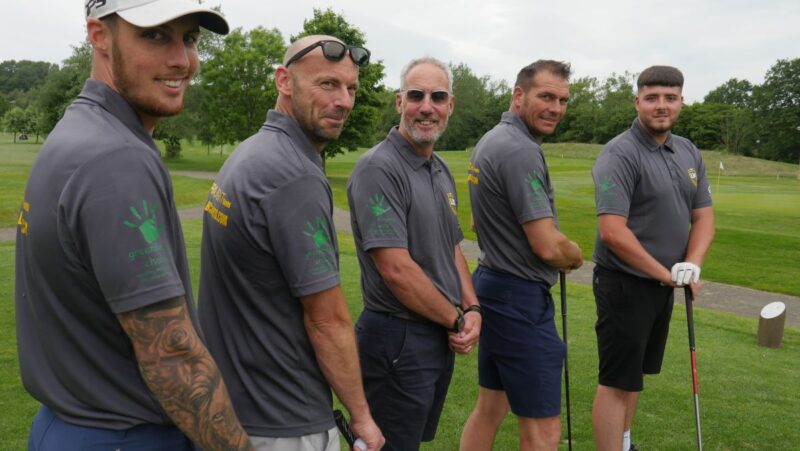 This year's longest drive came from Westland's Danny Toone, whilst James Cole from the Southern Trident team was also awarded the prize for the nearest to the pin in two on the 9th.
In addition to the golfers who made the day such a success, the event was also kindly supported by a wealth of sponsors who provided raffle and auction prizes, sponsored the holes and even provided refreshments around the course at special 'drinks holes'. Thanks to this year's sponsors Bathgate, Stihl, Zest, Woodlodge, Hozelock, Handy Distribution, The Garden Village, British Garden Centres, Leon Boots (pictured) Meadow View Stone, Imprint, Primeur, Capi Europe, Vitax, Elho, Hornby Whitefoot, Decco, and Gardena for their support.
Speaking about the day, GIMA Director, Vicky Nuttall said: "What a fantastic day. It was great to see the industry come together for a day of fun and networking, even if the weather was not so kind to us as last year! Once again, we thank everyone who took part including our sponsors, those that donated auction and raffle prizes, and all those that dug deep and donated to the Greenfingers charity".
Linda Petrons, Director of Fundraising & Communications at the Greenfingers Charity added: "On behalf of everyone at Greenfingers Charity, thank you GIMA for another fabulous charity event. Your generosity throughout the day and into the evening is hugely appreciated by us all but more importantly the hundreds of children and families we support."
The annual GIMA Awards will be taking place later this year on October 20th at the Celtic Manor Hotel, Newport. Tickets are selling fast so interested parties are encouraged to book now to avoid missing out. To find out more please visit https://gima.org.uk/gima-awards/