PlayMonster UK launch My Fairy Garden Range at GLEE 2022
New Peppa Grow & Play Sets, Wild Scenes, Fuzzikins and My Living World Showcased Too
Playmonster UK is making its debut at GLEE 2022 with an impressive line-up of stunning Grow & Play sets with edible plants, crafty kits and nature study sets, showcased on stand 7C30.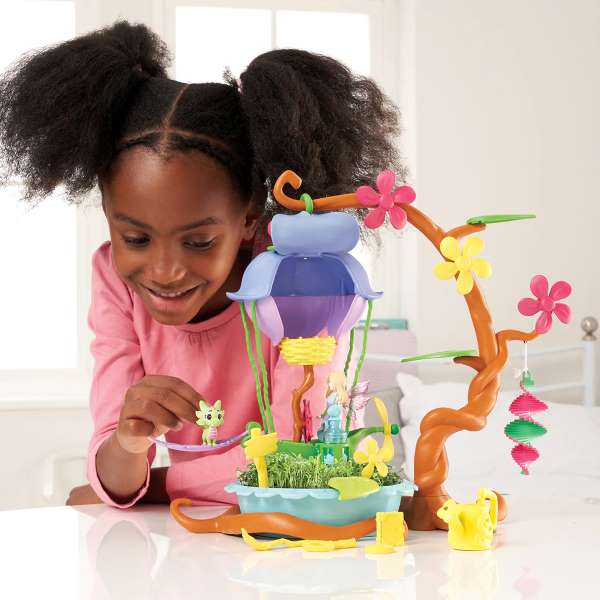 Inspiring the imagination with an enchanting fairy world, Playmonster are introducing the brand new range of My Fairy Garden Fairies, Plantimal friends and playsets at Glee 2022. A magical world centered on nurturing, finding adventure, and growing up strong while empowering children to make a difference. My Fairy Garden continues to encourage children to interact with nature and develop a love and care for the environment through open ended, imaginative play. Each set features new highly detailed/articulated fairies, plantimal friends, colourful edible plants, removable growing areas, hidden surprises and added play features. The collectible range will launch with a multi-layered marketing campaign with RRPs starting from £4.99 to £19.99.
Continuing the Grow & Play theme, the Peppa brand sees the launch of the new Peppa's Playhouse Pot, offering a 2-story playhouse inside the pot and a roof top garden with real grass that the child can grow for Peppa and George to explore. Includes over 16 accessories and RRP £21.99. Playmonster UK is also introducing the new WWF Wild Scenes Grow & Play range, created to support the WWF UK charity, the world's leading independent conservation organisation. The playsets will be available at RRP £12.99 and a donation will be made for each set sold to WWF.
For the younger members of the family – the new Fuzzikins Sleepover Kit (RRP £13.99) is a fun way to celebrate the importance of sleep while decorating adorable tepee tents, sleeping bags and sleep masks for the cute Fuzzikins unicorns.
The My Living World nature play sets have a huge appeal to families, looking for affordable, educational play ideas to entertain kids at home, in the garden or the park. The award-winning range is designed by nature experts and championed by leading naturalist and popular TV presenter, Nick Baker. My Living World supports National Curriculum KS1 and KS2. Sets available include Ant World, Worm World, Bug Safari Kit, Bug Photography Kit, Flower Press and more, available from £13.99srp to £15.99srp.