Fifteen fantastic new garden and pet product innovations have been confirmed as this year's winners of the highly-coveted Glee New Product Showcase. The winning products were announced at a special award presentation organised and run by Garden Trade News at the leading garden retail event, Glee, which takes place this week (28th – 30th June, NEC Birmingham).
Over 300 entries were received across the 12 categories, with suppliers from across the garden retail sector eager to showcase the innovation that has kept product development teams occupied over the past 18 months during lockdown. These eager teams all took to 'The Stage', Glee's dedicated seminar hub, yesterday (Tuesday 28th) and today to pitch to the judges the feature and benefits of their latest products in the hope of being crowned this year's winners.
It was then the work of this year's panel of judges – Gill Ormrod – Rosebourne Garden Centres; Mel Livingstone – Fron Goch; Andy Bunker – Alton Garden Centre; Ian Hodgson – Garden News; Nicci Gow – Retired garden centre owner; Elliott Kirby – RHS Wisley and YPHA member; Lilidh Matthews – primrose.com and YPHA member, and Roger Crookes – Pughs Garden Centres – to carefully deliberate on the merits of each entry, before crowning the individual category winners and three 'champion of champions' awards at today's official Glee New Product Showcase ceremony. The winners are as follows: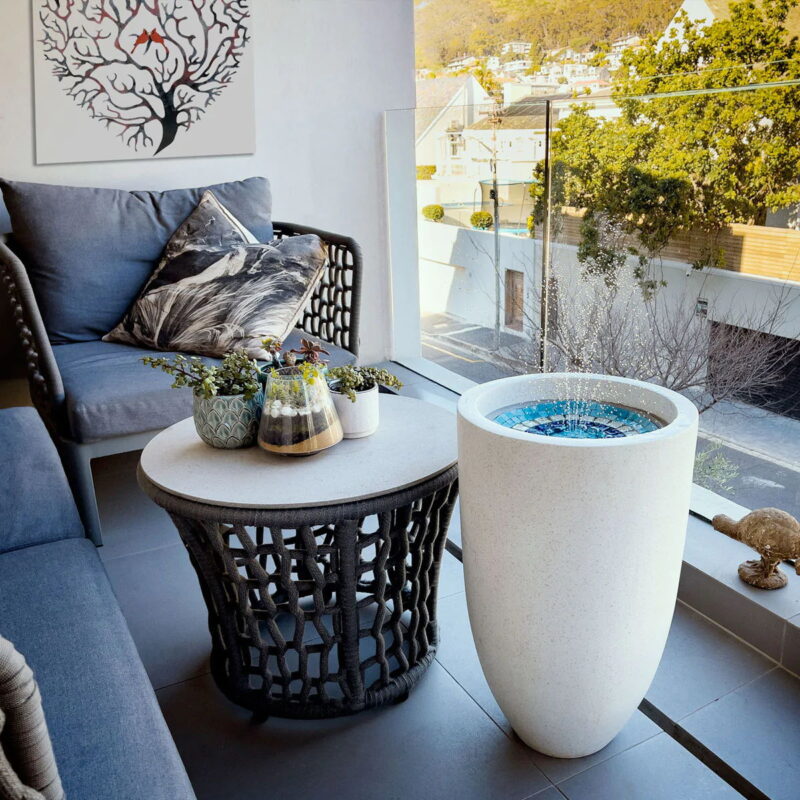 Garden Plants, Seeds & Bulbs Winner: Golden Grove – Cryptomeria jap. 'Kyara Gold'
Growing Materials Winner: Sipcam Home and Garden – Peat Free Compost Booster & Organic Superfood
Wild Bird Care and Wildlife Products Winner: Bermuda – Bermuda My First Pond Kit
Garden Leisure & Entertaining Winner: Zest – Garden Bar and Two Stool Set
Homewares, Giftware, Toys & Games, and Clothing Winner: Plantsmith – Plantsmith Houseplant Care Set (pictured top)
Garden Tools & Machinery Winner: Westland Unwins – FloPro Can-Can
Garden Decoration Winner: Hydria Life – Hydria Fountain Kit (pictured above)
Garden Growing Containers Joint Winners: Barrus – Tiered Planters and Woodlodge Products – EcoMade Ocean Reclaimed Planter
Landscaping & Garden Buildings Winner: Meadow View Stone – Alpine Collection in Large Bags
Retail Services & Experiences Winner: Westland Unwins – Westland Live
Pet Products Winner: PARK LiFE PET LIMITED – PARK LiFE Fris-Bix
Growing Accessories Winner: Wicked Waterer LED Moisture Sensor – Mayhem UK Ltd
Best of British Award Winner: Airflow Ltd – Bertie
Sustainability Award Winner: Wildlife World – 30 cell natural rubber seed cell tray
Best in Show Winner: Westland Unwins – FloPro Can-Can
Matthew Mein, Glee Event Director confirmed: "Another year and another amazing opportunity to celebrate the hard work and creativity of our industry. This year's winners' roster is stronger than ever, with an impressive line-up of new products that are set to ignite new sales opportunities for retailers as well as enticing consumers with products that make gardening easier, more enjoyable and full of swoon-worthy products that also make gardening more sustainable. Huge congratulations to all our winners, those shortlisted and everyone that entered. Together you have made this year's Glee New Products one of our best yet!"
Glee will be open throughout Thursday 30th June, meaning there is plenty of time left to visit the show and see the latest market innovations for yourself. There will be another day of vital business content at The Stage and you can also enjoy Floral Thursday and the accompanying Greenfingers Charity Draw by donning your best flowery item of clothing, be it socks, shirt, jacket or dress and celebrating this wonderful charity with your industry friends and colleagues.
More details about Glee 2023 – which will take place June 27th-29th – will be announced soon. To find out the latest news log onto www.gleebirmingham.com.