Interiors expert and Head of Design at Shida Preserved Flowers, Helen Ellis, gives her top tablescaping tips for the perfect summer soiree, including the use of sustainable and reusable blooms
With summer in full swing, it's officially garden party season. Head of Design at Shida Preserved Flowers, Helen Ellis, shares her top five tablescaping tips to elevate your outside space and host the party of the season.
Tablescaping has become one of the biggest interior design trends to emerge over the past few years, using tableware and decorations to create a beautiful scene across the expanse of a table and its surrounding, with each item positioned with purpose. Gone are the days of pop-up tables and paper plates, now we are striving for beautifully curated tables that add extravagance and indulgence to dinner parties and alfresco dining.
Sustainable Blooms
Shida's most recent summer collections are fresh, lush and exotic, taking inspiration from this season's latest interior trend, brights. Combining pastel tones with bright pops of colour is the perfect way to bring a midsummer feel to your table.
The Alice bouquet is a luxe hand-tied arrangement, choose pretty in pink or add an optional peppermint hydrangea for a minty, soft focal flower. Beau is a pretty posy of arrange-at-home flowers, style them in a Clover vase for a contemporary look or arrange mini bunches in small vessels along your summer table. The addition of peppermint hydrangea stems will make the garden party table pop.
Whilst fresh flowers have their place, their environmental impact isn't so rosy. Shida Preserved Flowers are perfect for summer garden parties and can then be repurposed to give a seasonal update to inside interiors. Helen says: "We are beginning to see a clear shift towards more conscious choices, with consumers investing in products they know they'll use time and time again."
Destination Themed Tablescaping
According to Helen, theming your table around a destination is a popular trend.
She says: "With the lasting effects of the pandemic still impacting travel plans, we find ourselves drifting towards home comforts, and the trend of transforming our own spaces into destinations themselves serves as the perfect form of escapism. Think Ibiza with a modern, vibrant, and tropical décor. Or whisk your guests off to the Amalfi coast with rustic painted crockery and richly died linens in blues, whites, and lemon yellows."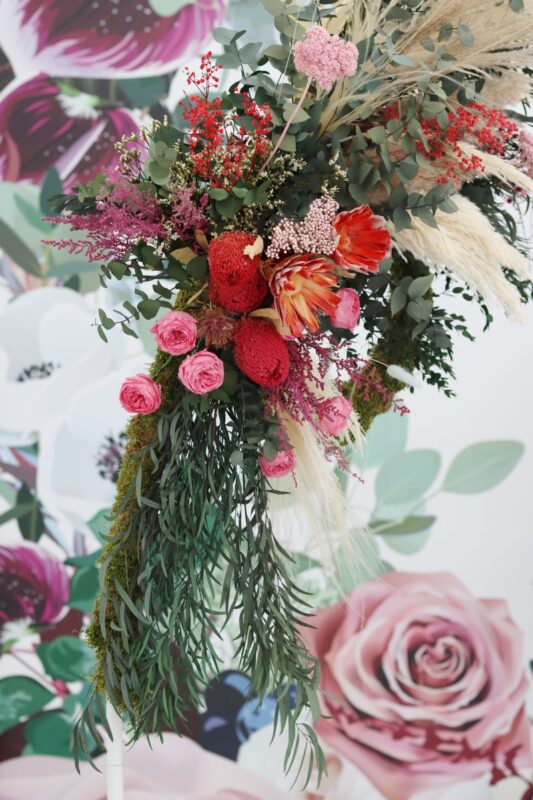 Scale and Height
Playing with proportions and dimensions is one of the easiest ways to elevate your tablescape in a unique way. Here Helen has added tall candlesticks in bright neon tones to complement the vibrant shades in the Beau bouquet and peppermint hydrangeas, whilst incorporating the luminous energy of summertime. Not only do these add a focal point, but they also add ambience and warmth when lit later in the evening for a beautiful candlelit glow. You can layer your lighting by scattering tealight candles, votives or even fairy lights along the table to create the perfect atmosphere for your guests.
Helen has also varied the heights of vases to add visual interest, whilst using the Beau bouquet as the main floral focal point at the head of the table, she has used elements of this arrangement spread along fluted bud vases to create a flourish along the centre of her table. Finished with beautiful pops of mint hydrangea. This is a fantastic and versatile way of creating a unique floral centrepiece without purchasing multiple bouquets.
Textures
Helen says: "One of the easiest ways to elevate a tablescape is to add some textual elements to place settings, here I've incorporated natural elements using sweet pink gypsophila for a simplistic and delicate place-setting décor; whilst also complementing the soft hydrangea petals, and gypsophila used in the Beau bouquet."
Helen has also adorned her chairs with chunky knit blankets, adding warmth and depth, and perfect for guests to snuggle up with when the sun goes in.
Unique Glassware and Ceramics
Unique glassware and ceramics are the perfect accent pieces for a gorgeous tablescape. Helen suggests adding height with chic wine glasses, paired with textured water glasses and fun smaller bowls in vibrant shades to add pops of colour. Combining various styles of crockery, ceramics and glasses not only adds personality and vibrancy to your table, but they can also be incredibly versatile. Helen suggests using your favourite ceramics to serve nibbles such as olives and nuts or repurposing your favourite cocktail glasses to serve dessert.
For those wanting to recreate Helen's garden party table, the Beau letterbox flower delivery contains all the exotic dried and preserved flowers you will need, and stunning peppermint hydrangeas add the luxe touch to complete the look. These long-lasting flowers can be reused for all your garden parties throughout the season.
With a focus on creativity and mindfulness, each of Shida's products has been thoughtfully curated by Helen, who takes inspiration from fashion, trends, art, and interior design to devise the unique ranges which include bouquets, wreath-kits, and gift sets.
Pioneer in contemporary, sustainable floral decorations and centrepieces, Shida's preserved flowers are real plants, expertly grown and harvested at their peak. A special environmentally friendly preservation treatment replaces the sap with 100% plant-based glycerine and dyes. The cell structure of the plants is maintained, leaving them feeling soft, naturally beautiful, and able to last all year with little maintenance needed.