Members of the Garden Centre Association (GCA) in the South Thames region are celebrating after picking up awards during a presentation on Thursday, July 14, 2022 at Ruxley Manor Garden Centre. The title of Garden Centre of the Year in the Destination Garden Centre (DGC) category went to Ruxley Manor Garden Centre and the Garden Centre (GC) category award went to Coolings Wych Cross.
Iain Wylie, Chief Executive at the GCA, said: "Our first regional awards meeting was a great success and it was fantastic to see attendees all actively engaged in the presentations and taking down lots of notes to share with the rest of their teams. "I'd like to congratulate all of our very worthy winners and give a big 'thank you' to Ruxley Manor Garden Centre for being wonderful hosts and Colin Farquhar for inspecting the centres earlier in the year and presenting his findings."
Colin inspected 52 garden centres in the region within a 12-week period. He said: "The garden centres in the South Thames area of the GCA displayed the highest standards of customer and plant care I have experienced for a long time. It was a pleasure to watch the genuinely warm interaction between the customers and the colleagues on a daily basis, well worth a visit."
Ruxley Manor Garden Centre also picked up the award for Catering Excellence, Best Garden Centre Restaurant (DGC) and the Outdoor Living Award for Best Outdoor Living Retailer.
Andrew Evans, Managing Director at Ruxley Manor Garden Centre said: "We are thrilled to win the best destination garden centre award and wouldn't have been able to do it without our amazing team and all of their hard work."
Coolings took ownership of Wych Cross Garden Centre in 2019. Dwayne Ross, Coolings Managing Director, said: "We are thrilled to have been awarded seven awards by the GCA, an incredible accolade and one the board of directors and I are extremely proud of. We couldn't have achieved this without the fantastic team across all four of our centres and continued support from our customers. We are especially proud of the team at Coolings Wych Cross for being awarded 'Garden Centre of the Year' in the South Thames region. Since taking ownership of the nursery and garden centre in 2019 we have worked hard to make plants and especially roses the main focus at the centre, as growing has always been at the heart of Coolings."
Coolings Wych Cross became a GCA member in 2021. Louise Kemp, Coolings Wych Cross Garden Centre Manager, said: "After joining the GCA just last year, we are delighted to have been awarded Garden Centre of the Year in the South Thames region by the GCA. I have a fantastic and passionate team around me here at Wych Cross who I am extremely proud of for all their hard work across the whole centre and rose nursery."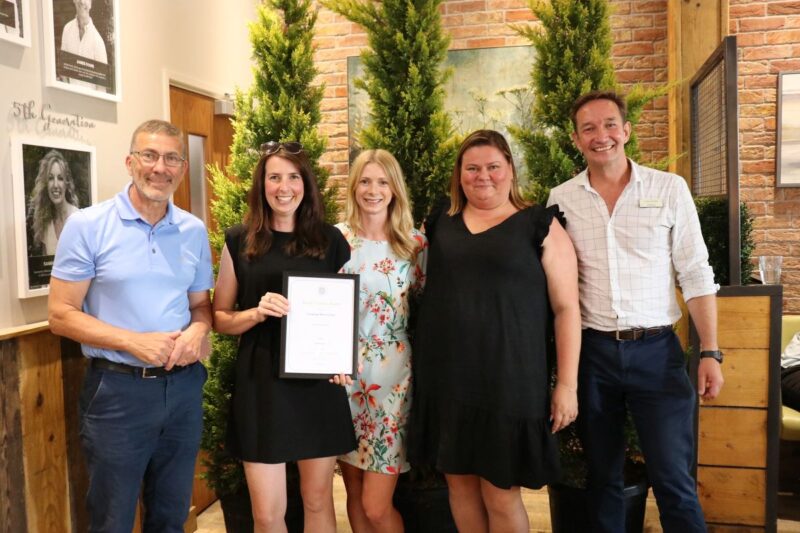 The full results for the South Thames region GCA area awards are as follows for the GC and DGC categories:
Garden Centre of the Year: Ruxley Manor Garden Centre (DGC) and Coolings Wych Cross (GC)
Customer Service Award for Best Customer Service: Millbrook Garden Company, Gravesend
Environment and Sustainability Award: Millbrook Garden Company, Gravesend
The Barton Grange Trophy for Commercial Innovation and Creativity: Haskins Roundstone Garden Centre
The Dick Allen Award for Most Improved Centre: Squires Garden Centre, Milford
The Award for Catering Excellence for Best Garden Centre Restaurant: Ruxley Manor Garden Centre (DGC) and joint winners Busy Bee Garden Centre and
Millbrook Garden Company, Staplehurst (GC)
The GIMA Award for Best Garden Products Retailer: Garsons Garden Centre, Esher (DGC) and Millbrook Garden Company, Staplehurst (GC)
The Indoor Lifestyle Award for Best Indoor Lifestyle Retailer: Haskins Roundstone Garden Centre (DGC) and Knights Plant Centre, Betchworth (GC)
The Outdoor Living Award for Best Outdoor Living Retailer: Ruxley Manor Garden Centre (DGC) and Canterbury Garden Centre (GC)