Much loved British home and garden brand, Ivyline, was thrilled to unveil its S/S 2023 collection at Glee 2022, offering buyers the perfect opportunity to preview the hottest new products well ahead of next year's peak trading season. More than 250 new SKUS for 2023 were introduced at the show, strongly focused on meeting the demands of the UK's booming houseplant market with trend-led designs that will inspire consumers to indulge their love of plants more than ever.
The breath-taking array of new products spans an eclectic range of curated concepts, from Nature's Stories, Coastal and Curiosity, to Global Journeys and Japandi. Purity and Simplicity with soft, muted colourways are important themes to help orient the new collection, as consumers seek solace in their homes from the pressures and costs of everyday living. Specially developed ranges for cacti and orchids will ensure all bases are covered in these popular houseplant sectors.
Highlights include the gorgeous Jolie matte planter with inbuilt legs in delicious colours, a simple but effective premium stoneware collection which exudes luxury. Enjoy the timelessly classic Boston collection, which bring contemporary flair to a tough and resilient exterior in three appealing colourways. For a real wow-factor, the extra-large Zendaya metallic planters on legs, in embossed gold or silver – or the stunning black/antique gold of Calla – will elevate any home interior, whilst the tribal-style of Pisa offers the perfect mid-century statement for style conscious houseplant enthusiasts. With these and more, you can help your customers to achieve the desired urban-jungle effect or high-end looks in glorious style.
Trend-led hanging planters feature highly in the collection, whilst decorative hooks, a wider range of large-size planters and planters on high-leg stands bring a wonderful diversity to the range, designed to appeal to consumers who love to make houseplants into important home interior features.
The 2023 catalogue also includes a superb selection of 100% handmade planters within the Purity collection, from the dramatic elegance of Nico to the delicate lines and natural colours of Aurora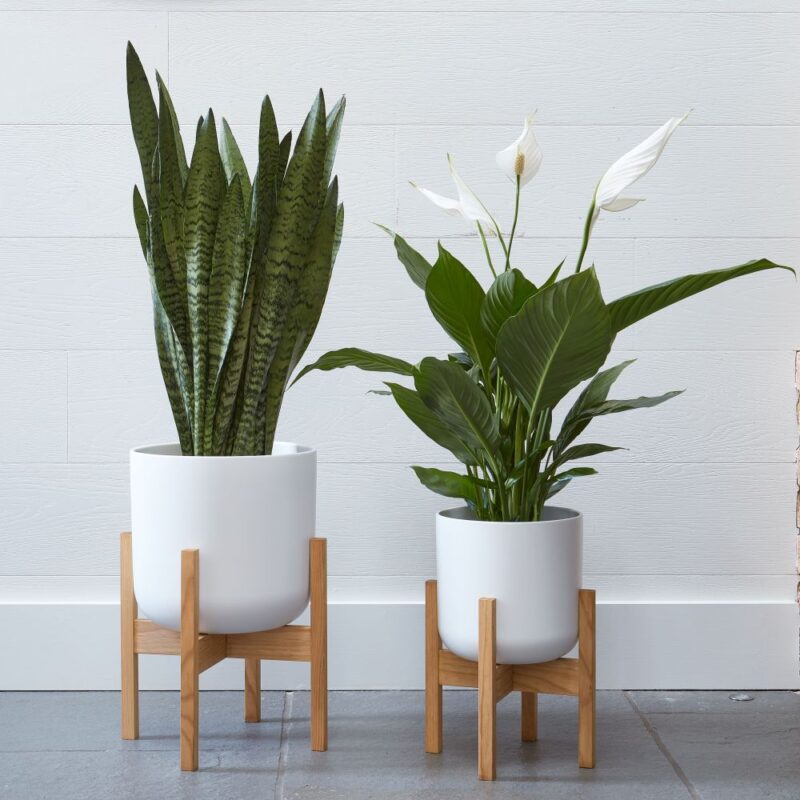 Sustainable style
Ivyline has prioritised efforts to ensure all aspects of its manufacturing and sourcing process meet strict sustainable standards and now uses 95% recycled glass in its vases and glass planters, complemented by eco-friendly tealights and candles. Look out for the new Opulent range of metallic gold and bronze glass planters, as these are sure to be a winner with customers in search of warm luxe accents to perfectly offset their elegant greenery.
More sustainable materials are being used than ever before across the Ivyline ranges. Within the eclectic Curiosity collection is a gorgeous range of Seagrass baskets, which perfectly capture the trend for rustic, sustainability, and woven materials. This laidback, contemporary style of lovingly hand finished pieces is versatile, lightweight, and easy to transport.
Then there is Celine, a new partner range to this year's popular PULA range, already tipped as a 2023-star performer. Suitable for use either indoors or outdoors, the stunning Pula planters are made from 100% recycled materials and are also fully recyclable after use. With three colours to choose from and a variety of planter sizes, this is a great range to put front and centre where you want to encourage sustainable shopping from your customers.
Made in Europe
Ivyline is now having most of its products manufactured closer to home on the European continent, greatly reducing the carbon footprint, ensuring supply lines remain open and that stock is more readily available throughout the year, with no danger of being stuck for months in the Far East or shipping lanes.
Amongst the many European made lines you can discover throughout the 2023 Ivyline catalogue is Azalea, designed to beautify windowsills with its attractive ribbed surfaces, beautiful reflective glazes, and natural tones. The eye-catching Sapphire collection also forms part of the European initiative, with stunning accent pieces that are suitable for either using with plants or as standalone home decor articles. The pleasing curves and textured surfaces of Arles, in four different colours, is another European made collection, with many others besides set to adorn the Ivyline stand.
The 2023 catalogue clearly highlights every European made collection, so you can confidently source products which have been made closer to home (watch out, though, that's a lot of products!).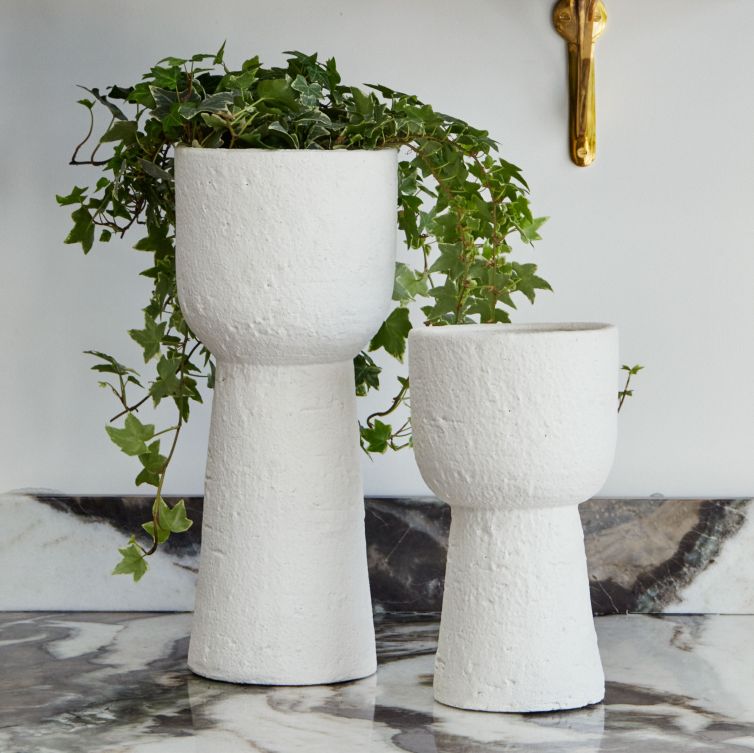 Outdoor Living
Glee visitors also saw the introduction of two brand new categories in Ivyline's Outdoor range, with super-stylish mirrors and fire storage helping to complete the elegant al fresco lifestyle that so many consumers are now seeking. Dedicated work by Ivyline's talented inhouse design team has resulted in a cohesive style across the various product categories, greatly facilitating the instore merchandising potential and enabling people to 'buy the look' when shopping for outdoor living inspiration.
Elsewhere, Ivyline offers a selection of highly stylised furniture suitable for indoor and outdoor use and inspired by nature with leaf motif and shapes further echoed through the range. All Ivyline furniture ranges come with a two-year guarantee and are offered with two-man delivery. These larger ticket items are not container stock, which means that retailers can purchase a smaller number of items, as required, without the need to commit to huge stock quantities, which could be an expensive initial outlay and difficult for them to store.
Ivyline Managing Director, Scott Thomas, says: "We are extremely proud of our latest collection, which is the product of a lot of hard work by our incredible design team. We carried out a thorough review of our existing portfolio which has enabled us to develop clearly defined merchandise themes that enable consumers to either shop entire looks in store or hone-in on a particular article which epitomises the style they are seeking – all with a highly competitive price architecture.
"2023 is our most trend-led collection yet, comprising of many completely unique lines, brand new product concepts and a broad range of styles that will enable garden centres and home interiors retailers to bring a real breath of fresh air to their shelves. For those of you that missed us at Glee, be sure to book an appointment to view our showroom – you won't be disappointed!"
The new product collections of interior and outdoor accessories are supported with instore display concepts, including a brand-new concept that is currently being trialled in a handful of stores, with a view to being rolled out in the new year. This will include display options for bespoke interchangeable ranges and merchandised packages containing an optimum mix of complementary products.