The Royal Horticultural Society (RHS) has announced the launch of a new collection from longstanding licensee Moorcroft, a renowned producer of heritage art pottery and a leading name in the world of ceramic design.
Called For The Love of Orchids RHS Collection, these five beautiful pieces of art pottery are not only a glorious celebration of the orchid. The collection also showcases the exquisite work of Nelly Roberts – the first RHS orchid artist – in the year that marks the 150th anniversary of her birth. Each piece of art pottery is made entirely by hand in the Arts and Crafts tradition and designed by Moorcroft designer Nicola Slaney.
The first and longest-serving RHS orchid artist, Nelly Roberts was employed to paint life-sized illustrations of award-winning orchids. The skill with which this watercolourist's brush captured the sheer beauty of her subjects during her 56-year career as an illustrator for the RHS Orchid Committee is incalculable.
Nelly's illustrations received no global fame outside the horticultural world, but 150 years after her birth that is about to change. Nelly Roberts left behind thousands of studies of orchids, many of them held within the RHS Lindley Collections, the world's finest collection of botanical art. Renowned Moorcroft designer Nicola Slaney has now developed five Moorcroft designs, each holding a different orchid cultivar or hybrids, and all inspired by Nelly's work.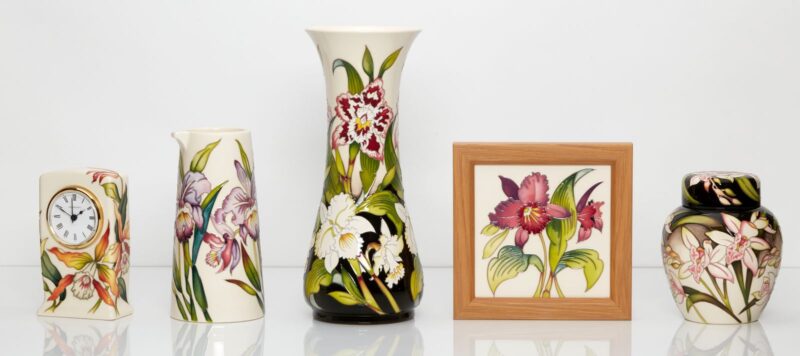 The five pieces are: The Dell (a jug), Almandin (a plaque), Vine House (a clock design), Rameses (a ginger jar) and, of course, Nelly Roberts (a vase). The handmade designs within the collection range in price from £170 to £895 and are available as limited editions, numbered editions or open editions that will be discontinued when the collection closes. Heights vary from the 12-inch vase named after Nelly herself to a 9-inch jug and the demure 6-inch ginger jar.
All the designs commemorate RHS-award-winning orchid cultivars or hybrids painted by Nelly Roberts, whose own name was immortalised in two orchids Cattleya Nellie Roberts gx and Odontoglossum Opheron gx 'Nelly Roberts'. The collection is a fitting tribute to a painter who faithfully applied her watercolour brush to use myriad colours to create timeless beauty.
The pieces involve complex colour combinations and intricate and delicate tubelining work (where each design is outlined in liquid clay) which requires phenomenal manual dexterity and many layers of careful glaze application by Moorcroft artists to ensure that the richness of each design does justice to Nelly's work. The method of creating each piece made by Moorcroft originated with William Moorcroft in 1897 and is almost exactly the same today.