Rewilding is stirring the heart and artistic strings of card publishers as well as encouraging wildlife. A beautiful Wrendale Designs card (pictured top) illustrates the point.
Just like Gardeners' World, in the first of a two-part 'series', writer and promo filmmaker, Gale Astley, asks green-fingered card publishers to talk about their verdant spaces, and, just like the BBC program's Viewers' Gardens spot, showcases their gardens in a specially produced video.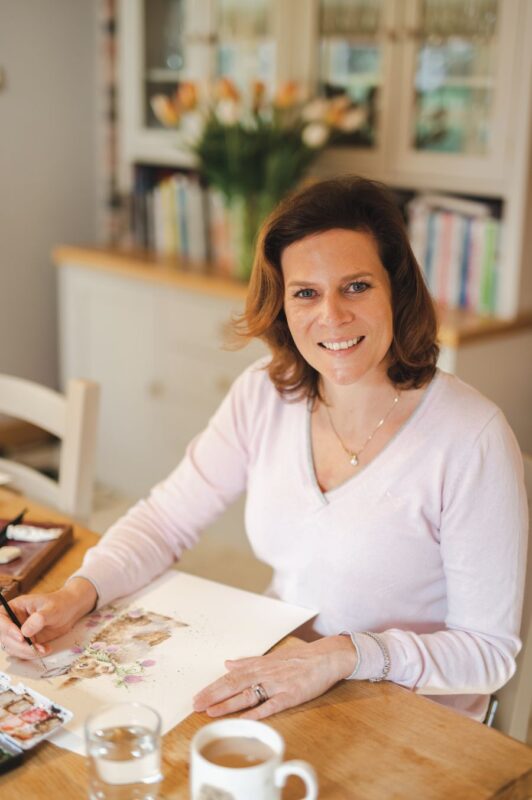 The Rewilding Revolution
Tiny insects happily buzzing from one pollen laden flower to another, scuffling small wild mammals and chirruping birds foraging for food and finding shelter, as increasingly more Brits decide to rewild areas of their garden depleting wildlife numbers are rejuvenated and us humans are treated to a window into their world.
Zoologist turned Lincolnshire farmer and creative director of Wrendale Designs, Hannah Dale, and Co-founder of The Eco-friendly Card Co., Sue Morrish, are two environmentally-committed greeting card publishers who have already had a peek into this natural realm, both revealing their absolute love of their gardens and how they have been busily flitting from flower to flower too this summer, enjoying the fruits of their rewilding labour, whilst discovering it has spurred on their card creativity.
"I absolutely love gardening and it is what I spend most of my time doing when I'm not working. I love the creative side of gardening – blending colour, texture and form and how it evolves and changes with the seasons", reveals Hannah Dale, Creative Director of Wrendale Designs, who, once a zoologist, now, alongside her blooming business, runs a small Lincolnshire farm with her husband Jack. "There's something very optimistic and hopeful about planting seeds and there's nothing more satisfying than seeing all of the hard work pay off when you are rewarded with colourful blooms or delicious vegetables. I find having your hands in the soil the absolute best way to wind down and destress – it's like an instant tonic", she adds.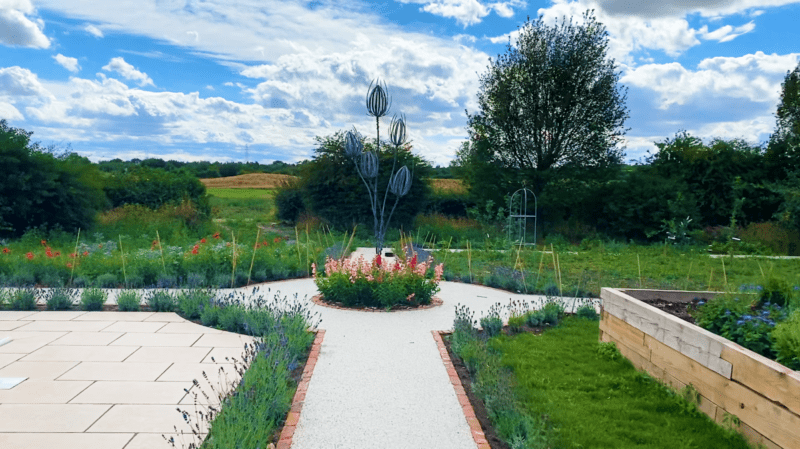 Wrendale Designs' Hannah Dale has been creatively inspired by rewilding areas of her garden.
It was three years ago when Hannah and Jack started the process of rewilding their farm and parts of their garden, and they are big advocates of this style of gardening that welcomes wildlife and incorporates a little wildness. "We've got lots of wild areas blended alongside a natural style of planting and I love to see the garden buzzing with insects and birds," she enthuses.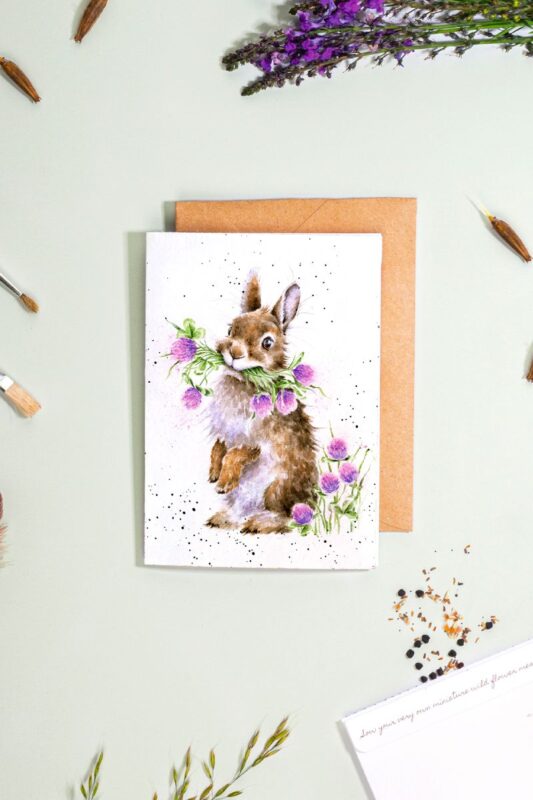 The Lincolnshire countryside has always provided her with a lot of inspiration for her card designs, but since rewilding the farm she's seen a huge increase in the abundance of insects and birds, "including a lot of red listed species that are thriving in newly formed scrub and hedgerows burgeoning with berries and brambles even after just a couple of years," she explains. "We're seeing this having an effect further up the food chain as well and foxes, hedgehogs, barn owls, hares, kestrels, red kites and so many more species are resident on the farm. All of this means that our garden is also abundant with life – we had one of this year's fox cubs eating fallen cherries in the garden a few weeks ago and of course it's impossible not to be inspired by that!"
Hannah's garden and the farm are huge sources of stimulation to her, so much so Wrendale Designs launched a new range of seed cards in January containing a little packet of wildflower seeds grown in Lincolnshire. "I love the thought of spreading a little bit of wildness with each card that is sent".
Wrendale's new range of seed cards contains a little packet of wildflower seeds grown in Lincolnshire. With sustainability at its core, the company has always printed its cards on FSC® board and used recycled envelopes, and 97% of its products are packaged completely plastic free. It has also planted 28,000 trees to offset its carbon footprint.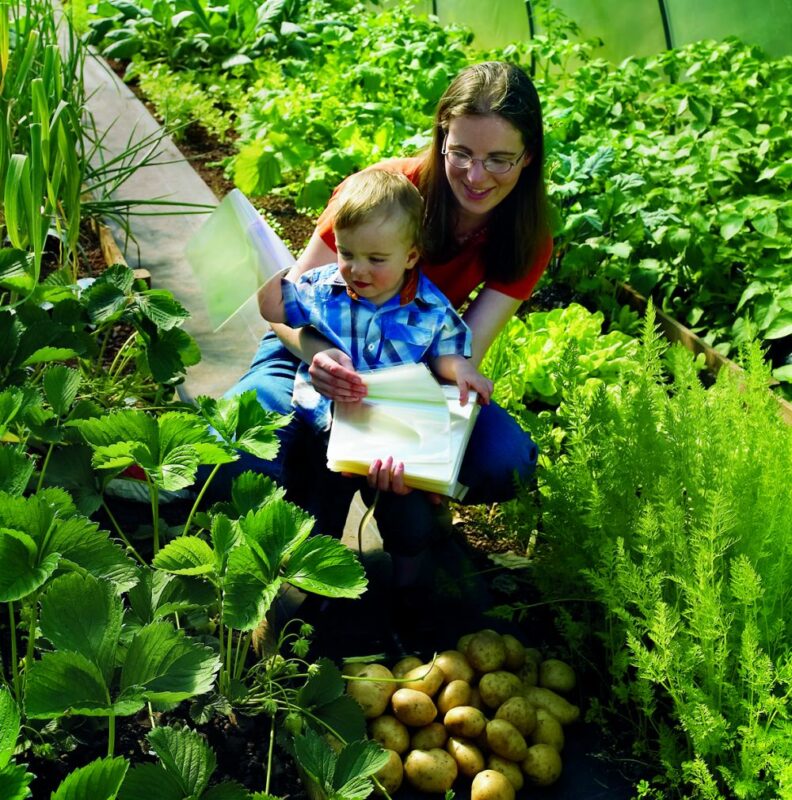 Not only is she green-fingered, but Sue Morrish, Co-founder of The Eco-friendly Card Co., is also a pioneer of eco-materials and production within the card publishing industry and beyond, and she was a forerunner of corn-starch bags for cards. Sue and her husband Scott have also worked with the Wild Life Trusts learning about British Wildlife throughout the last decade and the carbon zero company's eco-commitments are incredible and highly regarded, its most recent green award in 2021 for its pledge to Carbon Balanced Paper & Print from World Land Trust.
"We know wildlife, and the habitats it depends upon, are precious and often fragile. And it's that knowledge that holds our focus on consistently trying to find additional ways of reducing our environmental footprint and have created a list of 'eco-commitments' that apply to all our products", explains Sue.
Sue with her son Ben and the company's first compostable bags over 15 years ago.
As you can imagine, Sue's garden is a thing of wonder (and veg), and full of tiny wildlife, and this year she began rewilding parts of her garden: "I think my garden style Is quite cottage garden meets nature reserve! For me the garden is all about the plants and wildlife. This year I've planted a new wildflower area and it's buzzing with all sorts of pollinating insects and looks wonderful! I'm looking forward to seeing birds on the seed heads later in the year."
She also spends a lot of time on her veg plot and in the green house. "I love the smell of tomato plants, blackcurrant bushes and herbs like fennel, lemon balm and basil – gardening is my de-compress space!" she enthuses.
Eco-friendly Card Co's Sue Morrish happy in her veg garden. This year she began rewilding parts of it to encourage wildlife.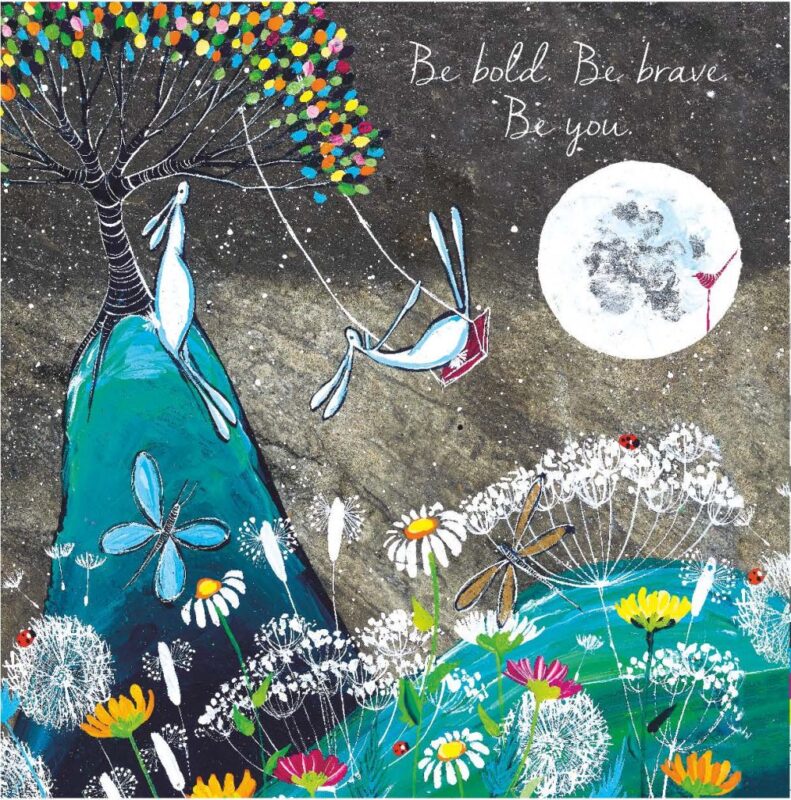 Sue has really enjoyed working with The Wildlife Trusts over the past 10 years, learning so much about the extraordinary diversity of British wildlife and discovering creative card inspiration. "It's changed the way we look at the world and how we manage our own garden – which in turn has created brilliant opportunities for more wildlife photography. The natural world is not only fascinating and beautiful, but is also increasingly understood to contribute to mental and emotional well-being. Maybe this is why we are consistently drawn to wide open images of land and seascapes in one moment, and tightly focused studies of flowers, birds and bees in another."
From artist Kate Andrews, 'Be Bold, Be Brave, Be You', and Scott Morrish's bee photograph designs from the Eco-friendly Card Co. All designs are FSC® certified, use 100% recycled board and envelopes and alcohol-free print technology powered by green energy and printed with vegetable based inks. Either wrapped in compostable bags or naked, its cards are free of foil, glitter and plastic-laminate and made in the UK.