Design & Source returns for Autumn Fair 2022 from the 4th – 7th September at NEC Birmingham, welcoming global manufacturers producing homewares, textiles, gifts, stationary, fashion and toys, amongst many other capabilities.
With a focus on sustainable and ethical production, Design & Source welcomes leading Indian manufacturers to the show and provides a platform for retailers to responsibly source from Indian toy companies. These include Salasar, the company behind Webby Toys, and Funride Toys, amongst others. Salasar (Webby Toys, pictured here) creates a wide range of products from dolls and soft toys to outdoor games, educational toys, sound and light toys, in addition to other ranges, whilst Funride Toys creates trikes, scooters, walkers and ride-on toys.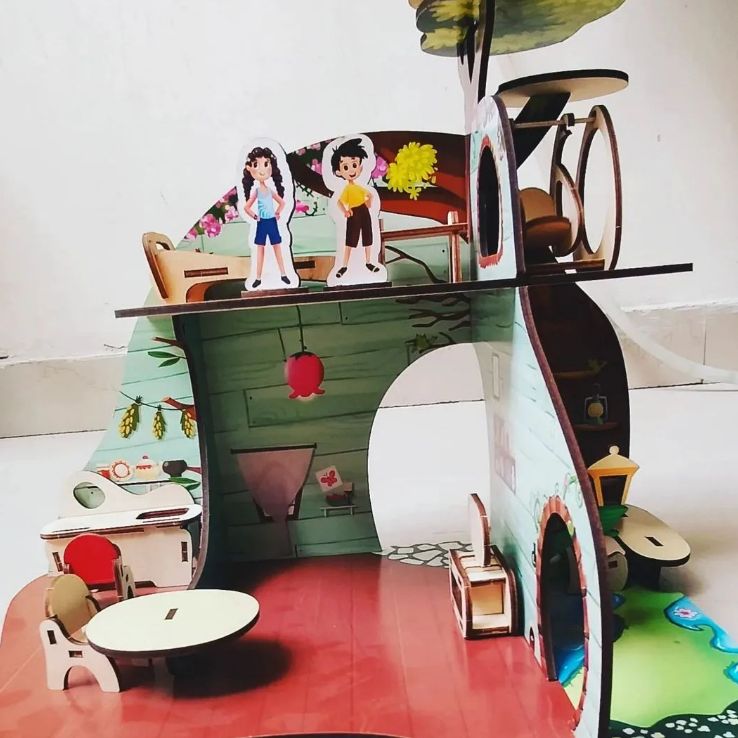 Suzanne Ellingham, Sourcing Director at Autumn Fair says; "We are looking forward to welcoming this group of sustainable and ethical producers from India this year. It's the first time Autumn Fair has hosted an Indian pavilion of this size, and I'm excited to see the reaction our buyers have to this vast range of products on offer. This Indian Pavilion provides an exciting opportunity for buyers to discover more products made in the right way from quality manufacturers. As we move forward, it's incredibly important that we encourage more of these manufacturers with values that align with ours to bring their fantastic products to the UK market.''
In addition to these sustainable toy manufacturers, Design & Source at Autumn Fair will also showcase Indian manufacturers of table and kitchenware, sports, clothing, and bag manufacturers.
Also featuring at Autumn Fair this September is the MODA Fashion Sourcing pavilion, which for the first time is working with the Jiaxing Government, to bring 30 sustainable fashion manufacturers showcasing their expertise in clothing, textiles, and luggage. Introducing Jiaxing to UK buyers for the first time, it provides UK retailers with inspiration to create their best-selling ranges with Jiaxing's manufacturers who hold sustainable and ethical values at the core of their production.
An opening ceremony for the MODA Fashion Sourcing and Jiaxing's sustainable fashion pavilion at Design & Source will take place on 5th September from 9.30-10.30am, where guests will be treated to an international trade breakfast, speeches, and videos to celebrate a new hub for creativity, collaboration and trading. Notable speakers at this ceremony include:
• Julie Driscoll, Managing Director for Retail, Manufacturing and Engineering, Hyve Group PLC
• Richard Hall, Head of Retail, Department for Trade, UK Government
• Ms. Bao Ling, Minister for Economic & Commercial Affairs, Embassy of the People's Republic of China in the United Kingdom of Great Britain and Northern Ireland.
• Ms. Zhang Huijuan, Deputy Director General, CCPIT (China Council for the Promotion of International Trade) Representative Office in UK
• Mr. Zhang Shankun, Vice Chairman, China Council for the Promotion of International Trade Zhejiang Provincial Committee
• Mr. Ni Huping, Deputy Mayor, Jiaxing Municipal People's Government

Offering a broad and inspiration collection of new products, Jiaxing exhibitors at Autumn Fair include: Haining Julai Trading (socks pictured top) – supplying high-end sofa and curtain fabric; Jiaxing Huali Sweater Technology – experts in weaving methods, crafts, and yarn application; Jiaxing Jingyuan I&E – manufacturing seamless sportswear, yoga and fitness products; Jiaxing Longzi Industrial – creating wallets and handbags; Tongxiang Fuxiang Fashion – specialising in womenswear and Zheijang Skyland – supplying luggage sets, cases and bags.
Suzanne Ellingham comments: "We're delighted to welcome 30 sustainable and ethical manufacturers from Jiaxing to Design & Source this year. It marks the beginning of our relationship together to continue to provide a range of ethical and sustainable manufacturers, who provide beautiful products, to the UK market. From seeing the products that will be on display at the show this year, we know our retailers will be excited by the newness on offer in Design & Source. With such a strong reputation for design and manufacturing, we're delighted to connect Jiaxing with the UK and international buying market at Autumn Fair this year."