Autumn Fair, which ran at the NEC from September 4-7, gave UK retail a fabulous preview of the hottest products and key looks for the coming years, as well as a platform showcasing over 600 exhibitors across 12 product sectors.
With a continual bustle of orders being written across the show floor, exhibitors and buyers gave excellent feedback on the event, which also delivered a comprehensive series of trend-led presentations and catwalk shows.
Nicola Hawkins, Director, Willow and Co Interiors Ltd said: "It feels like there's a lot more choice this year and I've really enjoyed it. I've been talking to a lot of new suppliers, particularly nice to see so many seasonal options here for last minute Christmas stock purchases."
Sara Clark, Buyer for Jarrold Department Store (Norwich) was among the thousands of buyers who also enjoyed the show, saying: "Autumn Fair is a good time to buy pre-Christmas stock and is my last prompt to buy Christmas products and finalise my last Christmas purchases. I have had a chance to look at lots of stands and meet brands I may not have heard of. It's also great to touch products to get a feel for them and it's good to find some more interesting smaller brands."
Nicola Meadows, the new Portfolio Director at Autumn Fair said; "I've been overwhelmed by the positive vibe at Autumn Fair and MODA, it's been a very smooth show and people are ready for change, to discover great new products and brands, to network and re-connect with their peers. Autumn Fair creates an incredible environment for the retail community to do business, hear from industry leaders, and be inspired."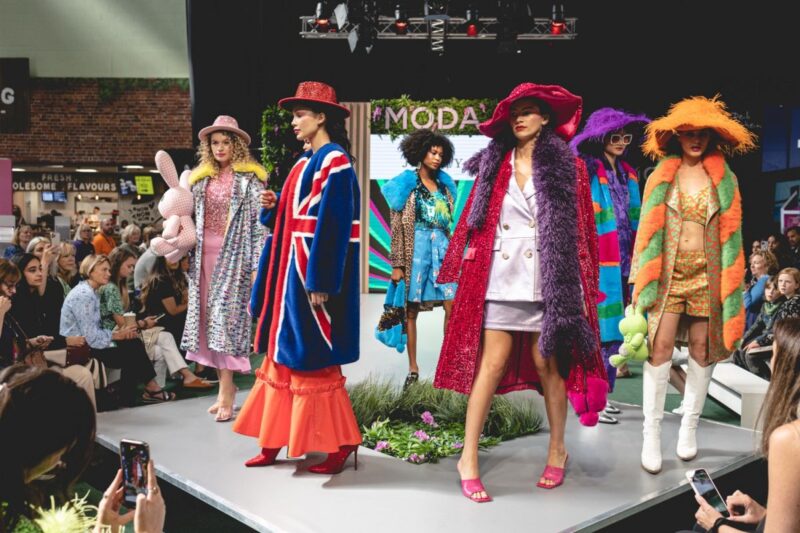 AW 23/4 Fashion Trends
The Moda Catwalk was brought to life four times a day with pumping music and the upcoming fashion trends for 2023. These included a Jewellery & Watch edit called Leather Not Leather, the super bold Bright Pink Everything, and sultry looks in Dark Romanticism. Lighthouse Clothing, Jayley, Saloos and Fitoutpro also featured in high energy and creative sponsored looks.
Sebastien Renault, Artistic Director at Promostyl, offered insights into AW23/4 womenswear trends for the 'Committed Woman'. The four key trends explored 'Nature & Ecology', 'Technology', 'Luxury' and 'Counter Culture'. Nature and Ecology is a trend directly influenced by the impact the climate has on fashion, where key colours are camouflage tones of Maple Brown, Khaki and Chlorophyll Greens offset with Survival Red, and the icy blue Polar Bear and Glacier.
Technology brings an update inspired by space with radical geometry, robotics, hybrid volumes, and technological atmospheres. Prints are directly inspired by science, with a nod to science-fiction and fabrics are reflective, utilitarian with futuristic details. Key colours here are neon-pastel shades of lilac Illusion, and mint Energy. Elsewhere Smokey Grey and Titanium are contrasted with Bright Emerald, Yellow Chrome and Copper Metal.
Luxury is an antithesis technology, exploring luxe nostalgia through iconic references from English Heritage for the timeless woman, with equestrian influences throughout and outsized men's jackets paired with mini-skirts and ballet shoes. Fabrics include tweed, wool, checks, whilst varsity jackets, schoolgirl punk, modern tweed and xxxl checks bring a rebellious twist to this classic look.
Counter Culture follows the younger, more daring woman with a darker, more committed aesthetic shines through. Militant, underground, street, and experimental looks are seen here, with an emphasis on denim. The classic edge of varsity gets an edgy revamp with oversized Bomber Jackets and utility details. Key colours re dark metallics, deep navy's, black vinyl's contrasted with musical pastels like Symphony.
The Future of Celebration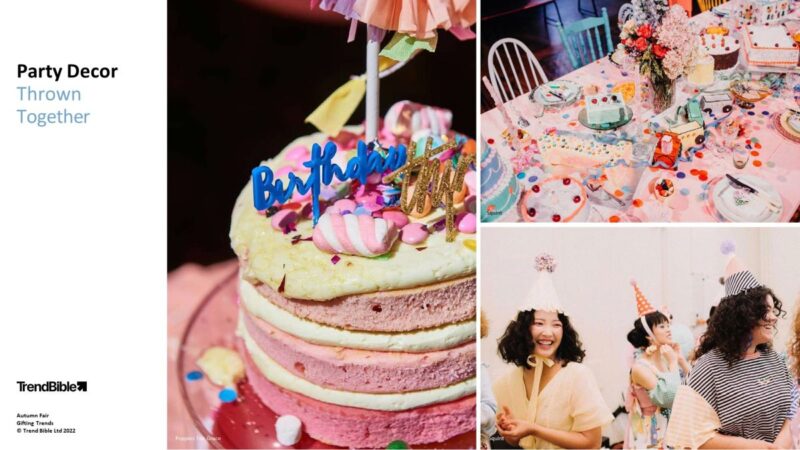 On the Inspiring Retail Stage, TrendBible's Trend Editor Wendy Lowe explored The Future of Celebration in 2023, along with Home and Lifestyle Trends for the year ahead.
The Future of Celebration featured Recover Together, an honest, cheerful, naïve, nostalgic, and anti-perfectionist trend. While the mood is focused on rebuilding, repair, collective grief and strength in sensitivity, the colour palette is bold, colourful and inviting, celebrating progress over perfection and encouraging lovingly handmade gifts and a thrown-together look. Deborah Mordain, Trend Researcher said: "This is a great opportunity for brands to expand their celebration and gifting strategies beyond 'special dates,' using brave and honest messaging to inspire their audience to go big on the small things."
The Surreal Sense (pictured top) trend delivers a psychedelic disco, surreal nature, higher self-energy, and fields escapism. Liv Taylor, Visual Strategist and Cultural Researcher said: "Sensory saturated and psychedelic spaces create modern day escapism. Blending a love for nature with futuristic aspirations, brands can invite customers to lose themselves in the moment – whether at a big blow-out party or in an intimate self-care session. Heightening flavour and scent, offering a personalised experience, and using unexpected textures and colours will leave customers with something they'll never forget."
During the 2023 Home and Lifestyle Trends, Wendy outlined a key trend called Radical Natural, incorporating Resilient food systems, Outdoor hobbyists, Green cities, Healing nature and Sustainable inclusion.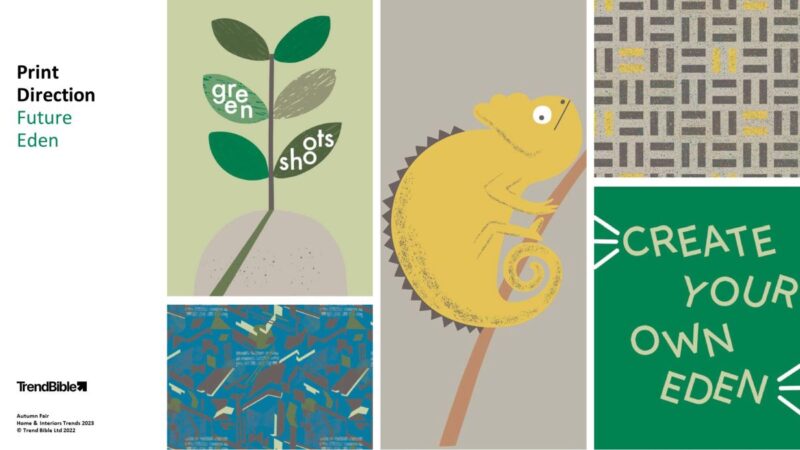 The Future Eden trend looks at Urban resilience, Functional resistant and durable Utilitarian, and Pet friendly Eco-consciousness. Driving the trend is the move to remote working, a democratisation of nature, and ultra-localism with a colour palette of greens, yellow, blue and soft earthy browns. Naomi Pollard, Head of Publishing TrendBible explains: "This trend speaks to the rising number of eco-conscious consumers, that expect sustainable products and circular design without compromising on a fresh outlook."
Looking further ahead to 2024, Wendy presented the Modern Renaissance trend, offering Still-life like classics rebirthed, sculptural, sensual, refined, and monumental aesthetics. Pollard commented: "Modern Renaissance echoes the rebirth of culture and the arts. As a contemporary ode to classic design and historical masterpieces – reinvented with modern form, styling and narrative – this trend story combines the best of timeless and timely chic."
A cultural reawakening emerges, representative of the bloom that follows a fallow period. The spirit and design style of the Renaissance cascade through visual language and product design, where classic forms find a new audience and a still-life aesthetic emerges. A new wave of artists and muses become interesting to this curious consumer.