Tips for florists and garden centres to create in-store displays and inspire customers.

As the autumn and winter months arrive, customers' thoughts turn to cranking up the cosiness inside their home. Inspiring displays of colourful plants, such as poinsettias, play a big role in this. The marketing experts at Stars for Europe show you how to create striking presentations with poinsettias – perfect for in-store or window displays – to keep your customers coming back for more.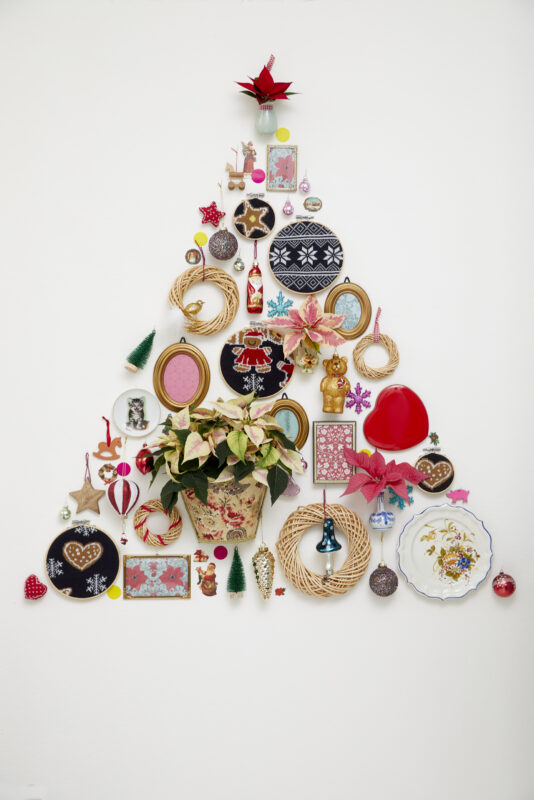 Use your competitive advantage
Did you know, poinsettia season actually begins in September and October? This is when the more unusual autumnal colours, such as salmon, peach, terracotta, yellow, and blush tones are available, with traditional reds and whites coming later in autumn and winter.
In the earlier months, specialist retailers and small business owners have a competitive advantage, as most large corporate companies need to place bulk orders for standard poinsettias well in advance, and they don't have the flexibility to stock such a diverse range of varieties. Make the most of this advantage by purchasing from the range of colourful, unusual varieties, and secure early sales among customers looking for something novel.

Offering these special, modern poinsettias in-store early makes them the perfect plants to carry customers' homes from autumn into winter and through the festive season with a more muted, on-trend colour scheme.

Tips to create successful displays
Keeping your in-store displays a cut above the competition is the best way to show people what can be done with these versatile plants. SfE asked the famous German TV florist Michael Frings for his top tips on store displays to attract customers' attention. He said: "In my opinion, the most important thing is to excite your customers with something they don't know yet. For example, using poinsettias as a cut flower or using them in an unusual way, such as in an Advent wreath."

Michael offers a simple display idea that works in any store or shop window, regardless of space. "Cut poinsettia stems and sear them by first dipping them briefly in 60°C hot water and then in cold water. Remove the tops of some festive baubles, place a cut poinsettia stem inside and fill with water. Use decorative wire or ribbon to hang them on a Christmas tree or branch."

Show the whole product range
When planning a window or in-store display, use it to show customers that you stock all they need for Christmas, and make it cohesive, Michael explains: "Pick a colour or a theme for your display, such as beige and cream for an office style, for example. Then elevate your poinsettias with matching pots and a selection of additional decorative elements that your customers can put together themselves as a craft project."

With that in mind, SfE presents three step-by-step in-store presentation ideas that will not only boost your autumn and winter plant sales but will delight your customers too.

In this store, poinsettias are displayed together with other products, such as lanterns and vases, to attract more impulse sales.
3 step-by-step display ideas to setup in-store

Hanging Kokedama balls
Kokedama is a Japanese tradition, where a plant's root ball is wrapped in moss to create a sphere. Poinsettia kokedama suspended from the ceiling in a shop window or standing on a table in-store will make an impressive display. Just follow this simple step-by-step guide. In this specialist garden centre, poinsettias are displayed using the Kokedama technique, hanging together with small chalk boards showing their variety names.

You will need flat moss, decorative silver wire, thread or twine and a standard size poinsettia.
Step 1: Remove the poinsettia from its pot and wrap the root ball with moss.
Step 2: Wrap the moss ball with the wire, thread or twine and knot the ends together.
Step3: Create a loop of wire or thread and hang it up.

To keep this design looking fresh, water plants sparingly from above, for example, with a spray bottle. Alternatively, every few days, place the moss ball in a container with a little water so it can soak it up. Let it drain well before hanging back up.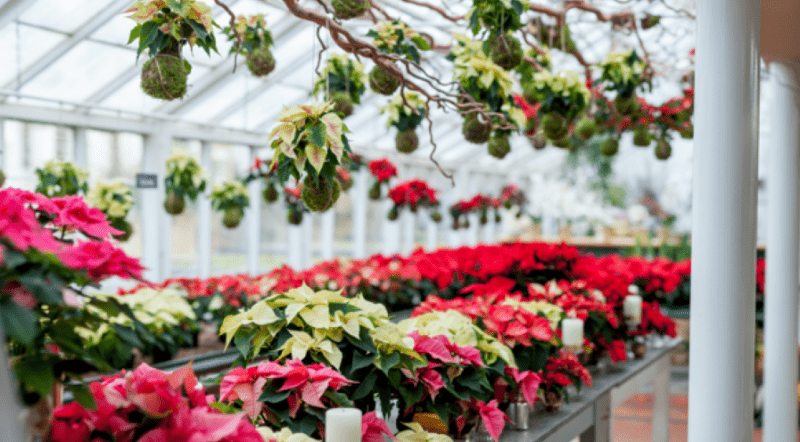 The kokedama idea can be adapted as a modern table centrepiece for a display stand on the shop floor. Make five or six kokedama, using the same colour poinsettia but in varying sizes, including mini ones. Place them next to one another in a large shallow bowl and fill in the gaps with dried flowerheads, foliage or baubles or leave them bare for a minimal feel. Create different versions by varying the moss, wire/twine and poinsettias you use. Natural reindeer moss (Cladonia rangiferina), neutral twine and white or pale-toned poinsettias, placed on a blond wooden platter, give an on-trend Japandi feel (Scandi-style mixed with Japanese).

During the main season from November onwards, when traditional red varieties are more readily available, you can change it up with red poinsettia kokedama in high-gloss, gold containers, teamed with ilex berries or red and gold baubles. Place stocks of all the 'ingredients' used in your display nearby, so customers can help themselves to all they need to recreate your Christmas design.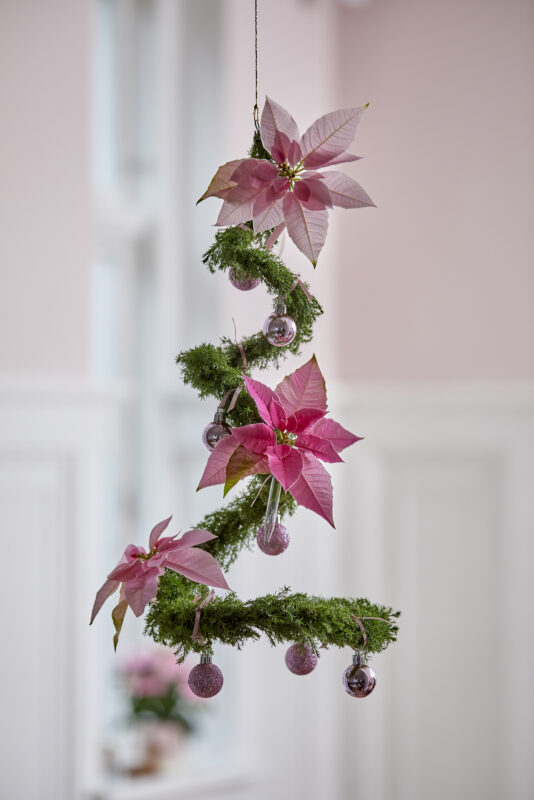 Hanging Wire Christmas Tree
A quick, simple display idea that has plenty of impact on any shop floor. For this mini hanging Christmas tree you will need craft wire (1-2mm thick), wire-cutters, flat nose pliers, juniper twigs, mini baubles, fine ribbon, silver reel wire, three test tubes and three mini poinsettias.

Step 1: Cut a 50-60cm length of wire using the wire-cutters. Use the flat nose pliers to make a small loop at one end for hanging.
Step 2: Starting from the loop, form the wire into a spiral one circle at a time. Add another loop at the other end of the spiral.
Step 3: Bind juniper branches onto the craft wire spiral with silver reel wire.
Step 4: Attach the mini baubles and test tubes to the juniper-wrapped wire with ribbon and hang the mini Christmas tree in your chosen spot. Fill the test tubes with water and place cut poinsettias inside. Tip: The poinsettia stems will stay fresh for up to two weeks if, immediately after cutting them, you first dip them briefly in 60°C hot water and then in cold water.

Depending on your space, you could make several trees in varying sizes hung together at different heights. Odd numbers work best, so try groups of three, five, or more. This idea makes a great window display too, as the trees move and turn once hung which attracts attention from outside your store, but remember, poinsettias don't like draughts, so keep them away from open doors or windows.

Beneath your display, add containers of all the materials and plants needed to recreate the design, making it easy for customers to buy the complete package.
Use this idea from October onwards, adapting it to an autumn window display by replacing the baubles with clusters of fresh seasonal berries and covering the spiral with seasonal foliage instead. Pick an autumnal coloured poinsettia too, such as salmon, terracotta, or warm blush pink.
Wooden Advent star
This Scandi-style Advent star is a simple, modern alternative to the classic circular wreath, and would look especially striking in a window display.
The minimalist neutral wooden doweling beautifully sets off the star-shaped, red bracts of the cut poinsettias.

You will need lengths of pale wooden doweling of different thicknesses, a fine-tooth handsaw, a mitre box, a cardboard star template, hot glue gun and glue stick, scissors, four taper candles and candleholder for each, a drill, three test tubes, cut poinsettias, and small decorative wooden stars and hearts.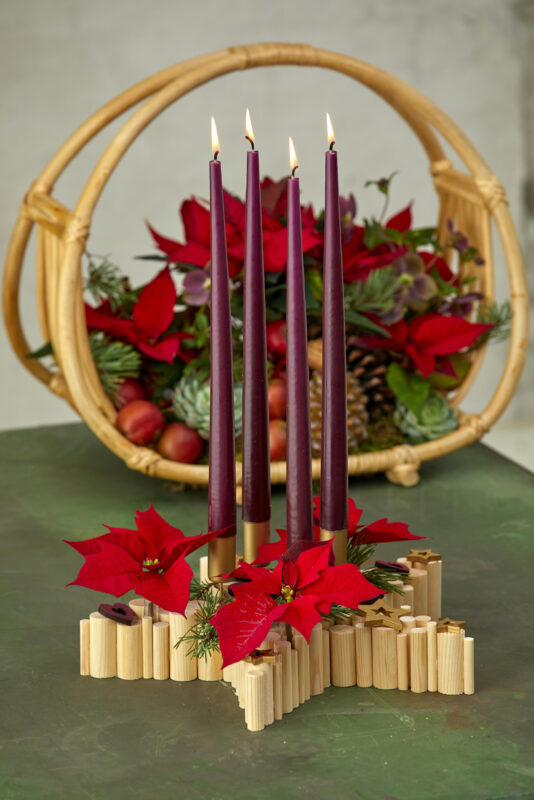 Step 1: Use the mitre box to cut a total of 100-120 pieces of different lengths from the doweling. In the example shown here, the pieces are 4.5, 5 and 5.5cm long.
Step 2: Glue the lengths of doweling onto the star template with hot glue. Alternate different lengths and thicknesses. Once the glue is dry, cut away the excess card around the star template.
Step 3: To place the candleholders and test tubes, drill holes in four of the thicker pieces of wood to secure the candleholders. Slide the test tubes into gaps between the pieces of wood and secure with hot glue if necessary. Place the candles in the candleholders and glue the decorative hearts and stars onto the wooden star. Finally, fill the test tubes with water and place the cut poinsettias in them.

Like everyone, your customers are busy during the festive season but people still love Christmas craft projects. Increase sales and make the project quicker and easier to achieve by printing out little cards with the instructions on and putting them in a kit including a bag of pre-cut doweling, decorative elements and the star template. Make sure you also have a selection of candles and holders nearby that match the poinsettias on sale, so people can create the co-ordinated look without having to shop elsewhere.

For more information on poinsettias and lots of ideas for decorating with them, visit Stars for Europe.