Busy York-based ceramicist, Francesca King, finds unusual and inspired uses for clay, not only running short courses in ceramics and fulfilling portrait commissions, but also utilises clay in a unique mindful practice called `Feet in Clay`.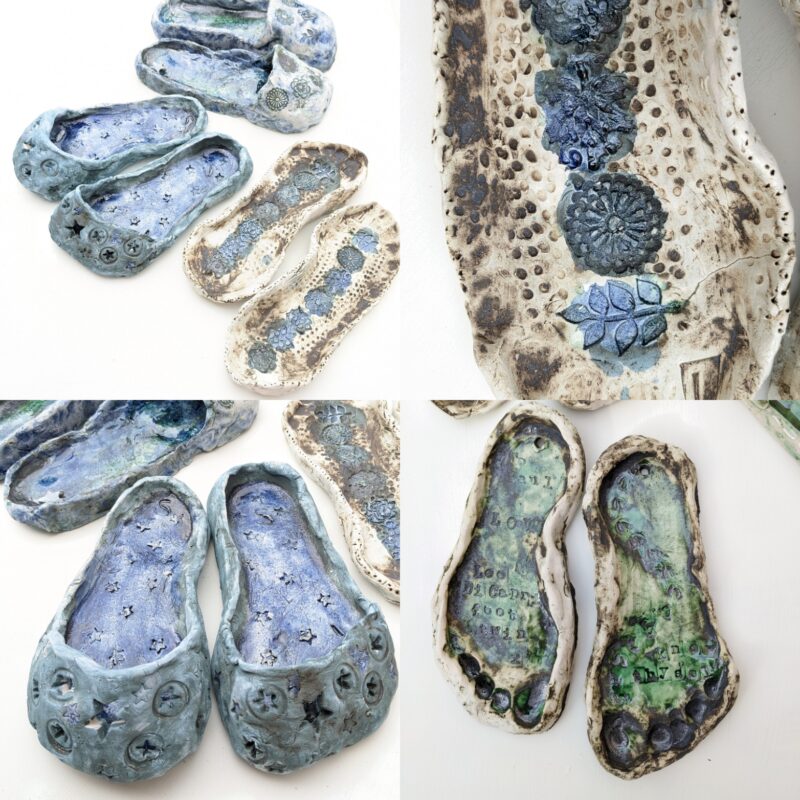 `Feet in Clay`, was developed during Francesca`s MA studies, which focused on the very special bond between clay and water. British Craft Directory member, Francesca, says: "Clay has an amazing capacity to sooth the scenes and ground energy. The Feet in Clay experience offers customers a chance to release emotions in a blend of mindfulness art therapy.`
Feet in Clay` works by encasing the foot into soothing clay-shaped into slippers and combining this 'earthing' practice with deep breath exercises and the principles of Reiki. The result is a unique and individual pair of clay slippers which customers are then invited to decorate and personalise for themselves. Francesca then bisque fires and glazes each bespoke piece ready for delivery. Sessions are available to book 1:1 or groups celebrating special occasions for all clay lovers.
A `Clay Therapy Box`, gift box is also available to purchase, offering a clay mindfulness moment in the customer's home or to gift to a friend (or mum as a lovely and unusual Mother's Day gift).  The box contains a ball of clay, flower tea, incense, candle and ceramic holders plus a stick and work circles.  The clay can be recycled and reused as many times as required a natural version of a stress ball!
So much goes into the ceramic exploration undertaken by Francesca in her studio there are always lots of one off large sculptural ceramics waiting for a new home. These large pieces often combine Agate clay and texture exploration using glaze as glue in a collage effect. As well as the Stepping Stones produced during Clay Texture Walks, where the clay is thrown at a surface to translate it textures and then added to with a bare foot imprint combining all aspects of Francesca`s practice. 
For more information about Francesca King and Feet in Clay, visit her website.