From Australian feature films, to presentation pens for Nobel prize winners, Glenn Godden's work is often in demand in the most surprising places. With over 15 years' experience of flameworking he produces a wide range of giftware, from silver and gold lustre pens, delicate flower pendants, and of course his trademark space-inspired pendants.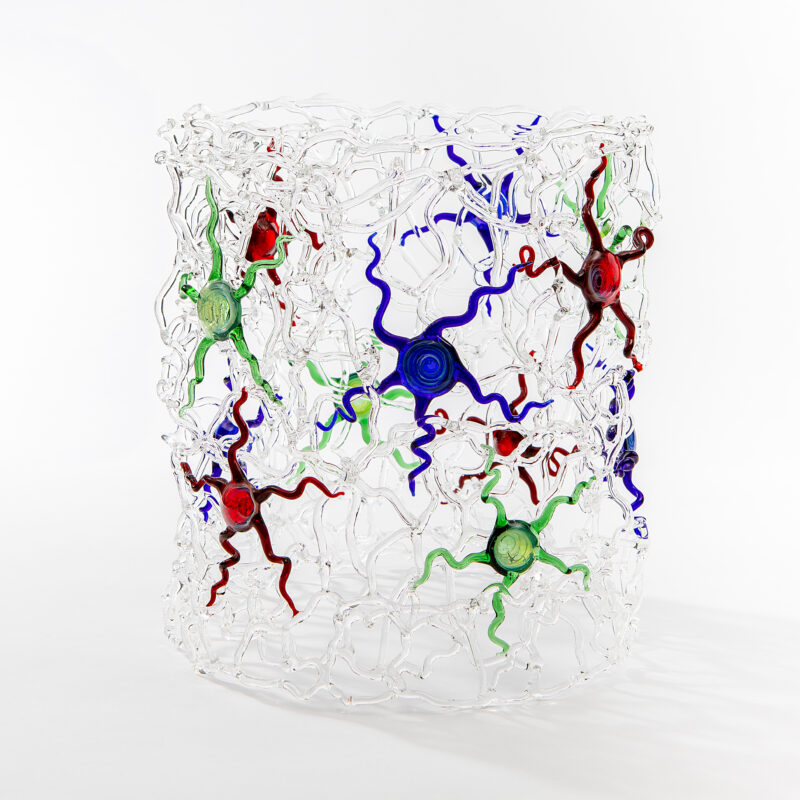 "I took up flameworking as stress relief from my day job supplying electrical and engineering parts." says Glenn Godden. "I used the name 'SteamPunk Glass' instead of my name as my bosses took a dim view of anyone with a side hustle. In 2011, I quit to melt glass full time. Since then I've taken my glass to some amazing & often very geeky places, getting to meet scientists, astronomers and illustrators who all provide me with further inspiration for my glass. My background in retail and b2b sales also makes me aware of what businesses need from me when they buy, I'm happy to do small test orders for shops to make buying stock less of a financial risk."
He creates real 3d effects to make tiny galaxies & nebulas locked inside solid glass, using the toughness & clarity of laboratory grade 'Pyrex', all individually hand-worked in a super hot flame. This tough ultra clear glass creates an ideal lens on top of each pendant to magnify the effects inside. Inspired by the mirrors on the James Webb Space Telescope he recently launched new hexagonal shaped space pendants at 'Astrofest' international conference for astronomers.

One of his most popular gift items is his range of glass dip pens. Each has pure silver, & even gold, 'fumed' onto the surface to create unique patterns on the glass, which are then permanently locked under a layer of clear glass. These striking pens are available with traditional glass nibs, or very practical metal nibs which can easily be changed making them very popular with illustrators, calligraphers & artists, and as an ideal 'Mens' gift – a group notoriously difficult to buy for!
See more from Glenn Godden, Steampunk Glass, on British Craft Directory