Curated Craft Online, running from 19th-21st March 2023, is a new, multi-channel trade buying event for the artisan sector.
Retailers can look forward to discovering the latest collections from more than 60 of the best British makers in the trade, many of whom have created special show offers exclusively for this event. The line-up includes Gift of the Year finalists Nicole Elders, CAHM and Wendy Bell Designs, alongside some of the best-loved artisans in the business and a host of fresh new names.
The exciting mix of authentic British designers exhibiting at the show are working across a range of disciplines and product categories, from paper products, metalwork, wood and ceramics to home fragrance, jewellery, fashion accessories and more.
To thank and support the independent retail community, 'Golden Ticket' prizes of £150 each will be offered on each day of the show to encourage visitors to engage with show participants. (The value of the prize must be spent with exhibitors).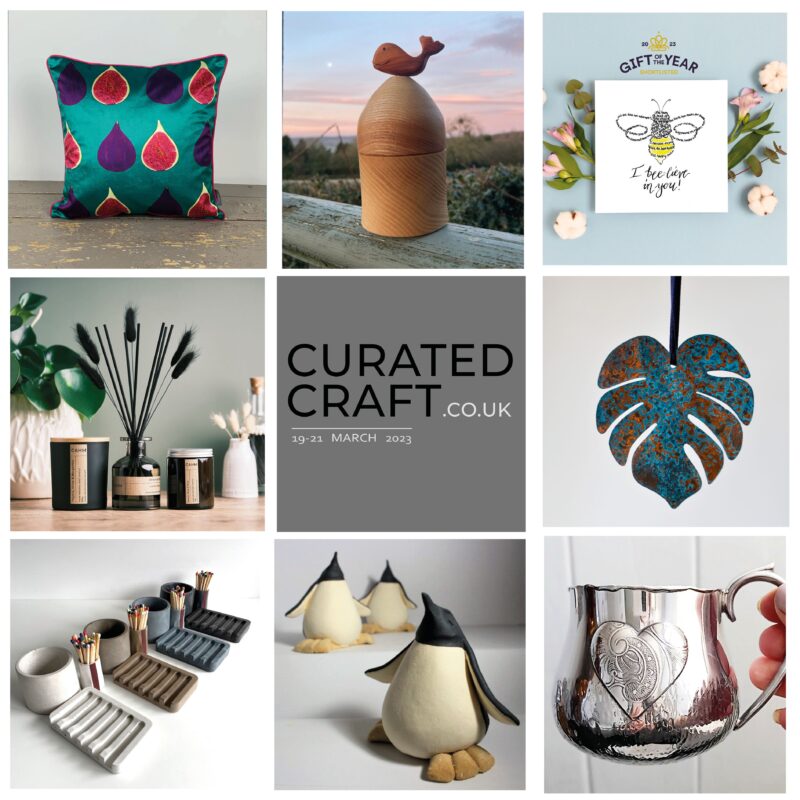 Show organiser, Denre Bruins, says: "This innovative B2B showcase for the artisan sector, which builds on the success of the ground-breaking digital trade events for the retail sector which I developed for the British Craft Trade Fair, Giving & Living and Celtic Showcase when lockdown forced cancellation of the physical show.
"Curated Craft offers busy retailers from all corners of the UK a prime opportunity to source from authentic British makers working across a wide array of disciplines, in a way that is sustainable and accessible for all who wish to participate.
"Despite the well-known trials and tribulations of the past couple of years, the consumer appetite for British handmade goods is stronger than ever. Issues of sustainability have come to the fore and further enhanced the appeal of locally-made products and 'slow fashion'.
"The pandemic made everyone dig deep and reflect upon what is really important, with many people deciding that a change of direction was in order, as priorities shifted, old doors closed and new ones opened. Within this issue we shine the spotlight on a number of individuals who took the opportunity to strike out as independent shop owners or makers, whilst others have overcome great personal adversity to create beautiful works which bring joy to many people.
"I'm extremely grateful to all those who have supported our efforts to launch Curated Craft, including the countless lovely makers, shop owners, galleries, trade magazines and other industry colleagues who helped with the launch, including Giving & Living organiser, Hale Events, Gifts Today, Heritage Connect and Boutique magazines. We hope you all enjoy the Best of British!