Source Home & Gift, the only international sourcing platform of its kind, has announced that its second show on 3rd – 6th September at NEC Birmingham will triple in size, uniting nearly 450 global manufacturers who pride themselves on responsible manufacturing and sustainable production, with key retailers, brands, and contractors.
A hugely successful and impactful inaugural Source Home & Gift in February welcomed over 5000 attendees from leading retailers including Argos, Sainsbury, John Lewis, Natural History Museum, Dunelm, Fortnum & Mason, Lakeland, WHSmith, Wilko, The Walt Disney Company, DFS, Barnardo's, Clintons, Quiz Clothing, The National Trust, Aldi, Avon Wildlife Trust and many more, keen to source responsibly across categories including homewares, furniture, gifts, toys, textiles, packaging, stationery from recently audited overseas manufacturers, producers, and artisans.
The show offered a global showcase for responsible manufacturing, and exhibitors from over 20 countries including Egypt, Pakistan, Ghana, Nepal, Singapore, Europe, the USA as well as dedicated country pavilions from China and three Indian pavilions organised by Export Promotion Council for Handicrafts EPCH, and the Handloom Export Promotion Council HEPC, converged at the NEC Birmingham UK.
The next show, in September, will be even bigger with the show already triple the size of the first edition, bringing together nearly 450 global manufacturers from countries including the UK, China, India, Pakistan, Portugal, Philippines, Germany, Bangladesh, Ghana and Uganda. It will continue to create valuable connections and provide the UK with a genuine platform for responsible sourcing.
Suzanne Ellingham, Director of Sourcing of Source Home & Gift says; "Source Home & Gift brings together the best responsible manufacturers at a time when the European buying community are looking to buy better and build direct relationships with new manufacturers and suppliers. As the only international sourcing show of its kind in the UK, we set out to create a platform that offers global manufacturers with sustainable production methods, the opportunity to meet with key retailers, brands and contractors who care about how great products are made. This show does just that.
"We launched with 150 manufacturers in February, and I'm delighted that in September we will welcome over 450 manufacturers, showcasing over 15,000 products from exhibitors who have never shown before in Europe. There is huge demand from UK businesses to find new suppliers and manufacturers to responsibly source from. Source Home & Gift meets that need, and already attracts a wide variety of UK retailers and brands who want to source from good businesses. We bring together heads of buying, procurement, sourcing, quality control alongside heads of sustainability and design, all of whom are key decision makers when bringing on board a new manufacturing relationship. The quality of the Source Home & Gift visitors and importantly the quality of the beautiful products at the show is the reason this is the fastest growing sourcing platform in Europe."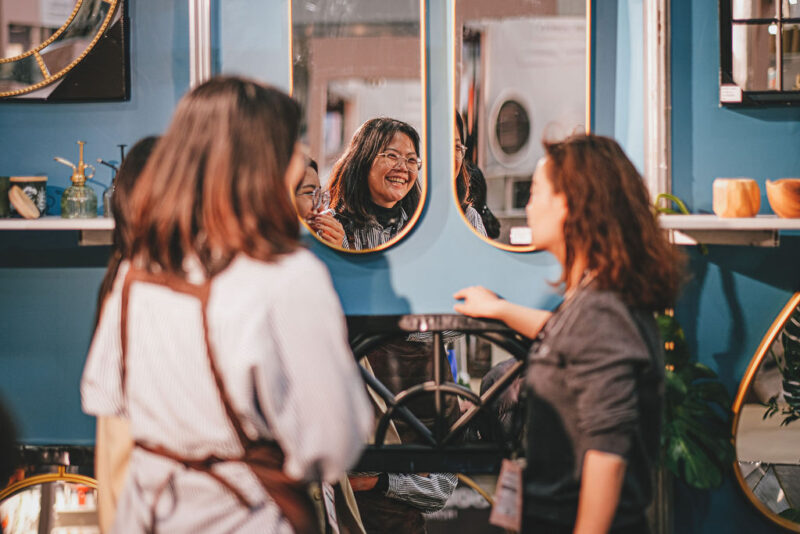 The show features eight sectors including;
Homewares
The homewares category includes a variety of exhibitors such as UK artisan designers who create bespoke range collections at a higher price point, right through to Turkish ceramic and manufacturing hubs. They cover everything from tableware, and decorative accessories, to ceramics and more.
Toys
UK consumers are in demand for sustainable and ethical toys, making Source Home & Gift the perfect place for sustainable toy manufacturers to display their unique services, whether that's large-scale manufacturing capabilities or hand-crafted luxury toys.
Stationery & Greetings
Paper, greeting cards, notebooks, pens & pencils, all need sustainable suppliers. Source Home & Gift hosts a group of manufacturers that can help brands bring these private-label products to life.
Gifts
Where contemporary and on-trend gifting meets sustainability. Exhibitors are invited to showcase their latest sustainable gifting products, such as candles, fashion accessories, electronics and more.
Furniture
Many wholesale and home retailers are on the hunt for new manufacturing options, Source Home & Gift aim to bring together a large variety of furniture manufacturers who are capable of supplying to the UK market.
Textiles
The textile sector aims to unite large-scale manufacturers and smaller artisan producers that can make-to-order, or co-create something on a smaller luxury scale, with homeware and lifestyle retailers.
Technology & Services
Consultants, design houses and auditing agencies are welcome to meet with brands and discuss procurement or manufacturing challenges, sharing how they can help create a sustainable and ethical supply chain that functions cost-effectively.
Packaging
Suppliers with sustainable packaging solutions such as biodegradable, carbon neutral or designed for minimal waste can exhibit and discuss how their products can help tackle the increasing demand for sustainability.
Visitors will also be invited to listen to four days of discussions on the Responsible Sourcing Stage held by industry-renowned professionals, covering a range of topics surrounding sustainability and responsibility. Source Home & Gift is co-located with Autumn Fair, bringing the entire retail supply chain under one roof and creating the "must-attend" event for the UK buying community.
Source Home & Gift takes place on the 3rd – 6th September 2023 at NEC Birmingham. Visit www.source-homeandgift.com for more information.