You love giving gifts, but it's an expensive habit to get into. Especially when you enter one of those periods where it seems like your entire family and friend group has a birthday within four weeks of one another. In this climate, you can't afford to keep splashing the cash on everyone. At the same time, you don't want to avoid handing out gifts. Well, the solution is staring you in the face; cost-effective homemade gift ideas! There are four ideas below that you can make by yourself without needing to spend too much money.
Personalised Collage
Photo collages go down a treat and they are very easy for you to make. If you have physical copies of the photos, you can go through different albums and pick out all of the ones you want to use. Add them together in a photo book or on a piece of paper that can be framed. Alternatively, you have sites like Snapfish that let you upload loads of digital photos and a collage will be made for you. It still counts as homemade in my books!
Handcrafted Candle
Yep, you can make candles by yourself at home without any experience necessary. There are lots of candle-making kits out there – which, by the way, make for some really good gift ideas on their own. Choose whatever kit you like and you're able to make as many candles as you wish. I think your loved one will appreciate that you've gone the extra mile, rather than handing them a kit to make their own candle. As you get the hang of it, you can start making more candles without the kits, coming up with your own scents and styles.
Bespoke Gift Hamper
You can't go wrong with a gift hamper. Here, you can make the ultimate gift by adding lots of small items together. My personal favourite is to conjure up a food gift hamper for someone. Bake brownies, cookies or other treats and package them nicely in a little hamper. It's super cost-effective as you only have to pay for hampers and gift packaging – everything else is baked at home where you probably already have the ingredients.
Crochet Animal
Crochet animals are incredibly cute – and fairly easy to make. You will need a crochet kit, but once you've mastered the basics it's so simple. Have a look online for different crochet animal patterns and you can buy things really cheaply that explain how to make them. It'll be a little project you do a bit of every night before finally having an adorable little animal to give to someone. They will appreciate this more than any gift you could've bought from a store!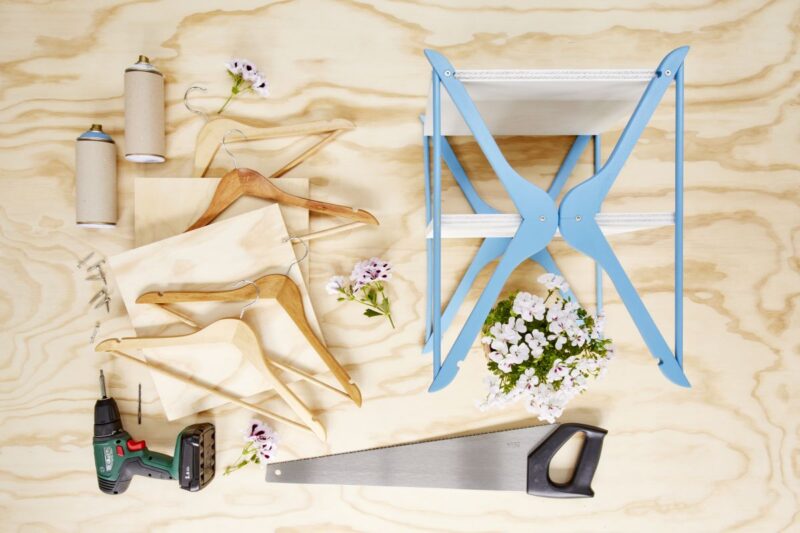 Floral Feature
Surrounded by flowering and fragrant geraniums, breakfast in bed becomes a treat for all the senses and is a wonderful way to wake up on your birthday! An upcycled bed table made from clothes hangers provides the extra portion of comfort. It offers space for breakfast utensils as well as a vase with geranium stems as a flowery morning greeting.
For this upcycled bedside table you will need four wooden coat hangers with a bar, two boards, spray paint, a cordless drill, screws, a saw and a geranium plant. First remove the hooks from the hangers. Then place the hangers opposite each other with the hook holes touching to determine the size of your table's shelves. Measure the distance across both hangers. Saw each of your boards into a square of this size. Next, on one hanger, pre-drill holes at either end and one in the central section. Repeat this with the other three hangers.
Spray the coat hangers and boards with your chosen colours and leave to dry. Tip: If you sand the wood lightly beforehand, the paint will stick better. Once the paint is dry, assemble the table with screws. Your unique upcycled bedside table is ready. Before serving breakfast in bed, don't forget to add a geranium. This floral morning greeting will put you in a good mood and ensure a positive start to your day!