The joys of flowering houseplants are enthusiastically appreciated in homes across Europe and the same aesthetic and mood-enhancing benefits can be employed to similar great effect in retail and hospitality environments.
With their vibrant, multi-coloured blooms, easy-care properties and romantic natural style, pelargoniums and geraniums are classic floral beauties which never go out of fashion. Now and again – such as now in 2023 – they rise to the very top of the trend charts, thanks to flowers which tap the hot Viva Magenta and Pelargonsjuka trends and consumer preference for shabby chic, cottagecore décor and Mediterranean garden style.
Retailers, restaurateurs and café owners can tap into the unlimited potential of pelargoniums to help create gorgeous window displays, tabletop decor and other merchandising features which go beyond product and elevate environments in the glorious fashion that only fresh flowers can achieve.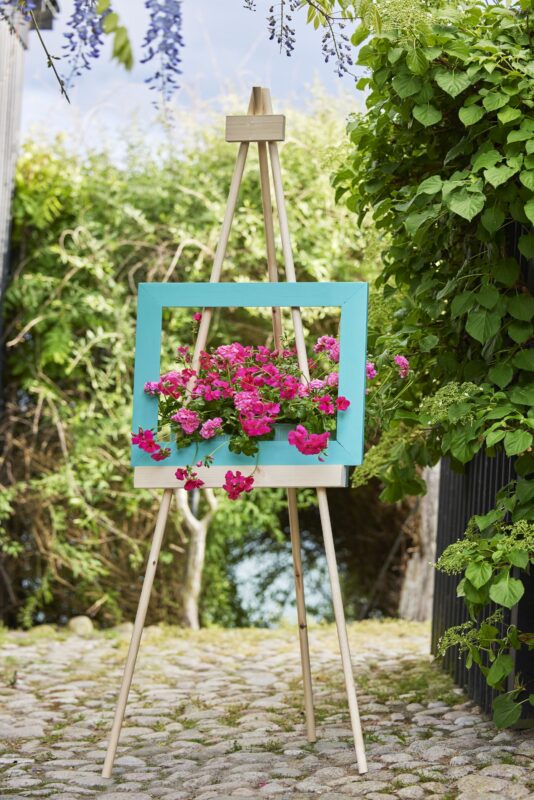 There are many ways you can use pelargoniums to create unique displays from scratch with minimum budgets and eco-conscious, upcycled materials. Plant retailers especially can benefit from the countless cross-merchandise and upselling opportunities offered by these versatile DIY projects which your customers will love to recreate. All the looks featured here will help you inspire craft-loving customers (there are millions of them out there!) with ideas that won't cost the Earth but will bring a beautiful style upgrade to any home.
Instagrammable Experiences: Easel flower stand
This spectacular easel flower stand would make a spectacular focal point in the reception area of a shop or restaurant, where it will offer a perfect Instagram opportunity for happy customers who want to share their experience with friends and family. Shops in sunnier climes can place the feature outdoors, or you can easily bring it inside for cooler countries or during the winter. This vibrant 'painting' works especially well with hanging geraniums, which will cascade over the frame in romantic floral style.
Tip: Encourage customers to use the feature as a backdrop for selfies and photos with family and friends that they can share on social media. Include your Instagram / Facebook handle and preferred hashtags somewhere on the display or nearby so they can tag you.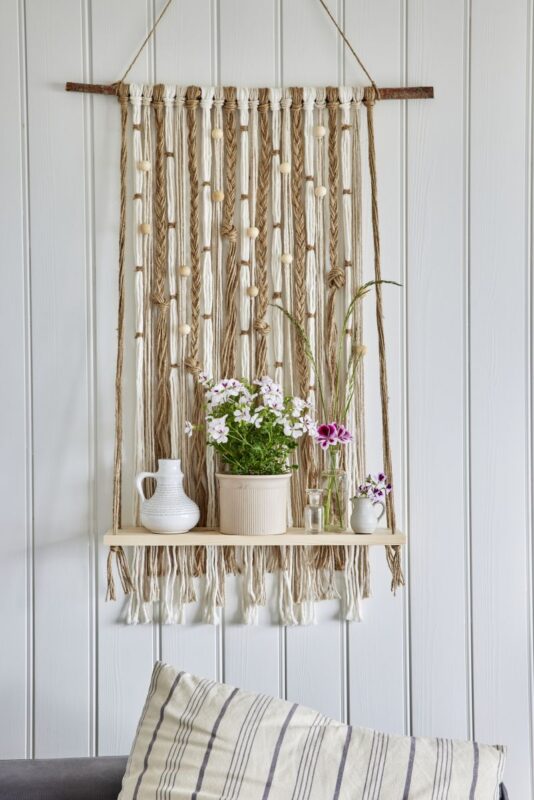 Space optimising wall décor: Boho Floral Wall Hanging
A boho-style macrame wall hanging will make a stunning focal point in sunny café or shop window, without taking up floor or table space.
This simple and effective DIY feature will transform a front window and projects like this will open up opportunities to host floral craft workshops and other instore events that will help drive footfall and offer all kinds sales opportunities for smart retailers. See the full step-by-step DIY guide here (search for DIY Hanging Macrame Wall Shelf).
Tip: Offer customers the means to recreate similar looks at home by cross-merchandising the various materials along with a fact sheet that helps them put it all together.
Windowsills and Outdoor Tables: Nautical flowering geranium tower
This crafted asymmetric three-storey tower is made of flowerpots in seaside blue tones filled with pure white geraniums. This would work beautifully on outdoor tables or sunny windowsills to brighten up a hospitality setting, whilst the Spanish-blue colour theme spells Summer!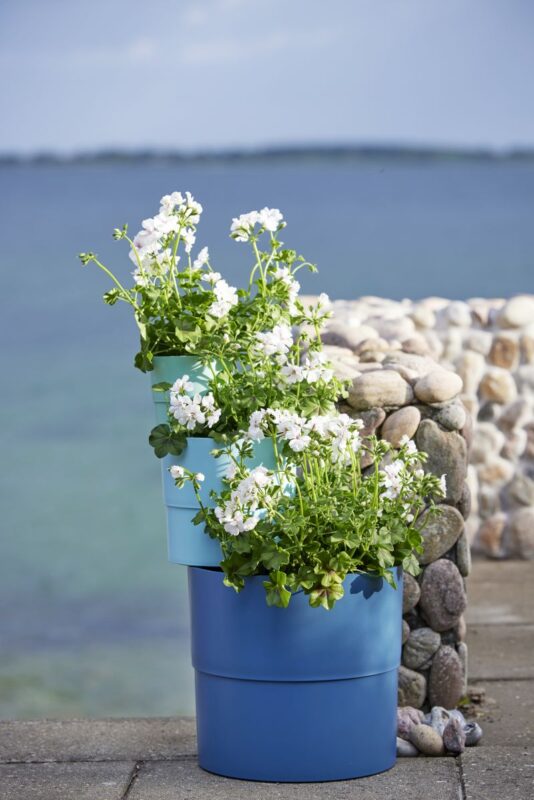 This look is easily put together with three flowerpots in assorted sizes; a tin of blue paint or spray paint; a wooden bar with a square section; a saw; glue sticks; hot glue gun; multi-purpose compost and three geraniums of assorted sizes. Search the image database for 'DIY Towering Floral Planter' for details on how to make it.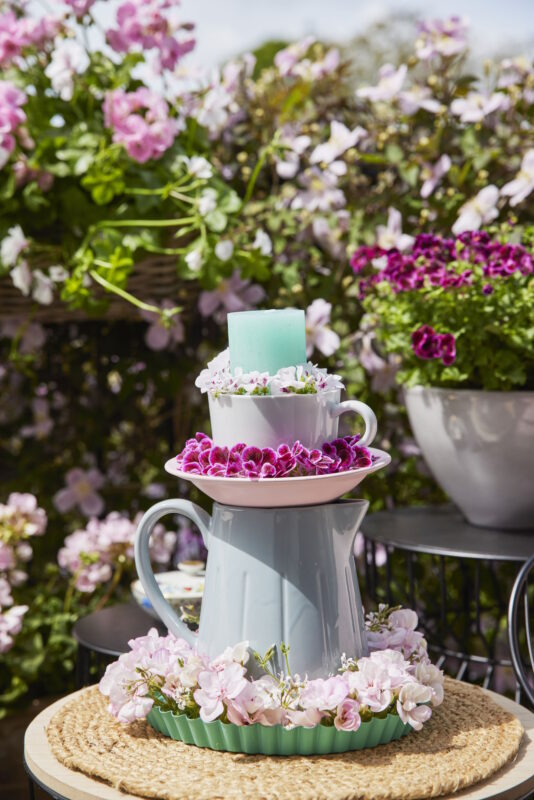 A craft project like this offers great upselling opportunities in the form of simple pots/planters, craft paints and other materials. If you're already selling pelargoniums this is a great way to drive up average basket spend and show customers the versatility of these plants. It will also help you create interesting merchandise displays without having to invest in expensive props.
Tip: Why not run a social media competition asking your customers to create a fabulous floral feature, tag you in the resulting photos and gift the winner with a plant or other suitable prize? This type of activity is especially great for summer holidays and will help get children into gardening.  
Café Tables and window dressing: Shell flowerpots and cut stems in bottles
Café and restaurant tables are the perfect place to showcase how pelargoniums can be styled. With a captive audience which has plenty of time to admire the décor, these craft projects can help inspire customers to turn their hand to making something special for their own home.
For DIY displays that will work beautifully on restaurant and café tables for day or night, all you have to do is fill clear decorative glass bottles with pretty flowering geranium stems in varied colours, shapes and sizes. These will help create an eclectic but unified display that brings immediate interest to a hospitality setting and will cost next to nothing to achieve.
For a nautical vibe the shell-themed design can be used to give coastal shop windows an easy uplift that's perfectly in tune with the seaside vibe and will offset the characteristic blues and whites of Mediterranean destinations. This delightful centrepiece can be put together with a flowerpot, seashells and glue.
Tip: To optimise cross-selling opportunities draw form product you already have out on the shopfloor or more creative ideas such as pebbles or the shells shown above.
Keeping with the tabletop theme, the dainty flower holders pictured top are put together using cut geraniums, decorative pebbles, bonsai or thick decorative wire and test tubes. These are the perfect solution for small café tables, reception counters or other areas where space is tight but a colour boost will work wonders. You can also use these flower holders as alternative place cards for weddings and other events.