After weeks of planning, the winners of the Glee Talent Store were announced on the first day of the Glee 2023 (27th June, NEC Birmingham).
There could only be one winner out of the two teams and it was the Outdoor Plants merchandising team that impressed the judges Debbie Flowerday, Visual Merchandiser and Stylist Consultant, and Peter Burks, Chairman of the GCA.
The winning team consisted of Katherine Davies (Pugh's Garden Centre), Freya Markwood and Amber Dowsett (Perrywood Garden Centre), Nathan Evans (Bents Garden & Home), Louisa Power and Damian Walker (British Garden Centres). The team's merchandising concept of a bug hotel aimed to give visitors an 'out of the box' ideas on how products can be showcased whilst keeping sustainability at the heart of the display.
Concepts included a tablescape of edible ideas that not only look good but taste good too, a pond in a pot that will make a difference to the ecosystem in customers' outdoor space, a display of pollinating plants to create a wildlife sanctuary, as well as a wildlife product display that will turn the garden into a bug wonderland.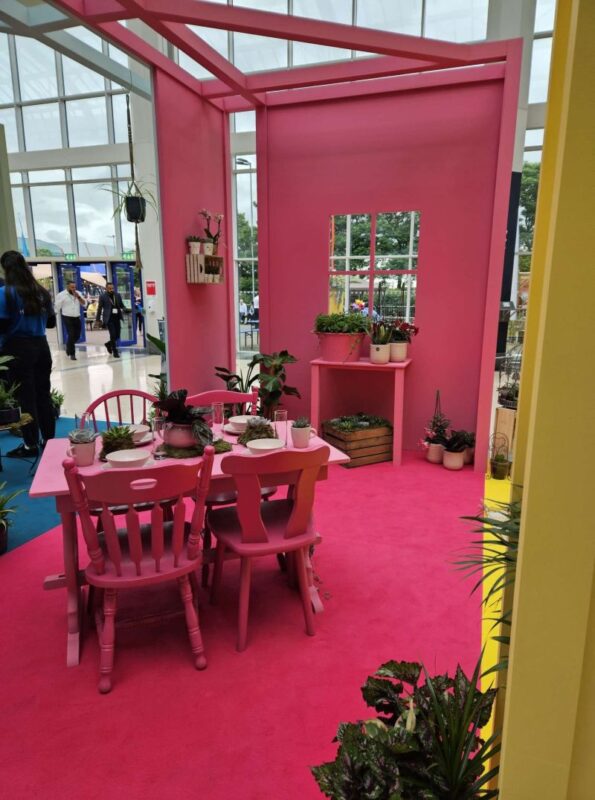 The runner-up group made up of Clare Forster (British Garden Centres), Natasha Priddy (Pugh's Garden Centre,) Claire Baker (Bents Garden & Home), Abby Barbrook (Perrywood Garden Centre) and Matthew Bone designed a pop-up shop that took visitors on a walkthrough houseplants in a world of colour saturation, inspired by recent popular palettes from Trend Bible.
Each colour of, blue, green, pink and yellow, took people on a journey and reflected different moods. Each colour acts as a visual draw with specially chosen houseplants and containers to create visual and eye catching interest.
Debbie Flowerday said: "I'd like to congratulate all participants in the inaugural Glee Talent Store. Both teams worked hard to create exciting and innovative concepts that garden retailers can take home and try in store. Visual merchandising is an important part of the retail experience and is responsible for attracting and making customer's purchasing decisions. Everything you see in the Glee Talent Store at the show can be used to create a scene and retail theatre, guiding customers through a store, and we hope that retailers are inspired to try these simple tips when they get back to their businesses."
What is the Glee Talent Store?
Designed to nurture and celebrate garden centre and retail visual merchandising excellence, the Glee Talent Store is an interactive feature that showcases the different ways that houseplant and outdoor plant merchandising displays can be interpreted in store, and how different designs can be utilised to highlight the same products and trends in a variety of inspiring ways.
The Glee Talent Store kicked off with a 'bootcamp' where 24 entrants had a crash course in visual merchandising, branding and retail. Once they had received this insight, 11 Talent Store students were selected and tasked with designing their own pop-up store, which can be viewed in the Atrium at Glee alongside the Glee's 'Green Heart'.