As the UK's leading exhibition for the garden centre trade, Glee is renowned for offering exceptional content alongside its fabulous showcase of home, garden and outdoor living products. This year was no exception, with especially strong presentations around the subject of trends and sustainability.
Kicking off the seminar programme on the Glee Main Stage was David Denny, Head of Research at the Horticultural Trade Association, who explored how "global trends driven by climate change will affect business operations in the coming years and drive changing consumer needs and expectations from gardening, brands, and businesses."
Sustainability in the supply chain was highlighted as Denny pointed out that we have come through a period of great turbulence for the industry and looked at what beyond the weather makes the most difference to business at garden centres.
The garden centre trade is currently worth around £29bn to the UK economy (1.9%) and has strong growth prospects. Forecasts indicate that by 2030 it will be worth between £32-42bn, depending on factors that include: Biosecurity, demographic change, the amount of green space available, the availability of labour and skills, research and development and sustainable productivity.
The latter is, in turn, affected by the availability of water (garden centres typically need a lot of this), packaging waste (removal of plastics) and the cost and availability of raw materials. Access to water is the sustainable 'Mega Trend' of the moment, as populations rise globally and horticultural production has to keep up accordingly.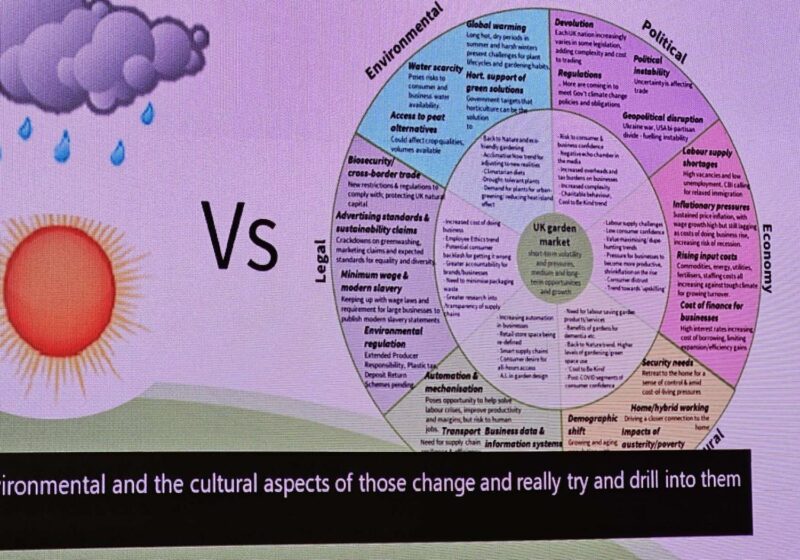 The consumer interest in sustainability is definitely growing, at least in Britain, with around 60% of consumers expressing an interest in environmental issues, compared with 40% ten years ago.
Sustainability was also a theme in the Trend Update: 2024 Garden and Outdoor Living Trends hosted by Trendbible. Read More here.