You've Got This, Be Kind, Go Your Own Way, Don't Let Anyone Dull Your Rainbow – there's a magnificent mountain of greeting card captions supporting and celebrating the mini magical everyday things and living in the moment, and it's those small, simple pleasures, snatched fleetingly during the day, that help us to slow down and appreciate the little joys and wonder of life. Taking time to pause with a delicious hot brew or curling up with a good book, relaxing in nature or bonding with friends or furry pals, Gale Astley, greetings industry journalist, product photographer and promo filmmaker, asks a merry melange of greetings industry retailers and publishers to reveal what little everyday things brings them a slice of happiness and to pick a card design that reflects their joy.
Ps. Please note, realising there could be a lot of joyful wine drinkers in the greetings industry, for variety, Gale also requested a second joyful option. 🙂
Leafing It All Behind
Sarah Jackson, director of publisher Stormy Knight, says: "I love getting outdoors and into nature… a walk through the woods, sitting for a quiet 5 minutes in the garden or, even better, a trip to a lake or the seaside! Life is BUSY and I juggle running a business with looking after a toddler, so it often feels like I don't get the time to step back and slow down a little. When I get time to take a lunch break I like to walk through the woods near my house while listening to a good podcast. Or in the summer, I'll have a cup of tea in the garden between dropping my daughter off at nursery and starting work for the day. It helps calm the mind and gets the positive endorphins going!
My other joy is based on travel – maybe it's less everyday but I love to get away and find a little bit of sunshine. Nothing makes me happier than sitting in the sun, taking a dip in a pool and taking in some beautiful scenery! I don't get to go away as often as I used to, but when time allows it's re-energising to have a little break, to do all the things I don't have time for at home – do a crossword, read a book, have a swim and just be a little bit lazy! Life's so busy it's just good for the soul to take a break and absorb some vitamin D!"
Pictured top: Bringing a slice of happiness, a sunshine card from Rifle Paper Co. Above: Sarah Jackson making a splash in Capri; Stormy Knight's BLOOM seed stick gardening design; Pete Hall's wife and pals enjoying a tipple while he (taking the photo) enjoys their company and a cuppa; Getting decked for Christmas, Halls in Llandaff; Steve Baker gets on his bike for charity; Reflecting the joys of a cycling adventure, an Artisan Days design from Pigment.
Brew-ti-ful Friendships
Pete Hall, owner of Halls of Llandaff, says: "Since my autistic son Tommy got diagnosed with epilepsy two years ago I've given up drinking (just in case I'm needed) so my little win or little bit of joy now is coffee with friends. No more pubs only coffee shops and restaurants with good friends… they all still drink ha ha!, including Nicky my lovely Mrs, but I get just as much joy watching, listening and joining in as I used to when I seemed to be p*ssed most of the time."
Peddling La Dolce Vita
Steve Baker, sales & marketing director for Pigment, says: "This year the Pigment team raised £6K by walking 1000 miles over the summer. Steve helped out by completing the last 200 miles on his bike in Italy.
"What brings me a little bit of joy? Cycling around the Tuscan Hills is pretty good but eating the Tuscan food is even better! I guess just getting away from everything and being part of a journey brings me joy. I love the adventure of traveling from somewhere to somewhere else, when you do stuff, stuff always happens, which give you great memories."
Lab Love
Jo Sorrell, owner of Cardies, Stevenage, says: "Yes, you've guessed it, Labradors are my little joys! I've been so lucky to have Labradors by my side at work in the shop for 35 years. They bring me joy every single day. Always making me smile, laugh and giving me so much love. They have brought joy to many of my customers too, the perfect 'Meeters and Greeters', wagging tails, sloppy kisses and big hugs. Whenever I see a card with dogs on, and especially Labradors on, it also brings me joy."
Below: 'Which card shall I choose? The one with the Bisquit looks good!', thinks Orberry, one of the lovely Labrador meeters and greeters of Cardies. (Orberry's 'chosen' one is a Raspberry Blossom design).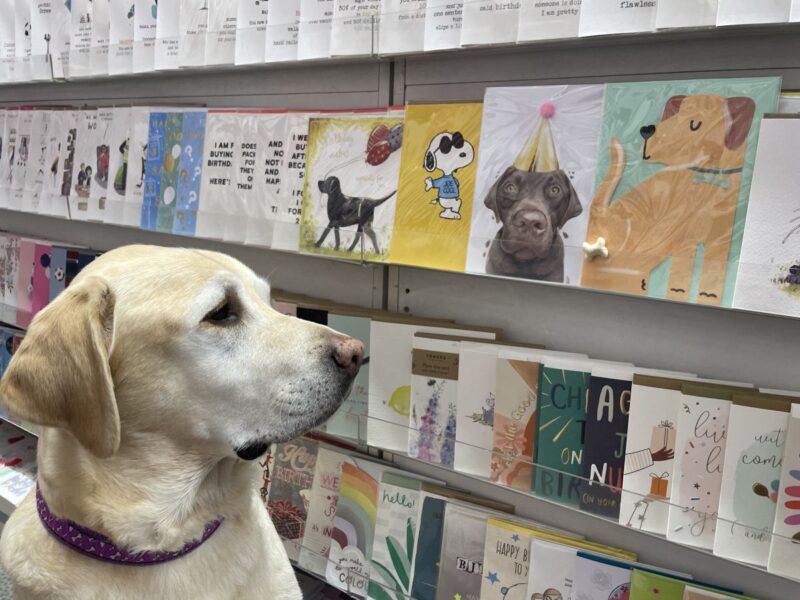 Strike A Prose
John Barratt, owner of The Card Centre, Felixstowe, says: "The thing that gives me great joy is a good book… in summer in the shade in the garden… in winter in front of the fire. Virginia Woolf is my favourite author."
A Whole Latte Love
Cathy Frost, owner Of Love One, Ipswich, says: "My little joy is a good cup of coffee! I have a great indie coffee shop next to my business, they make the best oat milk latte. First job of the day is to get a coffee, and my go-to pick me up mid-afternoon."
Tails Of The Unexpected
Hannah Sharman, retail and publishing assistant for Earlybird Designs, Stoke Newington, London, says: "The thing that brings me joy is spending time with my cat, Pip. He's cute but unpredictable and I get to see him everyday!"
Perks Of The Job
Bexy Hassett, director of publisher Bexy Boo, says: "My joy is definitely coffee! As soon as I wake up my first coffee gives me the energy I need to start my morning routine. Caffeine is an essential part of my day otherwise I have the worst withdrawals! I always have my coffees with my Nanna's vintage saucer and a little sweet treat on the side. I look forward to this time as it gives me a boost and allows me 5 minutes of. 'Me' time.'"
A Morning Paws
Nicky Stephenson, co-owner of The Tutbury Present Company, Tutbury, says: "Our rescue Ragdoll cats, Marmalade and Albert, bring us joy! They have such fun and chilled-out personalities, being with them always brings me joy. They are house cats but every morning when it's fine we go out together in the garden. Enjoying a cup of tea and watching them explore nature, relax under the morning sun and breathe in the fresh air – it's my favourite part of the day."
Pictured above: Retailer John Barratt is a great bibliophile all year round; Cathy Frost looking cosy and autumnal with a delicious brew; Encapsulating Cathy's love of a good latte, a new card design from Wrap; Hannah having cuddle time with Pip; "It's so hard to pick just one cat themed card! But I've chosen this card from Earlybird Designs", says Hannah Sharman; The lovely Bexy Hassett with her caffeine fix; Catwalk and coffee ready, a gorgeous design from Bexy Boo; Nicky sharing a happy moment with Marmalade; Nicky Stephenson chose this wonderful Crazy Cat Lady card design from Alex Clark.