Pictured top: Paloma's Garden by Una Joy of Paper Bird Publishing.
With 'Nature' being the focus for this year's Mental Health Awareness Week (10 -16 May 2021), gardens can be perfectly planted within that theme, having been, and remaining, instrumental 'essential carers' of our mental health in the past year. And with this increased awareness of the value of green spaces to our physical and mental wellness, Gale Astley, with over 17 years in the greetings industry, promo filmmaker and keen gardener, believes that although garden card designs are evergreen in their popularity in the UK, a nation that adores pottering in its raised beds, the current spotlight means there's a party of garden themed greeting cards that are cultivating strong sales and seeding beautiful designs.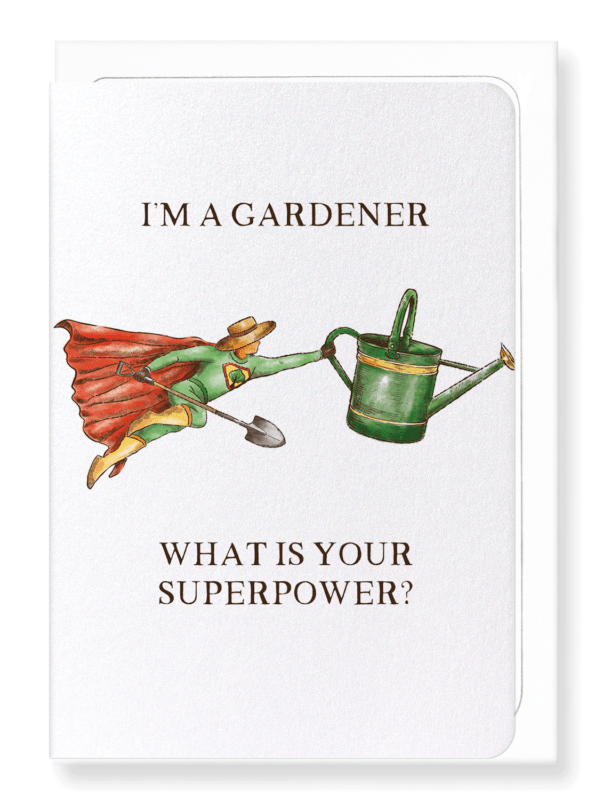 It's unsurprising that the pandemic propagated a renewed love of our gardens. They became an important space during lockdowns – an outdoor office, our kids' playroom, a place to dine alfresco or simply an oasis for contemplation. Then there was the pleasure of tending our little (or large) green plot – cultivating home-grown wonky carrots, the pride of prising a six foot sunflower from seed, to the magic of rearing runner beans – which revealed the capacity of gardens and gardening to heal and feed our soul; our gardens became 'essential carers' for our mental health.
Pictured left: Ezen Designs' 'Gardener Superpower' design is one of its top sellers.
"Not only can gardening be an effective form of workout, it can also benefit our mental wellbeing too", believes Liz Ellis, studio manager for Abacus Cards, who has been preparing her garden for long summer evenings. "I have planted some peas and climbing beans in pots but alas that's the extent of my veg garden! But I have put up a few fairy lights and have the fire-pit ready in anticipation for slightly warmer, drier weather."
Abacus has 'enriched the soil' of its own garden-related card designs by adding more beautiful designs to its BBC Gardeners' World and Posies & Petals ranges, where you will always find something to feed your gardening passion. "Whether you are new to gardening or have a few years of experience, there's something for everyone with our offering of BBC Gardeners' World designs. Inspiring gardeners countrywide, the range offers inspirational images, tips, timely reminders and gardening advice, enabling each and every one of us to get the most out of our gardens, whatever the size," explains Liz.
Pictured above: Ready for a gorgeous garden party, an Abacus Cards' Petals & Posies design; Sarah Peel, co-founder and printmaker for Folded Forest, who says "Getting outside has been so beneficial for me and my family this past year (despite the sometimes freezing conditions!)" and Folded Forest's Allotment design, which wraps right around the card.
The flourishing love for nature and our outdoor spaces are reflected in the abundance of garden-themed greeting card designs. Lush, hot and humid greenhouses, bounteous allotments, perfectly imperfect home-grown fruit and veg, these are just some of the gardening themes on card designs that thrive side by side in a sunny spot with seeded eco-minded cards to scatter and sew wild garden flowers for bees and insects, gorgeous artistic interpretations of wistful sunny plots packed with colourful daisies or dahlias, and garden party scenes; illustrated vistas of friends at last enjoying each other's company and a gin – with bunting, soft furnishings and strings of lights hung across the lawn.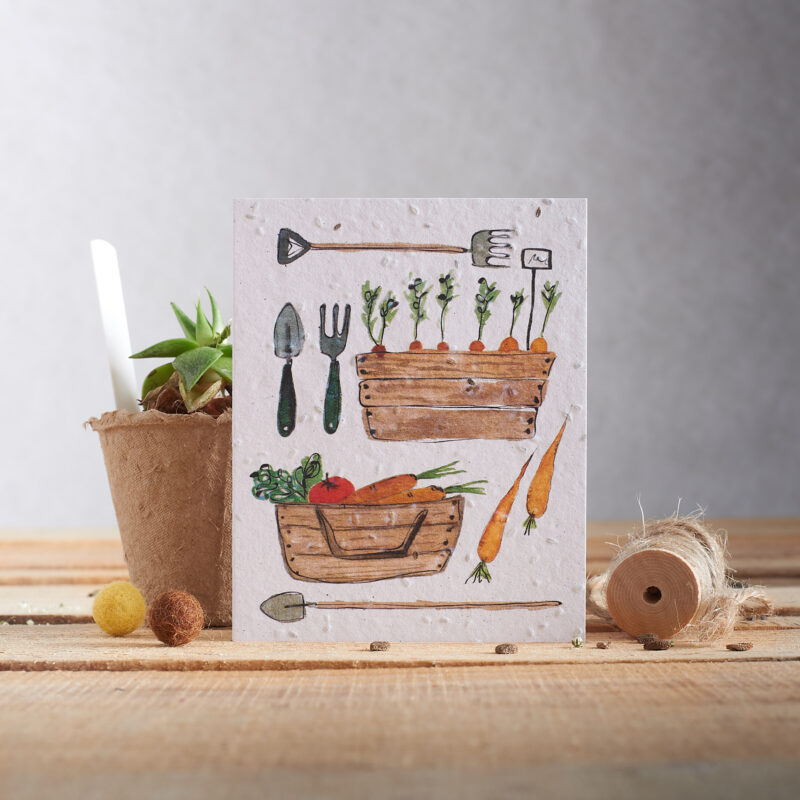 Pictured right: Hannah Marchant's stunning Seed Cards can be planted to grow flowers, herbs or veg.
Gardens feature heavily in Cinnamon Aitch's gorgeous hand-finished 'Amelia' card range, with parasols, greenhouses and arbours all dappled in their blossomy shade. "Designed by the talented Emily Hauck, who responded to lockdown life with doorstep gifting, picnics in the park and outdoor living, the latter of which is only set to continue with the warmer months approaching, the Amelia collection has a balmy summery palette with pretty patterns and gorgeous illustrations that beckon you outside to explore nature and enjoy the more relaxing side of the outdoors. Even a greenhouse is a quite secluded place for a cuppa amongst the foliage, time to relax and enjoy hard earned efforts or just take in the greenery!", explains Cinnamon Aitch co-founder Sara Burford.
However, Sara admits this is as far as her garden credentials go. "Painting my garden bench and purchasing the odd lantern is as far as I've got in preparation of time outdoors. I'm afraid as far as gardening goes, plants come to my garden to die! Sarah [Fitzpatrick, co-founder] is the expert, with a beautiful garden and very green fingers!"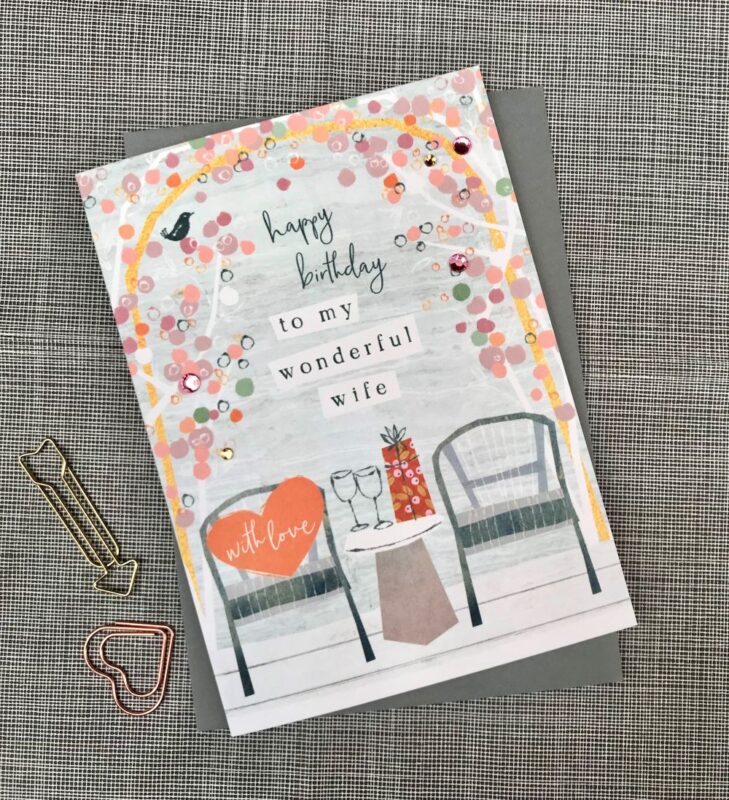 Pictured left: Cinnamon Aitch's Amelia range features delicious summery blooms and partyware in its designs.
Photographer, Bev Cunningham of Ginger Bee Studios has a beautiful eye for capturing the light and essence of gardens and the flora within, discovering inspiration both on her doorstep and further afield. Currently gardenless as she and her other half, Will, are temporarily in-between houses, Bev's last garden provided much inspiration for her images. "We were lucky enough to inherit from the previous owners a well-stocked garden with a few interesting out buildings too, which not only provided a backdrop to a number of gardening images I have licensed for cards but also supplied no end of lovely blooms and foliage for some indoor still life sets… not to mention a wonderful haven in which to escape during the lockdowns," she reveals, adding:
"The garden at the house we are buying is a blank canvas, being mainly laid to lawn, so Will and I are making a list of all the plants we wish to grow and picking up design ideas by visiting gardens, such as those participating in the NGS open gardens. Needless to say, I always take my camera with me!"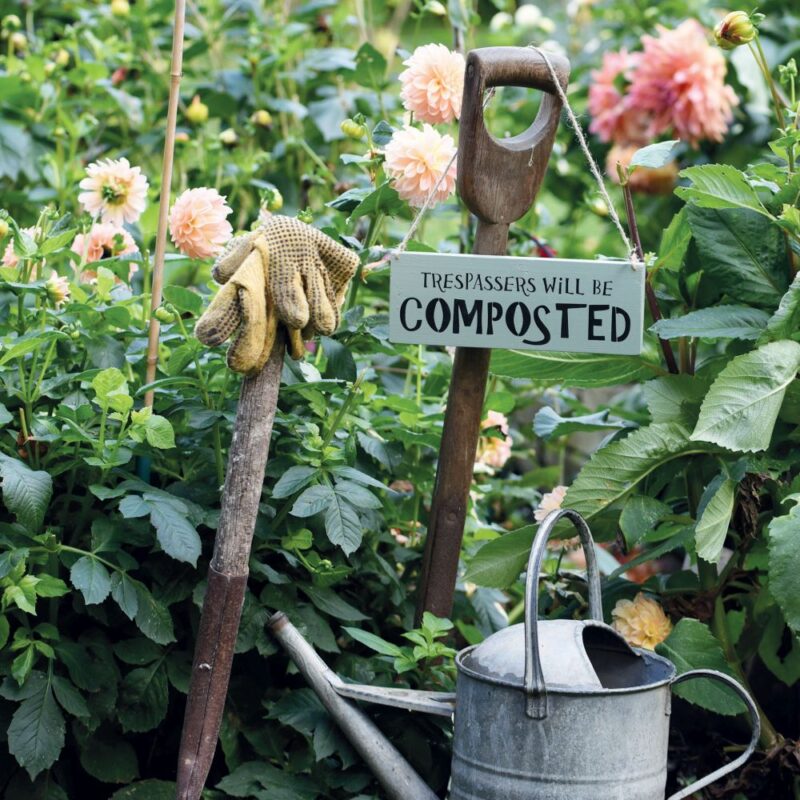 Pictured right: Photographer Bev Cunningham of Ginger Bee Studios captured this great image that now features within Abacus Cards' BBC Gardeners' World range.
Creating and nurturing a small patch of earth and its plant life can produce the strong buds of both physical and mental health benefits, however this summer our gardens will also be integral to our social wellbeing as the very heart of family gatherings, tipples and giggles with friends, BBQs and a general melee of catch ups and relative closeness that have been wistfully dreamt of through months of social distancing and covid safety measures.
And because we're more likely to be spending more time in our gardens rather than on holiday abroad, us Brits are making the most of our outdoor spaces, decorating our gardens with a backyard cinema, outdoor rugs, soft furnishings and chiminea fire pits, solar party lights and of course a hanging egg chair. Then there's finding the right outfit. Even though right now we're still wearing cardigans – the good old British weather! – Boho has just launched its Garden Party clothes range.
At Roger la Borde its summer garden party is a beautifully creative affair, its table placements a floral and wrap wonder. "While outdoor dining is very of the moment, Springtime always has us hankering for entertaining al fresco! We love creating tablescapes with fresh flowers and DIY paper decorations, by turning our giftwrap sheets into colourful table runners and placemats," shares Helena Maratheftis, marketing Manager for Roger la Borde.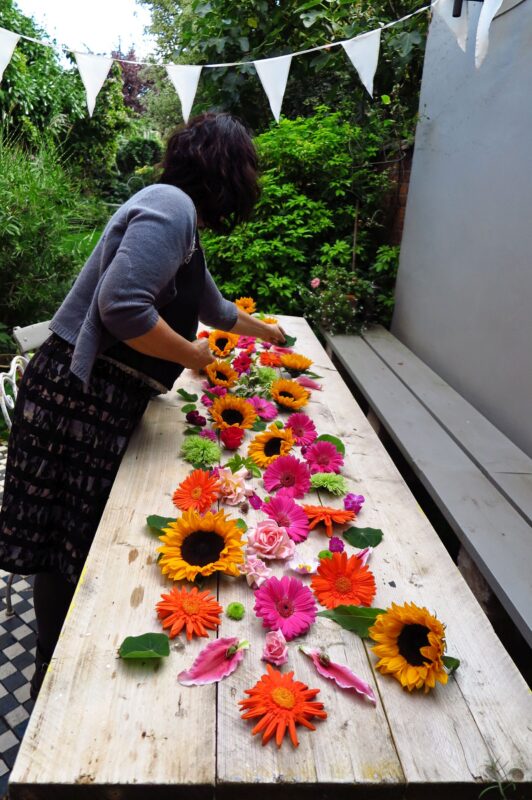 Pictured left: Roger la Borde's summer garden soiree starts with a gorgeous table setting.
And the garden party atmosphere is sublimely captured on the publisher's card designs too. "There is something wonderfully evocative about celebrating outdoors – perhaps the twinkling lights, clinking glasses, and scent of flowers on the breeze make us feel as though we are on holiday! We wanted to capture that magical atmosphere on our cards, and artist Anne Bentley has illustrated charming scenes for our Glass Menagerie stationery collection," says Helena.
Garden parties come in all shapes and sizes, sometimes it's a cream bun, cuppa tea and cosy catch up for three on the lawn. "This design is from our collection by artist Nikky Corker, whose wry observances of British country life always raise a smile. Gardens and gardening have always been a popular theme in her artwork with images that include sleeping in the shed – 'Taking a Break', a garden party – 'Betty's Beautiful Bunting' and a giant marrow – 'The Pride and Joy of Mr McAvoy'!" says Sue Morrish, co-owner of The Eco-friendly Card Company.
And it's not just Mr McAvoy who is taking pride in cultivating his veg, Sue's own vegetable plot plans are currently in full flow. "I've already got lots of small plants I've grown from seed ready to plant out on my little vegetable patch. My children especially love sugar snap peas and tomatoes so they are a must alongside courgettes, green beans and new potatoes. My greengage tree flowered profusely in the spring so I'm hopeful that we'll get our first crop of those this year too. I'm also planning a bee-friendly wildflower area at the end of the garden."
Pictured below: Feeling the garden party vibe, a design from Roger la Borde's Glass Menagerie collection; Nikky Corker's 'Betty's Beautiful Bunting' published by The Eco-friendly Card Company and The Eco-friendly Card Company's Sue Morrish nurturing her home-grown veg.
So, from party to potatoes, peony to plums, green spaces, gardens and allotments continue to nurture our wellbeing, and sharing that fertile plot are an abundance of garden greeting card designs to pick and 'pot on' to someone you care about.